生长调节致癌基因β(GROb)活性蛋白
Active Growth Regulated Oncogene Beta (GROb)
CXCL2; SCYB2; MIP2; GRO2; MIP2a; MGSAb; CINC2a; HSF; Macrophage inflammatory protein 2-alpha; Hematopoietic synergistic factor; Chemokine(C-X-C-Motif)ligand 2
编号

APB603Ra01

物种Rattus norvegicus (Rat,大鼠) 相同的名称,不同的物种。
缓冲液成份

20mM Tris, 150mM NaCl缓冲液(pH8.0, 含有1mM EDTA, 1mM DTT, 0.01% SKL, 5% Trehalose和Proclin300)

性状

冻干粉

纯度

> 97%

等电点

6.7

应用

Cell culture; Activity Assays.

下载 英文说明书 中文说明书
规格 10µg50µg 200µg 1mg 5mg
价格 ¥ 1920 ¥ 4800 ¥ 9600 ¥ 28800 ¥ 72000
产品包装(模拟)

产品包装(模拟)
SDS-PAGE图

Figure. Western Blot; Sample: Recombinant GROb, Rat.
通过ISO 9001、ISO 13485质量体系认证
活性实验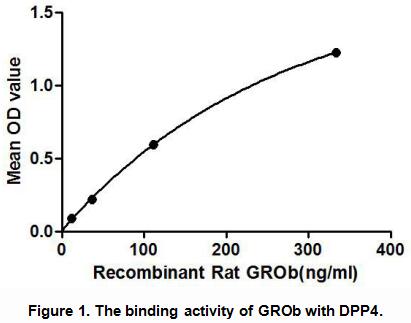 Growth Regulated Oncogene Beta (GROb) is a small cytokine belonging to the CXC chemokine family which produced by activated monocytes and neutrophils and expressed at sites of inflammation. Hematoregulatory chemokine, which, in vitro, suppresses hematopoietic progenitor cell proliferation. Besides, Dipeptidyl Peptidase IV (DPP4) has been identified as an interactor of GROb, thus a binding ELISA assay was conducted to detect the interaction of recombinant rat GROb and recombinant rat DPP4. Briefly, GROb were diluted serially in PBS, with 0.01% BSA (pH 7.4). Duplicate samples of 100ul were then transferred to DPP4-coated microtiter wells and incubated for 2h at 37℃. Wells were washed with PBST and incubated for 1h with anti-GROb pAb, then aspirated and washed 3 times. After incubation with HRP labelled secondary antibody, wells were aspirated and washed 3 times. With the addition of substrate solution, wells were incubated 15-25 minutes at 37℃. Finally, add 50µL stop solution to the wells and read at 450nm immediately. The binding activity of of GROb and DPP4 was shown in Figure 1, and this effect was in a dose dependent manner.
用法
Reconstitute in 20mM Tris, 150mM NaCl (pH8.0) to a concentration of 0.1-1.0 mg/mL. Do not vortex.
储存
避免反复冻融。2-8°C不超过一个月,-80°C不超过12个月。
稳定性
热稳定性以损失率显示。损失率是由加速降解试验决定,具体方法如下:在37°C孵育48小时,没有显著的降解或者沉淀产生。保质期内,在适当的条件下存储,损失率低于5%。
参考文献
| | |
| --- | --- |
| 杂志 | 参考文献 |
| FEBS Journal | Tumour necrosis factor-related apoptosis-inducing ligand (TRAIL)-induced chemokine release in both TRAIL-resistant and TRAIL-sensitive cells via nuclear factor kappa B [PubMed: 19120450] |
| PLoS One. | HIF-1α Is Essential for Effective PMN Bacterial Killing, Antimicrobial Peptide Production and Apoptosis in Pseudomonas aeruginosa Keratitis [Plos: Source] |
| Physiol Genomics. | Identification of human exercise-induced myokines using secretome analysis [Pubmed:24520153] |
| Diabetes | Protein Inhibitor of Activated STAT 1 (PIAS1) Protects Against Obesity-Induced Insulin Resistance by Inhibiting Inflammation Cascade in Adipose Tissue [PubMed: 26324179] |
| Respiration | Bubble CPAP support after discontinuation of mechanical ventilation protects rat lungs with ventilator-induced lung injury [Pubmed:26800273] |
| Scientific Reports | The Transcriptional Foundations of Sp110-mediated Macrophage (RAW264. 7) Resistance to Mycobacterium tuberculosis H37Ra [Pubmed:26912204] |
| Cellular Physiology and Biochemistry | Dexmedetomidine Alleviates HyperoxiaInduced Acute Lung Injury via Inhibiting NLRP3 Inflammasome Activation [pubmed:28873369] |