干扰素α(IFNa)活性蛋白
Active Interferon Alpha (IFNa)
IFNA1; IFL; LeIF D; IFN; IFN-Alpha; IFNA13; IFN-A; IFNAP22; IFN-Alpha 1b; Interferon Alpha 1b; Interferon, Leukocytic; IFN, Leukocyte; Interferon alpha-D
编号

APA033Mu61

物种Mus musculus (Mouse,小鼠) 相同的名称,不同的物种。
缓冲液成份

20mM Tris, 150mM NaCl缓冲液(pH8.0, 含有1mM EDTA, 1mM DTT, 0.01% SKL, 5% Trehalose和Proclin300)

性状

冻干粉

纯度

> 97%

等电点

9.1

应用

Cell culture; Activity Assays.

下载 英文说明书 中文说明书
规格 10µg50µg 200µg 1mg 5mg
价格 ¥ 2160 ¥ 5400 ¥ 10800 ¥ 32400 ¥ 81000
产品包装(模拟)

产品包装(模拟)
Gene sequencing
SDS-PAGE图

Figure. Western Blot; Sample: Recombinant IFNa, Mouse.
通过ISO 9001、ISO 13485质量体系认证
活性实验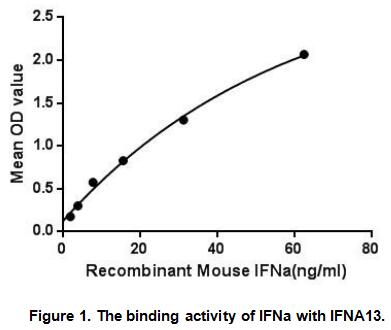 The Interferon-alpha (IFNa) proteins belong to type I interferons (IFNs) which a large subgroup of interferon proteins that help regulate the activity of the immune system. The IFNa proteins produced by leukocytes are also known as leukocyte interferon. They are mainly involved in innate immune response against viral infection. Besides, Interferon-alpha 13 (IFNA13) has been identified as an interactor of IFNa, thus a binding ELISA assay was conducted to detect the interaction of recombinant mouse IFNa and recombinant mouse IFNA13. Briefly, IFNA were diluted serially in PBS, with 0.01% BSA (pH 7.4). Duplicate samples of 100uL were then transferred to IFNA13-coated microtiter wells and incubated for 2h at 37℃. Wells were washed with PBST and incubated for 1h with anti-IFNapAb, then aspirated and washed 3 times. After incubation with HRP labelled secondary antibody, wells were aspirated and washed 3 times. With the addition of substrate solution, wells were incubated 15-25 minutes at 37℃. Finally, add 50µL stop solution to the wells and read at 450nm immediately. The binding activity of IFNa and IFNA13 was shown in Figure 1, and this effect was in a dose dependent manner.
用法
Reconstitute in 20mM Tris, 150mM NaCl (PH8.0) to a concentration of 0.1-1.0
mg/mL. Do not vortex.
储存
避免反复冻融。2-8°C不超过一个月,-80°C不超过12个月。
稳定性
热稳定性以损失率显示。损失率是由加速降解试验决定,具体方法如下:在37°C孵育48小时,没有显著的降解或者沉淀产生。保质期内,在适当的条件下存储,损失率低于5%。
参考文献
| | |
| --- | --- |
| 杂志 | 参考文献 |
| Journal of Animal and Veterinary Advances | Tryptophan Stimulates Immune Response in Broiler Chickens Challenged with Infectious Bursal Disease Vaccine [Medwell: 2010610616] |
| Journal of Animal and Veterinary Advances | Immunostimulatory Effects of Arginine in Broiler Chickens Challenged with Vaccine Strain of Infectious Bursal Disease Virus [Medwell: 2010594600] |
| Ann Rheum Dis. | The cathelicidins LL-37 and rCRAMP are associated with pathogenic events of arthritis in humans and rats [PubMed: 23172753] |
| Nanomedicine | Efficient intracellular delivery of siRNA with a safe multitargeted lipid-based nanoplatform [PubMed: 23394132] |
| International journal of experimental pathology | Experimental rat model for alcohol-induced osteonecrosis of the femoral head [PubMed: PMC3781777] |
| Antiviral Research | A recombinant adenovirus bicistronically expressing porcine interferon-α and interferon-γ enhances antiviral effects against foot-and-mouth disease virus [ScienceDirect: S0166354214000266] |
| British Journal of Pharmacology | Andrographolide exerts anti-hepatitis C virus activity by up-regulating haeme oxygenase-1 via the p38 MAPK/Nrf2 pathway in human hepatoma cells [Onlinelibrary: bph.12440] |
| BMC Cancer | High efficiency of alphaviral gene transfer in combination with 5-fluorouracil in a mouse mammary tumor model [Pubmed:24950740] |
| PLoS One. | Respiratory Mechanics and Plasma Levels of Tumor Necrosis Factor Alpha and Interleukin 6 Are Affected by Gas Humidification during Mechanical Ventilation in Dogs [Pubmed:25036811] |
| Veterinary Research | Infection of equine monocyte-derived macrophages with an attenuated equine infectious anemia virus (EIAV) strain induces a strong resistance to the infection by a virulent EIAV strain [Pubmed:25106750] |
| Asian Pac J Trop Med | Effect of SecinH3 on lung injury induced by sepsis of rats [PubMed: 26706678] |
| PLoS One | siRNA Targeting the 2A pro Genomic Region Prevents Enterovirus 71 Replication In Vitro [Pubmed:26886455] |
| Plos One | Sulforaphane Suppresses Hepatitis C Virus Replication by Up-ReCavia (Guinea pig )lating Heme Oxygenase-1 Expressionthrough PI3K/Nrf2 Pathway. [Pubmed:27023634] |
| PLoS One. | Vaccination with recombinant Mycobacterium tuberculosis PknD attenuates bacterial dissemination to the brain in Cavia (Guinea pig )inea pigs. [Pubmed:23776655] |
| Veterinary microbiology | Impact of porcine reproductive and respiratory syndrome virus and porcine circovirus-2 infection on the potency of the classical swine fever vaccine (LOM strain). [pubmed:27599928] |
| International Journal of Clinical and Experimental Pathology | Host miR-146a promotes replication of human cytomegalovirus by suppressing type I IFN response in MRC-5 cells [files:ijcep0036479.pdf] |
| Scandinavian Journal of Immunology | Serum Proteomics Analysis in Rats of Immunosuppression Induced by Chronic Stress. [pubmed:27384769] |
| Saudi Journal of Gastroenterology | Deoxyschizandrin suppresses dss-induced ulcerative colitis in mice. [pubmed:27976641] |
| Biochemical and Biophysical Research Communications | MicroRNA-548j inhibits type I interferon production by targeting ZBTB11 in patients with chronic hepatitis B [pubmed:28342861] |
| Virology | The down-regulation of casein kinase 1 alpha as a host defense response against infectious bursal disease virus infection [pubmed:28988058] |
| Antiviral Research | Coinjection of a vaccine and anti-viral agents can provide fast-acting protection from foot-and-mouth disease [pubmed:28454913] |
| Molecular Therapy. Methods & Clinical Development | Anti-high mobility group box 1 antibody ameliorates albuminuria in MRL/lprlupus-prone mice [pubmed:28649578] |
| Journal of Virology | Fucoidan from Fucus vesiculosus suppresses hepatitis B virus replication by enhancing extracellular signal-regulated Kinase activation. [pubmed:28915824] |
| Clinical Immunology | Toll-like receptor 9 ligands increase type I interferon induced B-cell activating factor expression in chronic rhinosinusitis with nasal polyposis [Pubmed:30056130] |
| International forum of allergy & rhinology | Role of Toll‐like receptor 9 signaling on activation of nasal polyp–derived fibroblasts and its association with nasal polypogenesis [Pubmed:29901280] |