干扰素γ(IFNg)活性蛋白
Active Interferon Gamma (IFNg)
IFN-G; IFG; IFI; INFr; IFN, Immune Interferon
编号

APA049Gu01

物种Cavia (Guinea pig ,豚鼠) 相同的名称,不同的物种。
缓冲液成份

磷酸盐缓冲液(pH7.4,含有 0.01% SKL, 1mM DTT, 5% Trehalose和Proclin300.)

性状

冻干粉

纯度

> 90%

等电点

9.7

应用

Cell culture; Activity Assays.

下载 英文说明书 中文说明书
规格 10µg50µg 200µg 1mg 5mg
价格 ¥ 2100 ¥ 5250 ¥ 10500 ¥ 31500 ¥ 78750
产品包装(模拟)

产品包装(模拟)
Gene sequencing
SDS-PAGE图

Figure. Western Blot; Sample: Recombinant IFNg, Cavia.
通过ISO 9001、ISO 13485质量体系认证
活性实验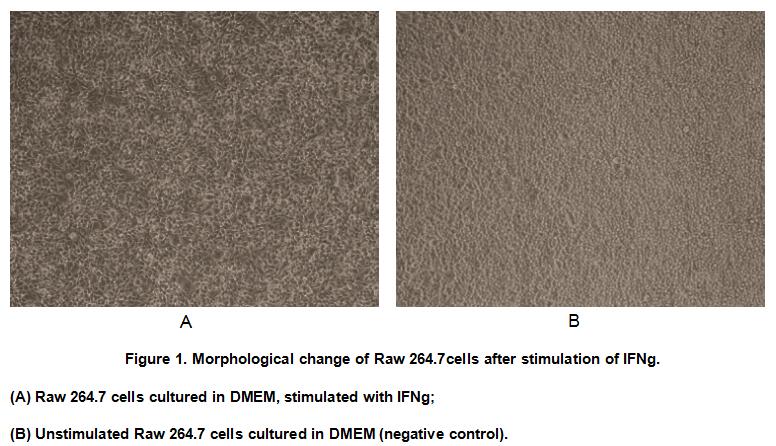 Interferon gamma (IFNγ) is a dimerized soluble cytokine that is the only member of the type II class of interferons. The importance of IFNγ in the immune system stems in part from its ability to inhibit viral replication directly, and most importantly from its immunostimulatory and immunomodulatory effects. It has been reported that IFN-γ promotes production of inducible Nitric Oxide Synthase (iNOS) in macrophages as an important activator. After stimulated with IFN-γ, morphological changes will occur in murine macrophage cell line (Raw 264.7 cells), and inducible nitric-oxide synthase (iNOS) in the cells will increase. Raw 264.7 cells were incubated in DMEM with IFN-γ (10ng/mL) for 24h, then cells were observed by inverted microscope and iNOS in cell lysates was detected by ELISA.
Effect of IFN-γ on morphological change of Raw 246.7 cells was shown in Figure 1.

Effect of IFN-γ on the expression of iNOS was shown in Table 1.
用法
Reconstitute in 10mM PBS (pH7.4) to a concentration of 0.1-1.0 mg/mL. Do not vortex.
储存
避免反复冻融。2-8°C不超过一个月,-80°C不超过12个月。
稳定性
热稳定性以损失率显示。损失率是由加速降解试验决定,具体方法如下:在37°C孵育48小时,没有显著的降解或者沉淀产生。保质期内,在适当的条件下存储,损失率低于5%。
参考文献
| | |
| --- | --- |
| 杂志 | 参考文献 |
| Vaccine | Bacillus Calmette-Guérin vaccination using a microneedle patch [PubMed: 21277407] |
| Journal of Animal and Veterinary Advances | Tryptophan Stimulates Immune Response in Broiler Chickens Challenged with Infectious Bursal Disease Vaccine [Medwell: 2010610616] |
| Journal of Animal and Veterinary Advances | Immunostimulatory Effects of Arginine in Broiler Chickens Challenged with Vaccine Strain of Infectious Bursal Disease Virus [Medwell: 2010594600] |
| PLoS ONE | Vaccination with Recombinant Mycobacterium tuberculosis PknD Attenuates Bacterial Dissemination to the Brain in Guinea Pigs [PubMed: PMC3679071] |
| Veterinary Research | Foot-and-mouth disease virus-like particles produced by a SUMO fusion protein system in?Escherichia coli?induce potent protective immune responses in guinea pigs, swine and cattle [PubMed: PMC3720265] |
| International Journal of Poultry Science | Immune Responses to Eimeria tenella Sporozoite Protein as Vaccine to Broiler Against Coccidiosis [Pjbs: Source] |
| European Journal of Pharmacology | Protective effects of neferine on amiodarone-induced pulmonary fibrosis in mice [Pubmed: 23792144] |
| Life Sci. | Attenuation of renal ischemia/reperfusion injury by a?aí extract preconditioning in a rat model [Pubmed:25476829] |
| Global Journal of Pharmacology | Protective Effect of Minocycline Against Bacterial Infection-Induced Sickness Behavior in Rats [Org:Source] |
| PLoS One. | Development of CpG-Oligodeoxynucleotides for Effective Activation of Rabbit TLR9 Mediated Immune Responses [Pubmed:25269083] |
| Oncotarget | Senescence of tumor cells induced by oxaliplatin increases the efficiency of a lipid A immunotherapy via the recruitment of neutrophils [Pubmed:25347345] |
| Journal of Surgical Research | Exogenous carcinoembryonic antigen-related cell adhesion molecule 1 suppresses 2,4,6-trinitrobenzene sulfonic acid-induced ulcerative colitis in mice [Pubmed:25724769] |
| Genet Mol Res | Protective effect and mechanism of probucol in the treatment of spinal cord injury [PubMed: 26214485] |
| Biomedical Research | The toxic effect of nickel nanoparticles on oxidative stress and inflammatory markers. [Articles: ] |
| Mol Med Rep | Roles of lipoxin A4 receptor activation and anti-interleukin-1β antibody on the toll-like receptor 2/mycloid differentiation factor 88/nuclear factor-κB pathway in airway inflammation induced by ovalbumin [PubMed: 25760938] |
| veterinary research forum | Evaluation of proliferation and cytokines production by mitogen-stimulated bovine peripheral blood mononuclear cells [Article_14936_6.Html: ] |
| Immunologic Research | Mesenchymal stromal cell-dependent reprogramming of Kupffer cells is mediated by TNF-α and PGE12 and is crucial for liver transplant tolerance [PubMed: 25982596] |
| Parasitol Res | Trypanosoma cruzi infection and benznidazole therapy independently stimulate oxidative status and structural pathological remodeling of the liver tissue in mice [PubMed: 25912691] |
| International Journal of Immunopathology & Pharmacology | Sea buckthorn (Hippophae rhamnoides L.) oil protects against chronic stress-induced inhibitory function of natural killer cells in rats [PubMed: 26684638] |
| J Reprod Immunol | The immunomodulating effect of seminal plasma on T cells [PubMed: 25799173] |
| Advanced Functional Materials | Nanogel‐Incorporated Physical and Chemical Hybrid Gels for Highly Effective Chemo–Protein Combination Therapy [Doi: 10.1002] |
| Vet Immunol Immunopathol | Immune responses of pigs immunized with a recombinant porcine reproductive and respiratory syndrome virus expressing porcine GM-CSF [PubMed: 26300317] |
| Virol J | Rescue and evaluation of a recombinant PRRSV expressing porcine Interleukin-4 [PubMed: 26573719] |
| J Interferon Cytokine Res | Possible Association of IFN-γ Gene [PubMed: 26154533] |
| Oncotarget | Rituximab-induced HMGB1 release is associated with inhibition of STAT3 activity in human diffuse large B-cell lymphoma [PubMed: 26315113] |
| Immunol Res | Construction of recombinant Mip-FlaA dominant epitope vaccine against Legionella pneumophila and evaluation of the immunogenicity and protective immunity [PubMed: 26607265] |
| Asian J Pharm Clin Res | INFLUENCE OF ZINCOVIT DROP (NUTRITIONAL FOOD SUPPLEMENT) ON IMMUNE SYSTEM IN NORMAL AND CYCLOPHOSPHAMIDE INTOXICATED WISTAR RATS [journals:3790] |
| Life Sci. | Carcinoembryonic antigen related cellular adhesion molecule 1 alleviates dextran sulfate sodium-induced ulcerative colitis in mice [Pubmed:26898127] |
| United States Patent Application | HERPES VIRUS VACCINES AND TREATMENTS [y2016:0067330.html] |
| Front Pharmacol | Poria Attenuates Idiosyncratic Liver Injury Induced by Polygoni Multiflori Radix Praeparata [pubmed:27803670] |
| BMC Veterinary Research | Lymphocytic, cytokine and transcriptomic profiles in peripheral blood of dogs with atopic dermatitis [pubmed:27553600] |
| BMC Complementary and Alternative Medicine | Reno-protective effect and mechanism study of Huang Lian Jie Du Decoction on lupus nephritis MRL/lpr mice [pubmed:27825337] |
| immunology letters | Recombinant Mip-PilE-FlaA dominant epitopes vaccine candidate against Legionella pneumophila. [pubmed:28366526] |
| Antiviral research | Evaluation of two strains of Marek's disease virus serotype 1 for the development of recombinant vaccines against very virulent infectious bursal disease virus. [pubmed:27908832] |
| Vaccine. | Efficacy of an autophagy-targeted DNA vaccine against avian leukosis virus subgroup J. [pubmed:28049588] |
| immunology letters | Gemcitabine treatment enhanced the anti-tumor effect of cytokine induced killer cells by depletion of CD4+CD25bri regulatory T cells. [pubmed:27867030] |
| Taylor & Francis | Influences of Hyriopsis cumingii polysaccharides on mice immunosignaling molecules and T lymphocyte differentiation [09540105.2017.1306494] |
| American Journal of Translational Research | Anti-inflammatory effects of Boletus edulis polysaccharide on asthma pathology [pubmed:27830033] |
| Molecular Immunology | Targeted inhibition of GATA-6 attenuates airway inflammation and remodeling by regulating caveolin-1 through TLR2/MyD88/NF-κB in murine model of asthma [pubmed:27289030] |
| Basrah Journal of Veterinary Research | EVALUATION OF HUMORAL AND CELLULAR IMMUNE RESPONSES TO EIMERIA TENELLA OOCYST PROTEIN AS VACCINE TO BROILER [363-379.pdf] |
| Journal of Physiology and Pharmacology | Effects of budesonide on the lung functions, inflammation and apoptosis in a saline-lavagemodel of acute lung injury. [pubmed:28195073] |
| Journal of animal physiology and animal nutrition | Effects of dietary mixture of garlic (Allium sativum), coriander (Coriandrum sativum) andprobiotics on immune responses and caecal counts in young laying hens. [pubmed:27678135] |
| Parasitology. | Nonsteroidal anti-inflammatory is more effective than anti-oxidant therapy in counteracting oxidative/nitrosative stress and heart disease in T. cruzi-infected mice. [pubmed:28134069] |
| Vet Immunol Immunopathol.  | Porcine GPX1 enhances GP5-based DNA vaccination against porcine reproductive and respiratory syndrome virus. [pubmed:28063474] |
| Sci Rep.  | Long-term use of ceftriaxone sodium induced changes in gut microbiota and immune system. [pubmed:28220870] |
| Sci Rep.  | Assessment of the efficacy of two novel DNA vaccine formulations against highly pathogenic Porcine Reproductive and Respiratory Syndrome Virus. [pubmed:28157199] |
| Acta Vet Hung. | Imbalance of intestinal immune function in piglets infected by porcine circovirus type 2 during the fetal period. [pubmed:28244338] |
| Gut Pathog. | Oral administration of Clostridium butyricum CGMCC0313‐1 reduces ovalbumin‐induced allergic airway inflammation in mice [pubmed:28250847] |
| Journal of Agricultural and Food Chemistry | Effect of boron on thymic cytokine expression, hormone secretion, antioxidant functions, cell proliferation, and apoptosis potential via the ERK1/2 signaling pathway [pubmed:29032684] |
| Vaccine | Poly (d, l-lactide-co-glycolide) nanoparticle-entrapped vaccine induces a protective immune response against porcine epidemic diarrhea virus infection in piglets [pubmed:29102169] |
| Bulgarian Journal of Veterinary Medicine | COMPARATIVE EFFICACY OF TWO HETEROLOGOUS CAPRIPOX VACCINES TO CONTROL LUMPY SKIN DISEASE IN CATTLE [ISSN 1311-1477] |
| Research in Veterinary Science | The effect of feed supplementation with effective microorganisms(EM) on pro- and anti-inflammatory cytokine concentrations in pigs [pubmed:28549299] |
| Scientific Report | Anti-asthmatic efect of pitavastatin through aerosol inhalation is associated with CD4+ CD25+ Foxp3+ T cells in an asthma mouse model [pubmed:28729731] |
| Austral journal of veterinary sciences | The effects of Spirulina platensis (Arthrospira platensis) and Saccharomyces cerevisiae on the distribution and cytokine production of CD4+ and CD8+ T … [S0719-81322017000300185] |
| 18 | Evaluation of Cell-mediated Immune Response in PBMCs of Calves Vaccinated by Capri Pox Vaccines Using ELISA and Real-time RT-PCR [DOI: 10.18869/acadpub.rmm.5.2.3] |
| Scientific Report | Stress Induced Polarization of Immune-Neuroendocrine Phenotypes in Gallus gallus [pubmed:28808318] |
| Pesquisa Veterinária Brasileira | Efeito protetor do β-glucano e glutamina em lesões intestinais e imunológicas induzidas por ciratabina (Ara-C) em camundongos [10.159:s0100-736x2017000900013] |
| Asian Pacific Society of Respirology | Oral administration of Clostridium butyricum CGMCC0313-1 reduces ovalbumin-induced allergic airway inflammation in mice [pubmed:28122397] |
| PLOS Neglected Tropical Diseases | An attenuated Shigella mutant lacking the RNA-binding protein Hfq provides cross-protection against Shigella strains of broad serotype [pubmed:28727722] |
| Oncotarget | Combination epidermal growth factor receptor variant III peptide-pulsed dendritic cell vaccine with miR-326 results in enhanced killing on EGFRvIII-positive cells [10.18632/oncotarget.15445] |
| Veterinary Microbiology | A bacterial ghost improves the immunological efficacy of a Newcastle disease virus inactivated vaccine [pubmed:28619143] |
| Canadian Journal of Gastroenterology and Hepatology | EGCG Maintains Th1/Th2 Balance and Mitigates Ulcerative Colitis Induced by Dextran Sulfate Sodium through TLR4/MyD88/NF-ݜ傠Signaling Pathway in Rats [10.1155/2017/3057268] |
| Acta Pharmacologica Sinica | Cis-stilbene glucoside in Polygonum multiflorum induces immunological idiosyncratic hepatotoxicity in LPS-treated rats by suppressing PPAR-γ. [pubmed:28649126] |
| Canadian Journal of Gastroenterology and Hepatology | EGCG Maintains Th1/Th2 Balance and Mitigates Ulcerative Colitis Induced by Dextran Sulfate Sodium through TLR4/MyD88/NF-κB Signaling Pathway in Rats [10.1155/2017/3057268] |
| Biomedical Research | Associations among interleukin-17, interferon-gamma, and acute coronary syndrome [ISSN 0970-938X] |