白介素24(IL24)活性蛋白
Active Interleukin 24 (IL24)
C49A; FISP; IL10B; MDA7; Mob-5; ST16; Mda-7; Melanoma Differentiation Association Protein 7; Suppression Of Tumorigenicity 16
编号

APC064Hu01

物种Homo sapiens (Human,人) 相同的名称,不同的物种。
缓冲液成份

20mM Tris, 150mM NaCl缓冲液(pH8.0, 含有1mM EDTA, 1mM DTT, 0.01% SKL, 5% Trehalose和Proclin300)

性状

冻干粉

纯度

> 90%

等电点

8.6

应用

Cell culture; Activity Assays.

下载 英文说明书 中文说明书
规格 10µg50µg 200µg 1mg 5mg
价格 ¥ 1320 ¥ 3300 ¥ 6600 ¥ 19800 ¥ 49500
产品包装(模拟)

产品包装(模拟)
Figure. SDS-PAGE; Sample: Active recombinant IL24, Human.

Figure. Western Blot ; Sample: Recombinant IL24, Human.
通过ISO 9001、ISO 13485质量体系认证
活性实验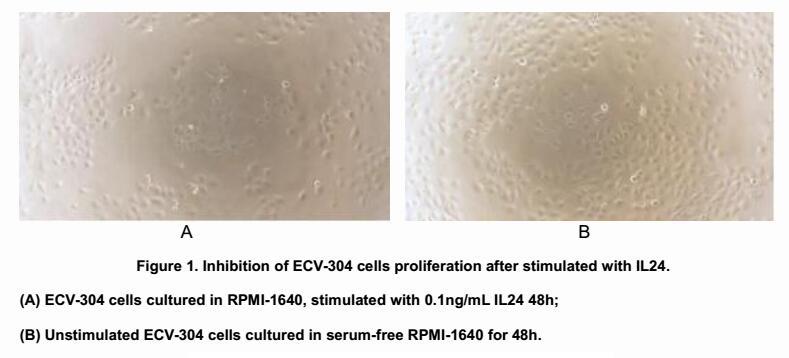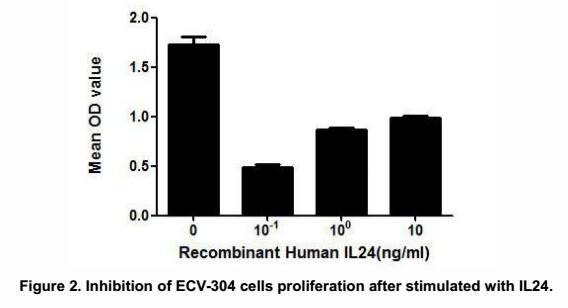 IL24 (interleukin 24) is a cytokine that belongs to IL10 family. This protein can induce apoptosis selectively in various cancer cells, including ECV304. Thus, inhibition of cell proliferation assay of IL24 was conducted using ECV-304 cells. Briefly, ECV-304 cells were seeded into triplicate wells of 96-well plates at a density of 2,000 cells/well and allowed to attach overnight, then the medium was replaced with serum-free standard 1640 prior to the addition of various concentrations of IL24. After incubated for 48h, cells were observed by inverted microscope and cell proliferation was measured by Cell Counting Kit-8 (CCK-8). Briefly, 10µL of CCK-8 solution was added to each well of the plate, then the absorbance at 450nm was measured using a microplate reader after incubating the plate for 1-4 hours at 37°C. Inhibition of ECV-304 cells proliferation after incubation with IIL24 for 48h observed by inverted microscope was shown in Figure 1. Cell viability was assessed by CCK-8 (Cell Counting Kit-8 ) assay after incubation with various concentrations of IL24 for 48h. The mean OD value of ECV-304 assessed by CCK-8 was shown in Figure 2. It was obvious that IL24 significantly decreased cell viability of ECV-304 cells.
用法
Reconstitute in 20mM Tris, 150mM NaCl (pH8.0) to a concentration of 0.1-1.0 mg/mL. Do not vortex.
储存
避免反复冻融。2-8°C不超过一个月,-80°C不超过12个月。
稳定性
热稳定性以损失率显示。损失率是由加速降解试验决定,具体方法如下:在37°C孵育48小时,没有显著的降解或者沉淀产生。保质期内,在适当的条件下存储,损失率低于5%。
参考文献
| | |
| --- | --- |
| 杂志 | 参考文献 |
| Experimental & Clinical Cancer Research | Oncolytic adenovirus armed with IL-24 Inhibits the growth of breast cancer in vitro and in vivo [PubMed: PMC3511263] |
| Bioresources and Bioprocessing | Improving the mda-7/IL-24 refolding and purification process using optimized culture conditions based on the structure characteristics of inclusion bodies [Springer:Source] |
| Clin Exp Pharmacol Physiol. | Inhibition of ALDH2 protects PC12 cells against formaldehyde-induced cytotoxicity: involving the protection of hydrogen sulphide. [pubmed:28251688] |