白介素8(IL8)活性蛋白
Active Interleukin 8 (IL8)
CXCL8; AMCF-I; GCP1; K60; LECT; LUCT; LYNAP; MDNCF; MONAP; NAF; NAP1; SCYB8; TSG1; B-ENAP; Neutrophil-Activating Protein 1; Granulocyte Chemotactic Protein 1
编号

APA080Hu01

物种Homo sapiens (Human,人) 相同的名称,不同的物种。
缓冲液成份

20mM Tris, 150mM NaCl缓冲液(pH8.0, 含有1mM EDTA, 1mM DTT, 0.01% SKL, 5% Trehalose和Proclin300)

性状

冻干粉

纯度

> 95%

等电点

9.4

应用

Cell culture; Activity Assays.

下载 英文说明书 中文说明书
规格 10µg50µg 200µg 1mg 5mg (保证有货 万一缺货 免费重做)
价格 ¥ 1296 ¥ 3240 ¥ 6480 ¥ 19440 ¥ 48600
产品包装(模拟)

产品包装(模拟)
Figure. Gene Sequencing (Extract)
Figure. SDS-PAGE

Figure. Western Blot
通过ISO 9001、ISO 13485质量体系认证
活性实验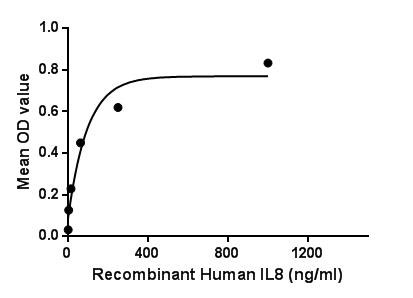 Figure. The binding activity of IL8 with SDC1.
Interleukin 8 (IL8 or chemokine (C-X-C motif) ligand 8, CXCL8) is a chemokine produced by macrophages and other cell types such as epithelial cells, airway smooth muscle cellsendothelial cells. IL-8, also known as neutrophil chemotactic factor, has two primary functions. It induces chemotaxis in target cells, primarily neutrophils but also other granulocytes, causing them to migrate toward the site of infection. IL8 also induces phagocytosis once they have arrived. IL8 is also known to be a potent promoter of angiogenesis. Besides, Syndecan 1 (SDC1) has been identified as an interactor of IL8, thus a binding ELISA assay was conducted to detect the interaction of recombinant human IL8 and recombinant human SDC1. Briefly, IL8 were diluted serially in PBS, with 0.01% BSA (pH 7.4). Duplicate samples of 100uL were then transferred to SDC1-coated microtiter wells and incubated for 2h at 37℃. Wells were washed with PBST and incubated for 1h with anti-IL8 pAb, then aspirated and washed 3 times. After incubation with HRP labelled secondary antibody, wells were aspirated and washed 3 times. With the addition of substrate solution, wells were incubated 15-25 minutes at 37℃. Finally, add 50µL stop solution to the wells and read at 450nm immediately. The binding activity of IL8 and SDC1 was shown in Figure 1, and this effect was in a dose dependent manner.
用法
Reconstitute in 20mM Tris, 150mM NaCl (PH8.0) to a concentration of 0.1-1.0 mg/mL. Do not vortex.
储存
避免反复冻融。2-8°C不超过一个月,-80°C不超过12个月。
稳定性
热稳定性以损失率显示。损失率是由加速降解试验决定,具体方法如下:在37°C孵育48小时,没有显著的降解或者沉淀产生。保质期内,在适当的条件下存储,损失率低于5%。
参考文献
| | |
| --- | --- |
| 杂志 | 参考文献 |
| Reproductive Biology and Endocrinology | Evidence that polymorphonuclear neutrophils infiltrate into the developing corpus luteum and promote angiogenesis with interleukin-8 in the cow [Rbej: 14777827] |
| Acta Otolaryngol | Serial cytokine levels during wound healing in rabbit maxillary sinus mucosa [PubMed: 19958244] |
| Journal of Clinical Periodontology | Experimental peri-implant mucositis at different implant surfaces. [Pubmed: 24521508] |
| Physiological Research | Budesonide added to modified porcine surfactant Curosurf may additionally improve the lung functions in meconium aspiration syndrome. [Pubmed: 2432969] |
| Rheumatology International | Serum levels of selected chemokines in systemic lupus erythematosus patients [Pubmed: 22461186] |
| J Med Life. | Expression of interleukine-8 as an independent prognostic factor for sporadic colon cancer dissemination [Pubmed:Pmc4197484] |
| J Clin Periodontol. | Experimental peri‐implant mucositis at different implant surfaces [Pubmed:24521508] |
| British Journal of Nutrition | Grape seed extract supplementation attenuates the heat stress-induced responses of jejunum epithelial cells in Simmental?×?Qinchuan steers [Pubmed:24846452] |
| Theriogenology | Inflammatory cytokine concentrations in uterine flush and serum samples from dairy cows with clinical or subclinical endometritis [Theriojournal:Source] |
| Anim Reprod Sci. | Alteration in peripheral blood concentration of certain pro-inflammatory cytokines in cows developing retention of fetal membranes [PubMed: 25851495] |
| Медицина и здравоохранение | ДИНАМИКА ЦИТОКИНОВОГО ПРОФИЛЯ В ОЦЕНКЕ ЭФФЕКТИВНОСТИ РАЗНЫХ МЕТОДОВ СТИМУЛЯЦИИ РЕПАРАТИВНОГО ОСТЕОГЕНЕЗА В ЭКСПЕРИМЕНТЕ [Article: N] |
| BMC Anesthesiology | Hyperinflation deteriorates arterial oxygenation and lung injury in a rabbit model of ARDS with repeated open endotracheal suctioning [PubMed: 25943099] |
| J Breath Res | Effects of different ventilation strategies on exhaled nitric oxide in geriatric abdominal surgery [PubMed: 25719610] |
| ARTICLE | The Predictive Diagnostic and Prognostic Cut-off Values for Interleukin 8 in Patients with Meningitis in Egypt [Profile: Mohmad_Mosaad] |
| Veterinary Immunology and Immunopathology | Neutrophil gene dynamics and plasma cytokine levels in dairy cattle during peri-implantation period [Pubmed:27090626] |
| Infection, Genetics and Evolution | Infection of chicken bone marrow mononuclear cells with subgroup J avian leukosis virus inhibits dendritic cell differentiation and alters cytokine expression [Pubmed:27349993] |
| Asian Pacific Journal of Tropical Medicine | Perfusion of gastrodin in abdominal aorta for alleviating spinal cord ischemia reperfusion injury [science:S1995764516300955] |
| Archives of Biological Sciences | Diabetes-induced renal failure is associated with tissue inflammation and neutrophil gelatinase-associated lipocalin: Effects of resveratrol [publication:299492265_Diabetes-induced_renal_failu] |
| Journal of Agricultural Biotechnology | Gln Attenuates LPS-induced Inflammatory Injury of Bos taurus Testis Sustentacular Cells [10610] |
| journal of molecular and cellular cardiology | Mutant DD genotype of NFKB1 gene is associated with the susceptibility and severity of coronary artery disease. [pubmed:28088561] |
| Physiological Research | Intravenous dexamethasone attenuated inflammation and influenced apoptosis of lung cells in an experimental model of acute lung injury. [pubmed:28006948] |
| PLOS ONE | Mechanical Ventilation Alters the Development of Staphylococcus aureus Pneumonia in Rabbit. [pubmed:27391952] |
| The Journal of Comenius University in Bratislava | Effects of Conventional Mechanical Ventilation Performed by Two Neonatal Ventilators on the Lung Functions of Rabbits with Meconium-Induced Acute Lung Injury [acm.2017.16.issue-3] |
| Journal of Physiology and Pharmacology | Effects of budesonide on the lung functions, inflammation and apoptosis in a saline-lavagemodel of acute lung injury. [pubmed:28195073] |
| 中国药物警戒 | 小剂量阿奇霉素对稳定期老年慢性阻塞性肺疾病患者外周血内TNF-α、IL-8、CRP水平及肺功能的影响 [Periodical_zgywjj201608004] |
| Veterinary Immunology and Immunopathology | Cytokine levels in colostrum and in foals' serum pre- and post-suckling [pubmed:28242000] |