巨噬细胞移动抑制因子(MIF)活性蛋白
Active Macrophage Migration Inhibitory Factor (MIF)
GIF; GLIF; MMIF; Glycosylation-Inhibiting Factor; L-dopachrome isomerase; L-dopachrome tautomerase; Phenylpyruvate tautomerase
编号

APA698Mu01

物种Mus musculus (Mouse,小鼠) 相同的名称,不同的物种。
缓冲液成份

20mM Tris, 150mM NaCl缓冲液(pH8.0, 含有1mM EDTA, 1mM DTT, 0.01% SKL, 5% Trehalose和Proclin300)

性状

冻干粉

纯度

> 95%

等电点

6.7

应用

Cell culture; Activity Assays.

下载 英文说明书 中文说明书
规格 10µg50µg 200µg 1mg 5mg
价格 ¥ 2021 ¥ 5052 ¥ 10104 ¥ 30312 ¥ 75780
产品包装(模拟)

产品包装(模拟)
Figure. SDS-PAGE

Figure. Western Blot
通过ISO 9001、ISO 13485质量体系认证
活性实验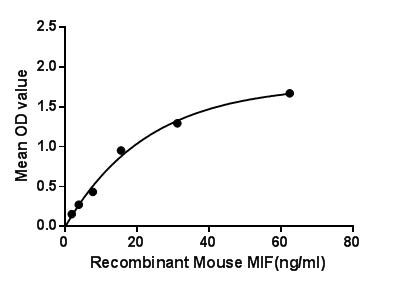 Figure. The binding activity of MIF with MHCDG.
Macrophage migration inhibitory factor (MIF), also known as glycosylation-inhibiting factor (GIF), L-dopachrome isomerase, or phenylpyruvate tautomerase is a protein classified as an inflammatory cytokine. MIF is an important regulator of innate immunity. It involved in cell-mediated immunity, immunoregulation, and inflammation. MIF plays a role in the regulation of macrophage function in host defense through the suppression of anti-inflammatory effects of glucocorticoids. This lymphokine and the JAB1 protein form a complex in the cytosol near the peripheral plasma membrane, which may indicate a role in integrin signaling pathways. Besides, Major Histocompatibility Complex Class II Invariant Chain (MHCDG) has been identified as an interactor of MIF, thus a binding ELISA assay was conducted to detect the interaction of recombinant mouse MIF and recombinant mouse MHCDG. Briefly, MIF were diluted serially in PBS, with 0.01% BSA (pH 7.4). Duplicate samples of 100uL were then transferred to MHCDG-coated microtiter wells and incubated for 2h at 37℃. Wells were washed with PBST and incubated for 1h with anti-MIF pAb, then aspirated and washed 3 times. After incubation with HRP labelled secondary antibody, wells were aspirated and washed 3 times. With the addition of substrate solution, wells were incubated 15-25 minutes at 37℃. Finally, add 50µL stop solution to the wells and read at 450nm immediately. The binding activity of MIF and MHCDG was shown in Figure 1, and this effect was in a dose dependent manner.
用法
Reconstitute in 20mM Tris, 150mM NaCl (PH8.0) to a concentration of 0.1-1.0 mg/mL. Do not vortex.
储存
避免反复冻融。2-8°C不超过一个月,-80°C不超过12个月。
稳定性
热稳定性以损失率显示。损失率是由加速降解试验决定,具体方法如下:在37°C孵育48小时,没有显著的降解或者沉淀产生。保质期内,在适当的条件下存储,损失率低于5%。
参考文献
| | |
| --- | --- |
| 杂志 | 参考文献 |
| Kidney International | Targeted reduction of advanced glycation improves renal function in obesity [PubMed: 21412218] |
| The Journal of Immunology | Macrophage Migration Inhibitory Factor Plays a Role in the Regulation of Microfold (M) Cell-Mediated Transport in the Gut [Jimmunol: 5673] |
| The Journal of Endocrinology | Involvement of exercise-induced macrophage migration inhibitory factor in the prevention of fatty liver disease [PubMed: PMC3757527] |
| The Journal of Immunology | Role of macrophage migration inhibitory factor in the regulatory T cell response of tumor-bearing mice [PubMed: PMC3466372] |
| Diabetologia | Deletion of bone-marrow-derived receptor for AGEs (RAGE) improves renal function in an experimental mouse model of diabetes [Pubmed:24957662] |
| BioMed Research International | The Potential Role of Polymethyl Methacrylate as a New Packaging Material for the Implantable Medical Device in the Bladder [PubMed: 25705692] |
| Diabetologia | Combined NOX1/4 inhibition with GKT137831 in mice provides dose-dependent reno- and atheroprotection even in established micro- and macrovascular disease. [pubmed:28160092] |
| Life Sciences | Protective effect of chlorogenic acid on the inflammatory damage of pancreas and lung in mice with l-arginine-induced pancreatitis [pubmed:28919396] |
| Scientific Reports | Cytokine MIF Enhances Blood-Brain Barrier Permeability: Impact for Therapy in Ischemic Stroke [Pubmed:29335619] |