神经生长因子(NGF)活性蛋白
Active Nerve Growth Factor (NGF)
NGFB; Beta-NGF; HSAN5; NGF-B; Beta-Nerve Growth Factor
编号

APA105Hu01

物种Homo sapiens (Human,人) 相同的名称,不同的物种。
缓冲液成份

20mM Tris, 150mM NaCl缓冲液(pH8.0, 含有1mM EDTA, 1mM DTT, 0.01% SKL, 5% Trehalose和Proclin300)

性状

冻干粉

纯度

> 97%

等电点

10.1

应用

Cell culture; Activity Assays.

下载 英文说明书 中文说明书
规格 10µg50µg 200µg 1mg 5mg
价格 ¥ 1440 ¥ 3600 ¥ 7200 ¥ 21600 ¥ 54000
产品包装(模拟)

产品包装(模拟)
Gene sequencing
SDS-PAGE图

Figure. Western Blot; Sample: APA105Hu01; Antibody: PAA105Hu01
通过ISO 9001、ISO 13485质量体系认证
活性实验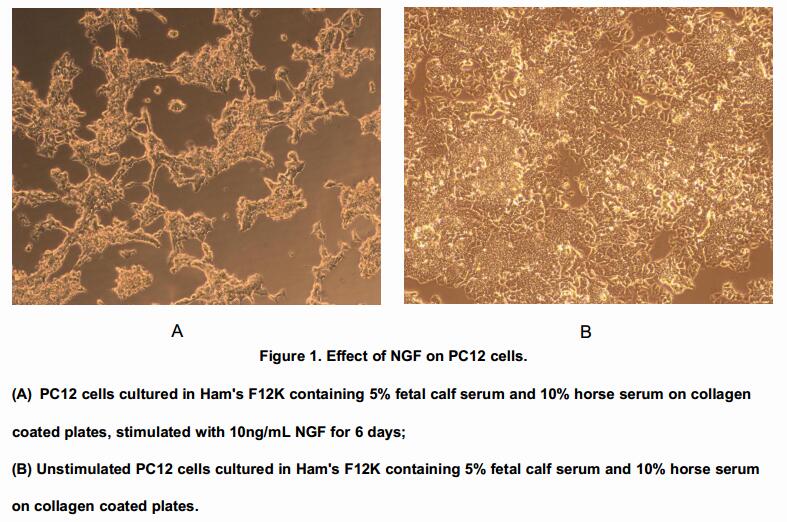 Nerve growth factor (NGF) is a neurotrophic factor and neuropeptide primarily involved in the regulation of growth, maintenance, proliferation, and survival of certain target neurons. As reported, when the pheochromocytoma cell line PC12 is exposed to nerve growth factor (NGF), the cells respond over a period of a week by ceasing cell division and extending neurites (Greene and Tischler, 1976). The cells were grown in Ham's F12K containing 5% fetal calf serum and 10% horse serum on  polylysine or collagen coated plates. When cells reached log phase growth , fresh medium was added together with 10ng/mL of NGF, then cells were observed by inverted microscope everyday.
Cell division ceasing and differentiation of PC12 cells after incubation with NGF (10ng/mL) for 6 days was shown in Figure1.Control group which received no NGF displayed no neurite outgrowth and cells multiply rapidly.
用法
Reconstitute in 20mM Tris, 150mM NaCl (pH8.0) to a concentration of 0.1-1.0 mg/mL. Do not vortex.
储存
避免反复冻融。2-8°C不超过一个月,-80°C不超过12个月。
稳定性
热稳定性以损失率显示。损失率是由加速降解试验决定,具体方法如下:在37°C孵育48小时,没有显著的降解或者沉淀产生。保质期内,在适当的条件下存储,损失率低于5%。
参考文献
| | |
| --- | --- |
| 杂志 | 参考文献 |
| The Tohoku Journal of Experimental Medicine | Low-intensity aerobic exercise mitigates exercise-induced bronchoconstriction by improving the function of adrenal medullary chromaffin cells in asthmatic rats [Pubmed:25212248] |
| International Journal of Pharmaceutics | Neurotrophic and antioxidant effects of silymarin comparable to 4-methylcatechol in protection against gentamicin-induced ototoxicity in guinea pigs [Pubmed:25445537] |
| Yonsei Medical Journal | NGF and HB-EGF: Potential Biomarkers that Reflect the Effects of Fesoterodine in Patients with Overactive Bladder Syndrome [Pubmed:25510766] |
| Molecular and Cellular Endocrinology | High glucose upregulates CYP24A1 expression which attenuates the ability of 1,25(OH)2D3 to increase NGF secretion in a rat Schwann cell line RSC96 [Pubmed:25614971] |
| Mol Cell Endocrinol | High glucose upregulates CYP24A1 expression which attenuates the ability of 1,25(OH)2D3 [PubMed: 25614971] |
| Neurosciences (Riyadh) | Telmisartan inhibits hyperalgesia and inflammatory progression in a diabetic neuropathic pain model of Wistar rats. [PubMed: 25864063] |
| Neurotoxicity Research | Pro-apoptotic Action of Corticosterone in Hippocampal Organotypic Cultures [Pubmed:27189478] |
| Psychoneuroendocrinology | Chronic mild stress influences nerve growth factor through a matrix metalloproteinase-dependent mechanism [Pubmed:26771945] |
| Genet Mol Res | Changes in growth factor levels in the cerebrospinal fluid of autism patients after transplantation of human umbilical cord blood mononuclear cells and umbilical cord-derived mesenchymal stem cells [Pubmed:27323064] |
| The Journal of Maternal-Fetal & Neonatal Medicine | Differential expression of cord blood neurotrophins in gestational diabetes: the impact of fetal growth abnormalities [pubmed:28081639] |
| IOS Press Content Library | An Intranasal Formulation of Erythropoietin (Neuro-EPO) Prevents Memory Deficits and Amyloid Toxicity in the APPSwe Transgenic Mouse Model of Alzheimer's … [articles:journal-of-alzheimers-disease] |
| biblioteca.uva | Evaluación de la secreción de factores neurotróficos por las células MSV en cocultivo con neurorretinas porcinas, en función de la dosis celular y del tiempo de cultivo [10324/27440] |
| Progress in Neuro-Psychopharmacology & Biological Psychiatry | Antidepressant drugs for beta amyloid-induced depression: A new standpoint? [pubmed:28499898] |