血小板衍生生长因子B(PDGFB)活性蛋白
Active Platelet Derived Growth Factor Subunit B (PDGFB)
PDGF-B; PDGF2; SIS; SSV; C-sis; Simian Sarcoma Viral(v-sis)Oncogene Homolog; Platelet Derived Growth Factor Beta Polypeptide; Proto-oncogene c-Sis; Becaplermin
编号

APC921Hu01

物种Homo sapiens (Human,人) 相同的名称,不同的物种。
缓冲液成份

20mM Tris, 150mM NaCl缓冲液(pH8.0, 含有1mM EDTA, 1mM DTT, 0.01% SKL, 5% Trehalose和Proclin300)

性状

冻干粉

纯度

> 95%

等电点

9.5

应用

Cell culture; Activity Assays.

下载 英文说明书 中文说明书
规格 10µg50µg 200µg 1mg 5mg
价格 ¥ 1987 ¥ 4968 ¥ 9936 ¥ 29808 ¥ 74520
产品包装(模拟)

产品包装(模拟)
Figure. Gene Sequencing (Extract)
Figure. SDS-PAGE

Figure. Western Blot
通过ISO 9001、ISO 13485质量体系认证
活性实验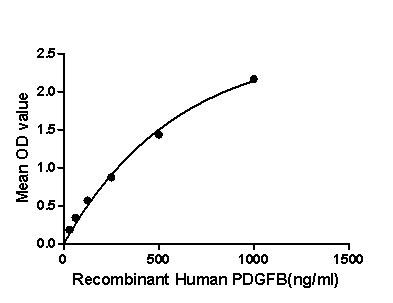 Figure. The binding activity of PDGFB with NRP-1.
Platelet-derived growth factor subunit B (PDGFB) is a member of the platelet-derived growth factor family in humans. The four members of this family are mitogenic factors for cells of mesenchymal origin and are characterized by a motif of eight cysteines. This gene product can exist either as a homodimer (PDGF-BB) or as a heterodimer with the platelet-derived growth factor alpha (PDGFA) polypeptide (PDGF-AB), where the dimers are connected by disulfide bonds. Besides, Neuropilin-1 (NRP-1) has been identified as an interactor of PDGFB, thus a binding ELISA assay was conducted to detect the interaction of recombinant human PDGFB and recombinant human NRP-1. Briefly, PDGFB were diluted serially in PBS, with 0.01% BSA (pH 7.4). Duplicate samples of 100uL were then transferred to NRP-1-coated microtiter wells and incubated for 2h at 37℃. Wells were washed with PBST and incubated for 1h with anti- PDGFB pAb, then aspirated and washed 3 times. After incubation with HRP labelled secondary antibody, wells were aspirated and washed 3 times. With the addition of substrate solution, wells were incubated 15-25 minutes at 37℃. Finally, add 50µL stop solution to the wells and read at 450nm immediately. The binding activity of PDGFB and NRP-1 was shown in Figure 1, and this effect was in a dose dependent manner.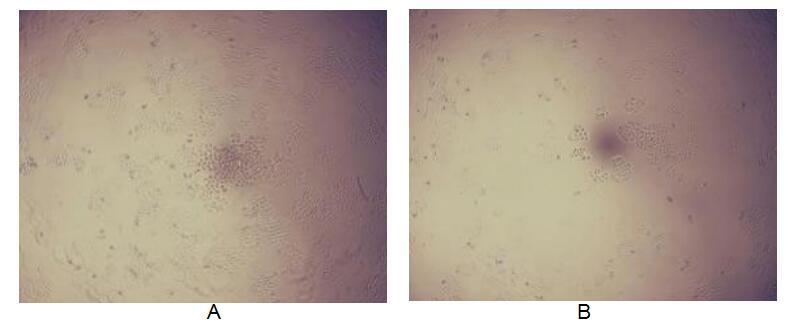 Figure. Cell proliferation of MCF-7 cells after stimulated with IGF2.
PDGFs are mitogenic during early developmental stages, driving the proliferation of undifferentiated mesenchyme and some progenitor populations. During later maturation stages, PDGF signalling has been implicated in tissue remodelling and cellular differentiation, and in inductive events involved in patterning and morphogenesis. In addition to driving mesenchymal proliferation, PDGFs have been shown to direct the migration, differentiation and function of a variety of specialised mesenchymal and migratory cell types, both during development and in the adult animal. A proliferation assay was conducted to detect the bioactivity of recombinant human PDFGB using MCF-7 cells. Briefly, MCF-7 cells were seeded into triplicate wells of 96-well plates at a density of 5,000 cells/well and allowed to attach, replaced with serum-free overnight, then the medium was replaced with 1% serum standard DMEM prior to the addition of various concentrations of PDGFB. After incubated for 96h, cells were observed by inverted microscope and cell proliferation was measured by Cell Counting Kit-8 (CCK-8). Briefly, 10µL of CCK-8 solution was added to each well of the plate, then the absorbance at 450nm was measured using a microplate reader after incubating the plate for 1-4 hours at 37℃. Proliferation of MCF-7 cells after incubation with PDGFB for 96h observed by inverted microscope was shown in Figure 2. Cell viability was assessed by CCK-8 (Cell Counting Kit-8 ) assay after incubation with recombinant PDGFB for 96h. The result was shown in Figure 3. It was obvious that PDGFB significantly increased cell viability of MCF-7 cells.
(A) MCF-7 cells cultured in DMEM, stimulated with 1ng/mL PDGFB for 96h;
(B) Unstimulated MCF7 cells cultured in DMEM for 96h.
用法
Reconstitute in 20mM Tris, 150mM NaCl (pH8.0) to a concentration of 0.1-1.0 mg/mL. Do not vortex.
储存
避免反复冻融。2-8°C不超过一个月,-80°C不超过12个月。
稳定性
热稳定性以损失率显示。损失率是由加速降解试验决定,具体方法如下:在37°C孵育48小时,没有显著的降解或者沉淀产生。保质期内,在适当的条件下存储,损失率低于5%。
参考文献
| | |
| --- | --- |
| 杂志 | 参考文献 |
| AAPS PharmSciTech | Inhibition of Glomerular Mesangial Cell Proliferation by siPDGF-B-and siPDGFR-β-Containing Chitosan Nanoplexes [pubmed:27975193] |
| Marmara Pharmaceutical Journal | In vitro PDGF-B gene silencing studies and In vivo delivery of siRNA to the rat kidney using Chitosan/siRNA nanoplexes [5000184338] |
| International Journal of Clinical and Experimental Pathology | Platelet-derived growth factor and stromal cell-derived factor-1 promote the skin wound repairing effect of bone mesenchymal stem cells: a key role of matrix metalloproteinase 1 and collagens [ISSN:1936-2625/IJCEP0058424] |