干细胞因子(SCF)活性蛋白
Active Stem Cell Factor (SCF)
KITLG; MGF; SF; KL1; Kitl; FPH2; Kit-Ligand; Steel Factor; Mast Cell Growth Factor; Steel factor; Familial Progressive Hyperpigmentation 2
编号

APA120Po61

物种Sus scrofa; Porcine (Pig,猪) 相同的名称,不同的物种。
缓冲液成份

磷酸盐缓冲液(pH7.4,含有 0.01% SKL, 1mM DTT, 5% Trehalose和Proclin300.)

性状

冻干粉

纯度

> 95%

等电点

5.3

应用

Cell culture; Activity Assays.

下载 英文说明书 中文说明书
规格 10µg50µg 200µg 1mg 5mg
价格 ¥ 2160 ¥ 5400 ¥ 10800 ¥ 32400 ¥ 81000
产品包装(模拟)

产品包装(模拟)
Gene sequencing
SDS-PAGE图

Figure. Western Blot; Sample: Recombinant SCF, Porcine.
通过ISO 9001、ISO 13485质量体系认证
活性实验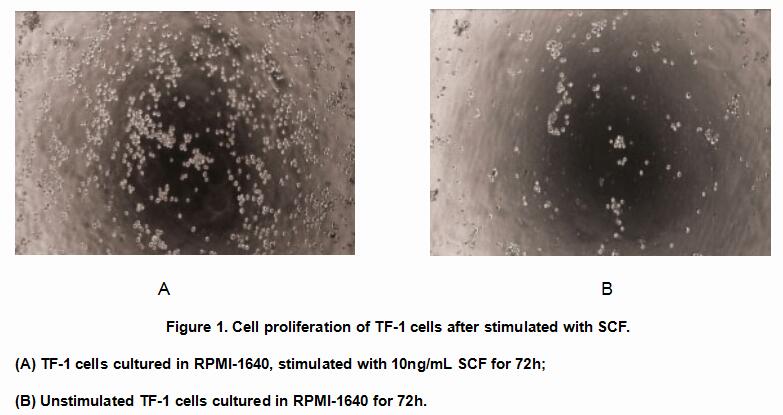 Stem cell factor (SCF), also known as mast cell growth factor (MGF), and steel factor (SLF), plays an important role in hematopoiesis, spermatogenesis, and melanogenesis. SCF has been shown to stimulate the proliferation of TF-1 cells. To test this effect, TF-1 cells were seeded into triplicate wells of 96-well plates at a density of 1x104cells/well and incubated for 72h in the presence or absence of various concentrations of SCF at 37oC. The growth of cells were observed by inverted microscope and cell proliferation was measured by Cell Counting Kit-8 (CCK-8). Briefly, 10µL of CCK-8 solution was added to each well of the plate, then measure the absorbance at 450nm using a microplate reader after incubating the plate for 1-4 hours at 37oC.
Cell proliferation of TF-1 cells after incubation with SCF for 72h observed by inverted microscope was shown in Figure 1.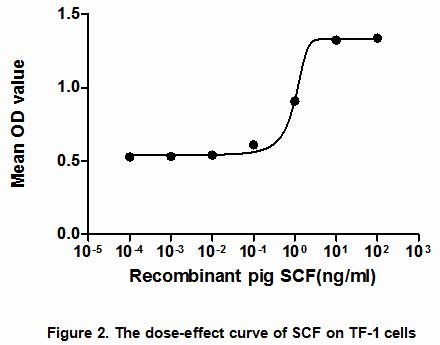 The dose-effect curve of SCF was shown in Figure 2. It was obvious that it significantly promoted cell proliferation of TF-1 cells. The ED50 for this effect is typically 6.07 to 13.69ng/mL.
用法
Reconstitute in 10mM PBS (pH7.4) to a concentration of 0.1-1.0 mg/mL. Do not vortex.
储存
避免反复冻融。2-8°C不超过一个月,-80°C不超过12个月。
稳定性
热稳定性以损失率显示。损失率是由加速降解试验决定,具体方法如下:在37°C孵育48小时,没有显著的降解或者沉淀产生。保质期内,在适当的条件下存储,损失率低于5%。
参考文献
| | |
| --- | --- |
| 杂志 | 参考文献 |
| Archives of Gynecology and Obstetrics | Effect of ovarian stimulation with recombinant follicle-stimulating hormone, gonadotropin-releasing hormone agonist and antagonists, on follicular fluid stem cell factor and serum urocortin 1 levels on the day of oocyte retrieval [Pubmed: 23801011] |
| Medicine (Baltimore) | An Attempt to Evaluate Selected Aspects of "Bone–Fat Axis" Function in Healthy Individuals and Patients With Pancreatic Cancer [PubMed: 26266370] |
| Tumor Biology | Hypoxia-induced secretion of IL-13 from adipose-derived mesenchymal stem cell promotes growth and cancer stem cell properties of Burkitt lymphoma [PubMed: 26695151] |
| Molecular Neurobiology | Middle-Aged Diabetic Females and Males Present Distinct Susceptibility to Alzheimer Disease-like Pathology. [pubmed:27730513] |