转化生长因子β1(TGFb1)活性蛋白
Active Transforming Growth Factor Beta 1 (TGFb1)
TGF-B1; CED; DPD1; LAP; Camurati-Engelmann Disease; Latency-associated peptide
编号

APA124Hu01

物种Homo sapiens (Human,人) 相同的名称,不同的物种。
缓冲液成份

20mM Tris, 150mM NaCl缓冲液(pH8.0, 含有1mM EDTA, 1mM DTT, 0.01% SKL, 5% Trehalose和Proclin300)

性状

冻干粉

纯度

> 97%

等电点

8.4

应用

Cell culture; Activity Assays.

下载 英文说明书 中文说明书
规格 10µg50µg 200µg 1mg 5mg
价格 ¥ 2160 ¥ 5400 ¥ 10800 ¥ 32400 ¥ 81000
产品包装(模拟)

产品包装(模拟)
Gene sequencing
SDS-PAGE图

Figure. Western Blot; Sample: Recombinant TGFb1, Human.
通过ISO 9001、ISO 13485质量体系认证
活性实验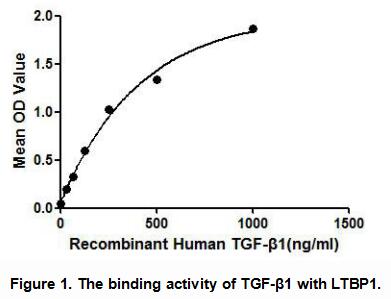 TGF-β1 (Transforming growth factor beta 1) is a multifunctional set of peptides that controls proliferation, differentiation, and other functions in many cell types. TGF beta 1 has been shown to interact with TGF beta receptor 1, Decorin, LTBP1 and so on. Thus we have conducted a binding ELISA assay to detect the interaction of recombinant human TGF-β1 with recombinant human LTBP1. Briefly, TGF-β1 were diluted serially in PBS, with 0.01%BSA (pH 7.4). Duplicate samples of 100uL were then transferred to LTBP1-coated microtiter wells and incubated for 2h at 37°C. Wells were washed with PBST and incubated for 1h with anti-LTBP1 pAb, then aspirated and washed 3 times. After incubation with HRP labelled secondary antibody, wells were aspirated and washed 3 times. With the addition of substrate solution, wells were incubated 15-25 minutes at 37°C. Finally, add 50µL stop solution to the wells and read at 450nm immediately. The binding activity of TGF-β1 with LTBP1 was shown in Figure 1 and this effect was in a dose dependent manner.
用法
Reconstitute in 20mM Tris, 150mM NaCl (PH8.0) to a concentration of 0.1-1.0 mg/mL. Do not vortex.
储存
避免反复冻融。2-8°C不超过一个月,-80°C不超过12个月。
稳定性
热稳定性以损失率显示。损失率是由加速降解试验决定,具体方法如下:在37°C孵育48小时,没有显著的降解或者沉淀产生。保质期内,在适当的条件下存储,损失率低于5%。
参考文献
| | |
| --- | --- |
| 杂志 | 参考文献 |
| Cardiovascular Research | Metformin attenuates cardiac fibrosis by inhibiting the TGFβ1–Smad3 signalling pathway [OxfordJournals: source] |
| Immunopharmacology and Inflammation | Evidence for the complementary and synergistic effects of the three-alkaloid combination regimen containing berberine, hypaconitine and skimmianine on the ulcerative colitis rats induced by trinitrobenzene-sulfonic acid [ScienceDirect: S0188440910001049] |
| Biochemical and Biophysical Research Communications | Chronic angiotensin-(1–7) administration improves vascular remodeling after angioplasty through the regulation of the TGF-β/Smad signaling pathway in rabbits [ScienceDirect: S0006291X09017021] |
| European Cells and Materials | Incorporating pTGF-β1/calcium phosphate nanoparticles with fibronectin into 3-dimensional collagen/chitosan scaffolds: efficient, sustained gene delivery to stem cells for chondrogenic differentiation. [Pubmed: 22314694] |
| Journal of Animal and Veterinary Advances | A Soluble Antigen-Specific Factor from CD4+CD25+ T Cells of OVA Tolerant Mice Inducing OVA-Specific Peripheral Tolerance Independently in vivo [Medwell: 2011642650] |
| revue de medecine veterinaire | Increased circulating concentrations of PDGF-BB and TGF-β1 in canine generalised demodicosis [Revmedvet: Source] |
| Biomedical and Environmental Sciences | The Intervention Effect of Rosiglitozone in Ovarian Fibrosis of PCOS Rats [Besjournal: Source] |
| The Open Respiratory Medicine Journal | Biomarkers of Fibroproliferative Healing in Fibrosing Idiopathic Interstitial Pneumonias [PubMed: PMC3551240] |
| PLoS ONE | A Combinatorial Relative Mass Value Evaluation of Endogenous Bioactive Proteins in Three-Dimensional Cultured Nucleus Pulposus Cells of Herniated Intervertebral Discs: Identification of Potential Target Proteins for Gene Therapeutic Approaches [Plosone: Source] |
| J Physiol Pharmacol. | Fibrogenic response of hepatic stellate cells in ovarectomised rats exposed to ketogenic diet [Pubmed: 23568967] |
| international Journal of food and nutritional sciences | EVALUATION OF PHYSICO-CHEMICAL PROPERTIES OF COLOSTRUM SUPPLEMENTED DAHI [Ijfans: Source] |
| Journal of ethnopharmacology | Multitargeted protective effect of Abacopteris penangiana against carrageenan-induced chronic prostatitis in rats. [Pubmed: 24211397] |
| Int J Clin Exp Pathol | Development of a KLD-12 polypeptide/TGF-β1-tissue scaffold promoting the differentiation of esenchymal stem cell into nucleus pulposus-like cells for treatment of intervertebral disc degeneration [Ijcep:Source] |
| Am J Physiol Regul Integr Comp Physiol. | Prolactin anterior pituitary expression and circulating levels are reduced in obese and diabetic rats: Role of TGFβ and TNFα [Pubmed:25715833] |
| Exp Ther Med. | PAR2, IL4R, TGFβ and TNFα in bronchoalveolar lavage distinguishes extrinsic allergic alveolitis from sarcoidosis [Pubmed:Pmc4079423] |
| International Journal of Molecular Medicine | Effect of combined treatment with rosuvastatin and protein kinase Cβ2 inhibitor on angiogenesis following myocardial infarction in diabetic rats [Pubmed:25524396] |
| Indian J Pharmacol | Effect of coenzyme Q10 alone and its combination with metformin on streptozotocin-nicotinamide-induced diabetic nephropathy in rats [Pubmed:25538335] |
| Prostaglandins, Leukotrienes and Essential Fatty Acids (PLEFA) | Ameliorative potential of omega 3 fatty acids and HMG-CoA reductase inhibitors on experimentally-induced non-alcoholic steatohepatitis [Pubmed:25541279] |
| Anadolu Kardiyol Derg. | A novel association between TGFb1 and ADAMTS4 in coronary artery disease: A new potential mechanism in the progression of atherosclerosis and diabetes. [Pubmed:25592103] |
| Journal of Drug | Targeting Apoptosis, Advanced Glycation End Products and Transforming Growth Factor-β1 by Biguanides and Resveratrol to Ameliorate Experimentally-induced Diabetic Nephropathy [Pdf: Drugs] |
| Mol Med Rep | NIM811 downregulates transforming growth factor [PubMed: 26573209] |
| The Tohoku Journal of Experimental Medicine | Salvia Miltiorrhiza Bge.f.alba Ameliorates the Progression of Monocrotaline-Induced Pulmonary Hypertension by Protecting Endothelial Injury in Rats [PubMed: 26074502] |
| Oncol Rep | Therapeutic effects of bone marrow-derived mesenchymal stem cells on radiation-induced lung injury [PubMed: 26717975] |
| J Surg Res | Epigallocatechin-3-gallate reduces tubular cell apoptosis in mice with ureteral obstruction [PubMed: 25913488] |
| Histol Histopathol | Estrogen-deficient osteoporosis enhances the recruitment and activity of osteoclasts by breast cancer cells [PubMed: 26254457] |
| Clin Exp Pharmacol Physiol | Silymarin attenuates paraquat-induced lung injury via Nrf2-mediated pathway in vivo and in vitro [PubMed: 26173462] |
| Immunologic Research | Mesenchymal stromal cell-dependent reprogramming of Kupffer cells is mediated by TNF-α and PGE6 and is crucial for liver transplant tolerance [PubMed: 25982596] |
| Journal of Neuroscience | MSX3 Switches Microglia Polarization and Protects from Inflammation-Induced Demyelination [PubMed: 25904788] |
| J Reprod Immunol | The immunomodulating effect of seminal plasma on T cells [PubMed: 25799173] |
| Nutr Cancer | Camel Milk: Potential Utility as an Adjunctive Therapy to Peg-IFN/RBV in HCV-4 Infected Patients in Egypt [PubMed: 26492130] |
| Int J Clin Exp Med | Uighur medicine abnormal savda munzip (ASMq) suppresses expression of collagen and TGF-β1 with concomitant induce Smad7 in human hypertrophic scar … [PubMed: 26309506] |
| Int J Clin Exp Pathol | Development of a KLD-12 polypeptide/TGF-β1-tissue scaffold promoting the differentiation of mesenchymal stem cell into nucleus pulposus-like cells for treatment of intervertebral disc degeneration. [PubMed: 25972996] |
| International Immunopharmacology | Oxymatrine attenuates CCl 4-induced hepatic fibrosis via modulation of TLR4-dependent inflammatory and TGF-β1 signaling pathways [Pubmed:27179304] |
| Deletion Polymorphism and Chronic Obstructive Pulmonary Disease | ReCavia (Guinea pig )lation of Viral Infection-induced Airway Remodeling Cytokine Production by the TLR3-EGFR Signaling Pathway in Human Bronchial Epithelial Cells [Pubmed:27075970] |
| Tissue and Cell | Human umbilical cord blood-mesenchymal stem cells transplantation renovates the ovarian surface epithelium in a rat model of premature ovarian failure: Possible direct and indirect effects [Pubmed:27233913] |
| Cancer Medicine & Anti Cancer Drugs | Ameliorative Potential of Tamoxifen/Thymoquinone Combination in Patients with Breast Cancer: A Biochemical and Immunohistochemical Study [open-access:1000102] |
| Sleep Sciences | Th17 Cell Related Cytokine Profiles in Narcolepsy and Other Types of Excessive Daytime Sleepiness [article:15] |
| Tissue Cell. | Ameliorative potential of fluoxetine/raloxifene combination on experimentally induced breast cancer [Pubmed:26881735] |
| International Journal of Molecular Sciences | TGF-β and Physiological Root Resorption of Deciduous Teeth. [pubmed:28035998] |
| BMC Veterinary Research | Lymphocytic, cytokine and transcriptomic profiles in peripheral blood of dogs with atopic dermatitis [pubmed:27553600] |
| immunology letters | Recombinant Mip-PilE-FlaA dominant epitopes vaccine candidate against Legionella pneumophila. [pubmed:28366526] |
| immunology letters | Gemcitabine treatment enhanced the anti-tumor effect of cytokine induced killer cells by depletion of CD4+CD25bri regulatory T cells. [pubmed:27867030] |
| Journal of Cardiovascular Electrophysiology | Effect of Cardiac Resynchronization Therapy on Myocardial Fibrosis and Relevant Cytokines in a Canine Model With Experimental Heart Failure. [pubmed:28127817] |
| Molecular Medicine Reports | The protective role of vitamin D3 in a murine model of asthma via the suppression of TGF-β/Smad signaling and activation of the Nrf2/HO-1 pathway. [pubmed:27484042] |
| International Immunopharmacology | Amelioration of bleomycin-induced lung fibrosis in rats by valproic acid and butyrate: Role of nuclear factor kappa-B, proinflammatory cytokines and oxidative stress [pubmed:27526269] |
| Cellular Physiology and Biochemistry | Renal Denervation Attenuates Multi-Organ Fibrosis and Improves Vascular Remodeling in Rats with Transverse Aortic Constriction Induced Cardiomyopathy [pubmed:27889753] |
| Canadian Journal of Physiology and Pharmacology | The effect of midkine on growth factors and oxidative status in an experimental wound model in diabetic and healthy rats [pubmed:28177680] |
| PLoS One. | Differential frequency of CD8+ T cell subsets in multiple sclerosis patients with various clinical patterns [pubmed:27467597] |
| Therapeutics and Clinical Risk Management | Elevated blood plasma levels of epinephrine, norepinephrine, tyrosine hydroxylase, TGFβ1, and TNFα associated with high-altitude pulmonary edema in an Indian population. [pubmed:27540296] |
| Journal of Cancer Research and Treatment | Effect of Indole-3-carbinol and/or Metformin on Female Patients with Ulcerative Colitis (Premalignant Condition): Role of Oxidative Stress, Apoptosis and Proinflammatory Cytokines [jcrt:5] |
| Sci Rep | Follistatin like-1 aggravates silica-induced mouse lung injury [PMC5428474] |
| Ren Fail.  | Effect of concomitant administration of coenzyme Q10 with sitagliptin on experimentally induced diabetic nephropathy in rats. [pubmed:27841100] |
| Basic Clin Pharmacol Toxicol. | Magnolol Attenuates Concanavalin A-induced Hepatic Fibrosis, Inhibits CD4+ T Helper 17 (Th17) Cell Differentiation and Suppresses Hepatic Stellate Cell Activation: Blockade of Smad3/Smad4 Signalling. [pubmed:28032440] |
| Acta Vet Hung. | Imbalance of intestinal immune function in piglets infected by porcine circovirus type 2 during the fetal period. [pubmed:28244338] |
| Gut Pathog. | Oral administration of Clostridium butyricum CGMCC0313‐1 reduces ovalbumin‐induced allergic airway inflammation in mice [pubmed:28250847] |
| Environmental Toxicology and Pharmacology | Ameliorative potential of linagliptin and/or calcipotriol on bleomycin-induced lung fibrosis: In vivo and in vitro study [pubmed:28192751] |
| PeerJ | Platelet-rich concentrate in serum free medium enhances osteogenic differentiation of bone marrow-derived human mesenchymal stromal cells [pubmed:27651984] |
| Biomedical and Environmental Sciences | Crystalline Silica Promotes Rat Fibrocyte Differentiation in Vitro, and Fibrocytes Participate in Silicosis in Vivo [pubmed:29081339] |
| Toxicology and Applied Pharmacology | Sildenafil protects against bile duct ligation induced hepaticfibrosis in rats: Potential role for silent information regulator 1 (SIRT1) [pubmed:28974454] |
| Oral Diseases | Glucosamine oral administration as an adjunct to hyaluronic acid injection in treating temporomandibular joint osteoarthritis [pubmed:28862770] |
| Biomedicine & Pharmacotherapy | Cytokine production in vitro and in rat model of colitis in response to Lactobacillus plantarum LS/07 [pubmed:28830068] |
| Research in Veterinary Science | The effect of feed supplementation with effective microorganisms(EM) on pro- and anti-inflammatory cytokine concentrations in pigs [pubmed:28549299] |
| Journal of Materials Chemistry B | Extracellular Matrix Powder from Cultured Cartilage-Like Tissue as Cell Carriers for Cartilage Repair [DOI:10.1039/C7TB00640C] |
| National Natural Scientific | Role of Gut-Derived Endotoxin on Type I Collagen Production in the Rat Pancreas after Chronic Alcohol Exposure [pubmed:29121396] |
| Basic & Clinical Pharmacology & Toxicology | Magnolol Attenuates Concanavalin A-induced Hepatic Fibrosis, Inhibits CD4 + T Helper 17(Th17) Cell Differentiation and Suppresses Hepatic Stellate Cell Activation: Blockade of Smad3/Smad4 Signalling [doi:10.1111] |
| Experiental And Therapeutic Medicine | Plasma proteins as potential targets of abnormal Savda syndrome in asthma patients treated with unique Uighur prescription [pubmed:28672924] |
| Oncotarget. | Tumor-associated macrophages promote tumor metastasis via the TGF-β/SOX9 axis in non-small cell lung cancer [pubmed:29245941] |
| International Journal of Chemical Studies | Studies on quality attributes of skimmed colostrum powder [P-ISSN: 2349–8528] |
| Scientific RepoRts | Follistatin like-1 aggravates silicainduced mouse lung injury [pubmed:28341862] |
| Evidence-Based Complementary and Alternative Medicine | Cardioprotection against Heart Failure by Shenfu Injection via TGF-β/Smads Signaling Pathway [pubmed:28698735] |
| Molecular Medicine Reports | Pigment epithelium‑derived factor protects human glomerular mesangial cells from diabetes via NOXO1‑iNOS suppression [10.3892/mmr.2017.7563] |
| ARTIFICIAL CELLS NANOMEDICINE AND BIOTECHNOLOGY  | Dexamethasone reduces serum level of IL-17 in Bleomycin-A5-induced rats model of pulmonary fibrosis [pubmed:28608724] |
| Cell Physiol Biochem | Exendin-4 Induces Bone Marrow Stromal Cells Migration Through Bone Marrow-Derived Macrophages Polarization via PKA-STAT3 Signaling Pathway [pubmed:29216639] |
| Chemico-biological Interactions | The promising effect of linagliptin and/or indole-3-carbinol on experimentally-induced polycystic ovarian syndrome. [pubmed:28619389] |
| PLoS One | Protective effect of aplysin on liver tissue and the gut microbiota in alcohol-fed rats [pubmed:28622357] |
| Evidence-based complementary and alternative medicine | Qiliqiangxin Enhances Cardiac Glucose Metabolism and Improves Diastolic Function in Spontaneously Hypertensive Rats [pubmed:28706558] |
| Molecular and Cellular Neuroscience | TGF-β1 enhances phagocytic removal of neuron debris and neuronal survival by olfactory ensheathing cells via integrin/MFG-E8 signaling pathway [10.1016/j.mcn.2017.08.006] |
| Journal of Thoracic Oncology | Systemic and Tumor Th1 and Th2 Inflammatory Profile and Macrophages in Lung Cancer: Influence of Underlying Chronic Respiratory Disease. [pubmed:27793775] |