肿瘤蛋白p53(P53)活性蛋白
Active Tumor Protein p53 (P53)
TP53; LFS1; TRP53; Li-Fraumeni Syndrome; Cellular tumor antigen p53; Antigen NY-CO-13; Phosphoprotein p53; Tumor suppressor p53
编号

APA928Ra01

物种Rattus norvegicus (Rat,大鼠) 相同的名称,不同的物种。
缓冲液成份

20mM Tris, 150mM NaCl缓冲液(pH8.0, 含有1mM EDTA, 1mM DTT, 0.01% SKL, 5% Trehalose和Proclin300)

性状

冻干粉

纯度

> 97%

等电点

9.0

应用

Cell culture; Activity Assays.

下载 英文说明书 中文说明书
规格 10µg50µg 200µg 1mg 5mg
价格 ¥ 1728 ¥ 4320 ¥ 8640 ¥ 25920 ¥ 64800
产品包装(模拟)

产品包装(模拟)
Figure. SDS-PAGE

Figure. Western Blot
通过ISO 9001、ISO 13485质量体系认证
活性实验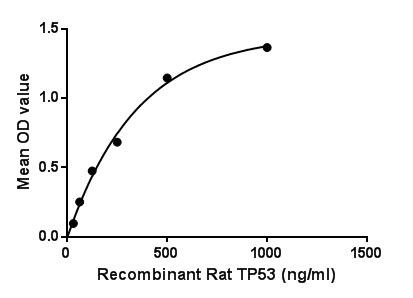 Tumor protein p53 (TP53), also known as p53, cellular tumor antigen p53 has many mechanisms of anticancer function and plays a role in apoptosis, genomic stability, and inhibition of angiogenesis. TP53 act as a tumor suppressor in many tumor types; induces growth arrest or apoptosis depending on the physiological circumstances and cell type. It also Involved in cell cycle regulation as a trans-activator that acts to negatively regulate cell division by controlling a set of genes required for this process. Besides, CREB Binding Protein (CREBBP) has been identified as an interactor of TP53, thus a binding ELISA assay was conducted to detect the interaction of recombinant rat TP53 and recombinant rat CREBBP. Briefly, TP53 were diluted serially in PBS, with 0.01% BSA (pH 7.4). Duplicate samples of 100μL were then transferred to CREBBP-coated microtiter wells and incubated for 2h at 37℃. Wells were washed with PBST and incubated for 1h with anti-TP53 pAb, then aspirated and washed 3 times. After incubation with HRP labelled secondary antibody, wells were aspirated and washed 3 times. With the addition of substrate solution, wells were incubated 15-25 minutes at 37℃. Finally, add 50µL stop solution to the wells and read at 450nm immediately. The binding activity of TP53 and CREBBP was shown in Figure 1, and this effect was in a dose dependent manner.
Figure. The binding activity of TP53 with CREBBP.
用法
Reconstitute in 20mM Tris, 150mM NaCl (pH8.0) to a concentration of 0.1-1.0 mg/mL. Do not vortex.
储存
避免反复冻融。2-8°C不超过一个月,-80°C不超过12个月。
稳定性
热稳定性以损失率显示。损失率是由加速降解试验决定,具体方法如下:在37°C孵育48小时,没有显著的降解或者沉淀产生。保质期内,在适当的条件下存储,损失率低于5%。
参考文献
| | |
| --- | --- |
| 杂志 | 参考文献 |
| Anticancer Research | Analysis of p53 and miRNA expression after irradiation of glioblastoma cell lines [PubMed: 23155233] |
| Microscopy Research and Technique | Therapeutic role of curcumin in oxidative DNA damage caused by formaldehyde [PubMed: 25761397] |
| J Nutr Biochem | Supplementation with Selenium yeast on the prooxidant–antioxidant activities and anti-tumor effects in breast tumor xenograft-bearing mice [PubMed: 26344777] |