血管内皮生长因子受体2(VEGFR2)活性蛋白
Active Vascular Endothelial Growth Factor Receptor 2 (VEGFR2)
CD309; FLK1; VEGFR; KDR; A Type III Receptor Tyrosine Kinase; Kinase Insert Domain Receptor; Kinase Insert Domain Receptor; Fetal Liver Kinase-1
编号

APB367Hu61

物种Homo sapiens (Human,人) 相同的名称,不同的物种。
缓冲液成份

磷酸盐缓冲液(pH7.4,含有 0.01% SKL, 1mM DTT, 5% Trehalose和Proclin300.)

性状

冻干粉

纯度

> 97%

等电点

6.5

应用

Cell culture; Activity Assays.

下载 英文说明书 中文说明书
规格 10µg50µg 200µg 1mg 5mg
价格 ¥ 1296 ¥ 3240 ¥ 6480 ¥ 19440 ¥ 48600
产品包装(模拟)

产品包装(模拟)
Figure. Gene Sequencing (Extract)
Figure. SDS-PAGE
通过ISO 9001、ISO 13485质量体系认证
活性实验

Figure. Cell proliferation of ECV-304 cells inhibit by VEGFR2.
Vascular Endothelial Growth Factor Receptor 2 (VEGFR2) also known as kinase insert domain receptor acts as a cell-surface receptor for VEGFA, VEGFC and VEGFD. VEGFR2 functions as the primary mediator of vascular endothelial growth factor activation in endothelial cells. Regulation of VEGFR-2 expression appears critical in mitogenesis, differentiation, and angiogenesis. To test the effect on inhibit the VEGF-dependent proliferation of endothelium cells, ECV-304 cells were seeded into triplicate wells of 96-well plates at a density of 5,000 cells/well and allowed to attach, replaced with serum-free overnight, then the medium was replaced with 2% serum standard DMEM including 1μg/mL Vascular Endothelial Growth Factor C (VEGFC) and various concentrations of recombinant human VEGFR2. After incubated for 96h, cells were observed by inverted microscope and cell proliferation was measured by Cell Counting Kit-8 (CCK-8). Briefly, 10µL of CCK-8 solution was added to each well of the plate, then the absorbance at 450nm was measured using a microplate reader after incubating the plate for 1-4 hours at 37℃. Proliferation of ECV-304 cells after incubation with VEGFR2 for 96h observed by inverted microscope was shown in Figure 1. Cell viability was assessed by CCK-8 (Cell Counting Kit-8) assay after incubation with recombinant VEGFR2 for 96h. The result was shown in Figure 2. It was obvious that VEGFR2 significantly inhibit cell viability of ECV-304.
(A) ECV-304 cells cultured in DMEM, stimulated with 10ng/mL VEGFR2 for 96h;
(B) Unstimulated ECV-304 cells cultured in DMEM for 96h.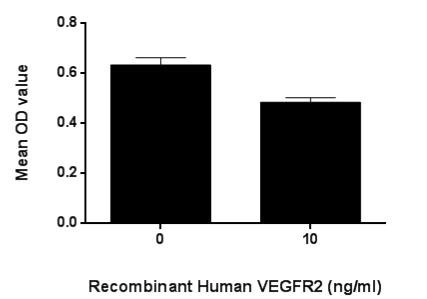 Figure. VEGFR2 inhibit VEGF-dependent proliferation of ECV-304 cells.
用法
Reconstitute in 10mM PBS (pH7.4) to a concentration of 0.1-1.0 mg/mL. Do not vortex.
储存
避免反复冻融。2-8°C不超过一个月,-80°C不超过12个月。
稳定性
热稳定性以损失率显示。损失率是由加速降解试验决定,具体方法如下:在37°C孵育48小时,没有显著的降解或者沉淀产生。保质期内,在适当的条件下存储,损失率低于5%。
参考文献
| | |
| --- | --- |
| 杂志 | 参考文献 |
| APMIS | Peritumoral brain edema in angiomatous supratentorial meningiomas: an investigation of the vascular endothelial growth factor A pathway [PubMed: 23398358] |
| Acta Biomater | Antioxidant and bone repair properties of quercetin-functionalized hydroxyapatite: an in vitro osteoblast-osteoclast-endothelial cell co-culture study [PubMed: 26689470] |
| Acta Biomaterialia | Antioxidant and bone repair properties of quercetin-functionalized hydroxyapatite: An in vitro osteoblast–osteoclast–endothelial cell co-culture study [Pubmed:26689470] |
| Journal of Cellular Physiology | A Human 3D In Vitro Model to Assess the Relationship Between Osteoporosis and Disseminationto Bone of Breast Cancer Tumor Cells. [pubmed:27925188] |
| Regenerative Biomaterials | The directional migration and differentiation of mesenchymal stem cells toward vascular endothelial cells stimulated by biphasic calcium phosphate ceramic [10.1093/rb/rbx028] |
| International Journal of Immunopathology and Pharmacology | VEGF-R2 and TNF-R1 expression and cytokine production by samples of mammary adenocarcinomas and correlations with histopathological parameters of these … [Pubmed:29985074] |