无翅型MMTV整合位点家族成员5A(WNT5A)活性蛋白
Active Wingless Type MMTV Integration Site Family, Member 5A (WNT5A)
编号

APP549Ra01

物种Rattus norvegicus (Rat,大鼠) 相同的名称,不同的物种。
缓冲液成份

20mM Tris, 150mM NaCl缓冲液(pH8.0, 含有1mM EDTA, 1mM DTT, 0.01% SKL, 5% Trehalose和Proclin300)

性状

冻干粉

纯度

> 95%

等电点

8.8

应用

Cell culture; Activity Assays.

下载 英文说明书 中文说明书
规格 10µg50µg 200µg 1mg 5mg
价格 ¥ 1714 ¥ 4284 ¥ 8568 ¥ 25704 ¥ 64260
产品包装(模拟)

产品包装(模拟)
Figure. Gene Sequencing (Extract)
Figure. SDS-PAGE

Figure. Western Blot
通过ISO 9001、ISO 13485质量体系认证
活性实验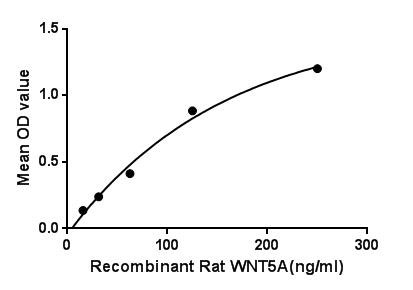 Figure. The binding activity of WNT5A with WIF1.
Wingless Type MMTV Integration Site Family, Member 5A (WNT5A) is a ligand for members of the frizzled family of seven transmembrane receptors. Can activate or inhibit canonical Wnt signaling, depending on receptor context. Stimulates cell migration. Decreases proliferation, migration, invasiveness and clonogenicity of carcinoma cells and may act as a tumor suppressor. Besides, WNT Inhibitory Factor 1 (WIF1) has been identified as an interactor of WNT5A, thus a binding ELISA assay was conducted to detect the interaction of recombinant rat WNT5A and recombinant rat WIF1. Briefly, WNT5A were diluted serially in PBS, with 0.01% BSA (pH 7.4). Duplicate samples of 100uL were then transferred to WIF1-coated microtiter wells and incubated for 2h at 37℃. Wells were washed with PBST and incubated for 1h with anti-WNT5A pAb, then aspirated and washed 3 times. After incubation with HRP labelled secondary antibody, wells were aspirated and washed 3 times. With the addition of substrate solution, wells were incubated 15-25 minutes at 37℃. Finally, add 50µL stop solution to the wells and read at 450nm immediately. The binding activity of WNT5A and WIF1 was shown in Figure 1, and this effect was in a dose dependent manner.
用法
Reconstitute in 20mM Tris, 150mM NaCl (pH8.0) to a concentration of 0.1-1.0 mg/mL. Do not vortex.
储存
避免反复冻融。2-8°C不超过一个月,-80°C不超过12个月。
稳定性
热稳定性以损失率显示。损失率是由加速降解试验决定,具体方法如下:在37°C孵育48小时,没有显著的降解或者沉淀产生。保质期内,在适当的条件下存储,损失率低于5%。
参考文献
| | |
| --- | --- |
| 杂志 | 参考文献 |
| Liver International | Secreted frizzled-related protein 5 (Sfrp5) decreases hepatic stellate cell activation and liver fibrosis [Pubmed:25488180] |
| Journal of Physiology and Biochemistry | Wnt5a reverses the inhibitory effect of hyperoxia on transdifferentiation of alveolar epithelial type II cells to type I cells [PubMed: 26547443] |
| Liver | Secreted frizzled‐related protein 5 (Sfrp5) decreases hepatic stellate cell activation and liver fibrosis [PubMed: 25488180] |
| Transl Res | Wnt5a is expressed in spondyloarthritis and exerts opposite effects on enthesis and bone in murine organ and cell cultures [PubMed: 26163991] |
| 不确定杂志名 | Untersuchungen der Serum-Konzentrationen des proinflammatorischen Glykoproteins wnt-5a und seines antiinflammatorischen Inhibitors sFRP-5 bei an … [servlets:MCRFileNodeServlet] |
| Life Sciences | Hepatoprotective effect of hesperidin in hepatocellular carcinoma: Involvement of Wnt signaling pathways. [pubmed:28754618] |
| Arteriosclerosis, Thrombosis, and Vascular Biology  | Effect of SFRP5 (Secreted Frizzled–Related Protein 5) on the WNT5A (Wingless-Type Family Member 5A)-Induced Endothelial Dysfunction and Its Relevance With … [Pubmed:29674475] |
| Stem Cells | Reduced Cell Division Control Protein 42 Activity Compromises Hematopoiesis‐Supportive Function of Fanconi Anemia Mesenchymal Stromal Cells [Pubmed:29377497] |