载脂蛋白C3(APOC3)活性蛋白
Active Apolipoprotein C3 (APOC3)
Apo-C3; APOCIII; APOC-III
编号

APB890Mu01

物种Mus musculus (Mouse,小鼠) 相同的名称,不同的物种。
缓冲液成份

20mM Tris, 150mM NaCl缓冲液(pH8.0, 含有1mM EDTA, 1mM DTT, 0.01% SKL, 5% Trehalose和Proclin300)

性状

冻干粉

纯度

> 95%

等电点

5.1

应用

Cell culture; Activity Assays.

下载 英文说明书 中文说明书
规格 10µg50µg 200µg 1mg 5mg
价格 ¥ 1944 ¥ 4860 ¥ 9720 ¥ 29160 ¥ 72900
产品包装(模拟)

产品包装(模拟)
Figure. Gene Sequencing (Extract)
Figure. SDS-PAGE

Figure. Western Blot
通过ISO 9001、ISO 13485质量体系认证
活性实验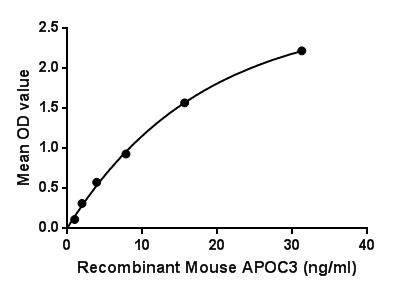 Figure. The binding activity of APOC3 with PCYOX1.
Apolipoprotein C3 (APOC3) also known as apo-CIII is a component of very low density lipoprotein (VLDL). APOC3 inhibits lipoprotein lipase and hepatic lipase; it is thought to inhibit hepatic uptake of triglyceride-rich particles. An increase in apoC-III levels induces the development of hypertriglyceridemia. Some evidences suggest an intracellular role for Apo-CIII in promoting the assembly and secretion of triglyceride-rich VLDL particles from hepatic cells under lipid-rich conditions. Besides, Prenylcysteine Oxidase 1 (PCYOX1) has been identified as an interactor of APOC3, thus a binding ELISA assay was conducted to detect the interaction of recombinant mouse APOC3 and recombinant mouse PCYOX1. Briefly, APOC3 were diluted serially in PBS, with 0.01% BSA (pH 7.4). Duplicate samples of 100μL were then transferred to PCYOX1-coated microtiter wells and incubated for 2h at 37℃. Wells were washed with PBST and incubated for 1h with anti-APOC3 pAb, then aspirated and washed 3 times. After incubation with HRP labelled secondary antibody, wells were aspirated and washed 3 times. With the addition of substrate solution, wells were incubated 15-25 minutes at 37℃. Finally, add 50µL stop solution to the wells and read at 450nm immediately. The binding activity of APOC3 and PCYOX1 was shown in Figure 1, and this effect was in a dose dependent manner.
用法
Reconstitute in 20mM Tris, 150mM NaCl (pH8.0) to a concentration of 0.1-1.0 mg/mL. Do not vortex.
储存
避免反复冻融。2-8°C不超过一个月,-80°C不超过12个月。
稳定性
热稳定性以损失率显示。损失率是由加速降解试验决定,具体方法如下:在37°C孵育48小时,没有显著的降解或者沉淀产生。保质期内,在适当的条件下存储,损失率低于5%。
参考文献
| | |
| --- | --- |
| 杂志 | 参考文献 |
| Atherosclerosis | Up-reCavia (Guinea pig )lation of Hnf1α gene expression in the liver of rats with experimentally induced chronic renal failure – A possible link between circulating PCSK9 and triacylglycerol concentrations [Pubmed:26978583] |
| The Journal of Lipid Research | Effects of angiopoietin-like protein 3 deficiency on postprandial lipid and lipoprotein metabolism [Pubmed:27040449] |
| Journal of Chromatography A | Application of a new procedure for liquid chromatography/mass spectrometry profiling of plasma amino acid-related metabolites and untargeted shotgun proteomics to identify mechanisms and biomarkers of calcific aortic stenosis [S0021967317311858] |