二胺氧化酶(ABP1)活性蛋白
Active Amiloride Binding Protein 1 (ABP1)
AOC1; DAO; KAO; Histaminase; Kidney amine oxidase; Diamine Oxidase; Amiloride-sensitive amine oxidase; Amine oxidase copper domain-containing protein 1
编号

APA656Hu61

物种Homo sapiens (Human,人) 相同的名称,不同的物种。
缓冲液成份

磷酸盐缓冲液(pH7.4,含有 0.01% SKL, 1mM DTT, 5% Trehalose和Proclin300.)

性状

冻干粉

纯度

> 97%

等电点

6.6

应用

Cell culture; Activity Assays.

下载 英文说明书 中文说明书
规格 10µg50µg 200µg 1mg 5mg
价格 ¥ 1805 ¥ 4512 ¥ 9024 ¥ 27072 ¥ 67680
产品包装(模拟)

产品包装(模拟)
Figure. Gene Sequencing (Extract)
Figure. SDS-PAGE
通过ISO 9001、ISO 13485质量体系认证
活性实验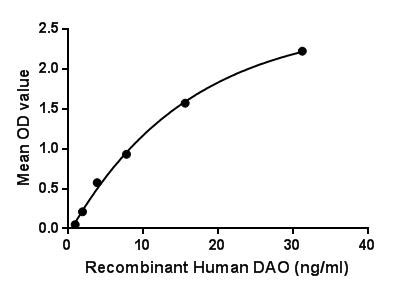 Figure. The binding activity of DAO with DDC.
Diamine oxidase (DAO), also known as histaminase, is an enzyme involved in the metabolism, oxidation, and inactivation of histamine in animals. Highest content is observed in the digestive tract and placenta. It is also secreted by eosinophils. In case of a shortage of diamine oxidase in the human body, it may appear as an allergy or histamine intolerance. Besides, Dopa Decarboxylase (DDC) has been identified as an interactor of DAO, thus a binding ELISA assay was conducted to detect the interaction of recombinant human DAO and recombinant human DDC. Briefly, DAO were diluted serially in PBS, with 0.01% BSA (pH 7.4). Duplicate samples of 100μL were then transferred to DDC-coated microtiter wells and incubated for 2h at 37℃. Wells were washed with PBST and incubated for 1h with anti-DAO pAb, then aspirated and washed 3 times. After incubation with HRP labelled secondary antibody, wells were aspirated and washed 3 times. With the addition of substrate solution, wells were incubated 15-25 minutes at 37℃. Finally, add 50µL stop solution to the wells and read at 450nm immediately. The binding activity of DAO and DDC was shown in Figure 1, and this effect was in a dose dependent manner.
用法
Reconstitute in 10mM PBS (pH7.6) to a concentration of 0.1-1.0 mg/mL. Do not vortex.
储存
避免反复冻融。2-8°C不超过一个月,-80°C不超过12个月。
稳定性
热稳定性以损失率显示。损失率是由加速降解试验决定,具体方法如下:在37°C孵育48小时,没有显著的降解或者沉淀产生。保质期内,在适当的条件下存储,损失率低于5%。
参考文献
| | |
| --- | --- |
| 杂志 | 参考文献 |
| Applied Clay Science | Effects of copper-exchanged montmorillonite, as alternative to antibiotic, on diarrhea, intestinal permeability and proinflammatory cytokine of weanling pigs [Cas.zju: Source] |
| Phytomedicine.? | A multi-component herbal preparation, STW 5, shows anti-apoptotic effects in radiation induced intestinal mucositis in rats [Pubmed:25022208] |
| Oxid Med Cell Longev | Elevation of HO-1 Expression Mitigates Intestinal Ischemia-Reperfusion Injury and Restores Tight Junction Function in a Rat Liver Transplantation Model [PubMed: 26064429] |
| Pancreatology. | Early prediction of intestinal mucosal barrier function impairment by elevated serum procalcitonin in rats with severe acute pancreatitis. [Pubmed:26804005] |
|  Biochimica et Biophysica Acta (BBA)-General Subjects | Modulation of gut microbiota contributes to curcumin-mediated attenuation of hepatic steatosis in rats [pubmed:28341485] |
| Journal of Controlled Release | A DPP-IV-resistant glucagon-like peptide-2 dimer with enhanced activity against radiation-induced intestinal injury [pubmed:28522195] |
| Advances in Experimental Medicine and Biology | Serum Diamine Oxidase in Pseudoallergy in the Pediatric Population [pubmed:28804811] |
| PLoS One | Protective effect of aplysin on liver tissue and the gut microbiota in alcohol-fed rats [pubmed:28622357] |
| Nutrients | Protective Effect of Aplysin Supplementation on Intestinal Permeability and Microbiota in Rats Treated with Ethanol and Iron [Pubmed:29861488] |
| Scientific Reports | Pregnancy-associated diamine oxidase originates from extravillous trophoblasts and is decreased in early-onset preeclampsia [Pubmed:29679053] |
| British Journal of Nutrition | Postoperative symbiotic in patients with head and neck cancer: a double-blind randomised trial [Pubmed:29277158] |
| Food & Function | The effect of fucoidan on intestinal flora and intestinal barrier function in rats with breast cancer [Pubmed:29384543] |
| 硕士论文 | LOCALIZATION OF COPPER-CONTAINING AMINE OXIDASE ENZYMES IN THE BLOOD [] |
| International Journal of Clinical and Experimental Medicine | Effects of fecal microbiota transplantation and joint application of probiotics on rats with alcoholic liver disease [] |
| Journal of Functional Foods | Potent anti-inflammatory activity of polysaccharides extracted from Blidingia minima and their effect in a mouse model of inflammatory bowel disease [] |
| Acta Diabetologica | Modulation of gut microbiota contributes to effects of intensive insulin therapy on intestinal morphological alteration in high-fat-diet-treated mice [Pubmed: 31749050] |
| Biomed Research International | Liraglutide Attenuates Nonalcoholic Fatty Liver Disease by Modulating Gut Microbiota in Rats Administered a High-Fat Diet [Pubmed: 32149099] |
| FASEB JOURNAL | HMGB1‐associated necroptosis and Kupffer cells M1 polarization underlies remote liver injury induced by intestinal ischemia/reperfusion in rats [Pubmed: 31961020] |
| JOURNAL OF ETHNOPHARMACOLOGY | The effect of Poria cocos ethanol extract on the intestinal barrier function and intestinal microbiota in mice with breast cancer [Pubmed: 33039631] |
| Cell Death Discovery | Fecal microbiota transplantation from patients with autoimmune encephalitis modulates Th17 response and relevant behaviors in mice [Pubmed: 32821439] |
| The Journal of Nutritional Biochemistry | Effects of fucoidan on tumor prevention and gut flora [] |