表皮生长因子(EGF)活性蛋白
Active Epidermal Growth Factor (EGF)
URG; Beta-Urogastrone; Pro-epidermal growth factor
编号

APA560Hu02

物种Homo sapiens (Human,人) 相同的名称,不同的物种。
缓冲液成份

20mM Tris, 150mM NaCl缓冲液(pH8.0, 含有1mM EDTA, 1mM DTT, 0.01% SKL, 5% Trehalose和Proclin300)

性状

冻干粉

纯度

> 90%

等电点

4.8

应用

Cell culture; Activity Assays.

下载 英文说明书 中文说明书
规格 10µg50µg 200µg 1mg 5mg
价格 ¥ 768 ¥ 1920 ¥ 3840 ¥ 11520 ¥ 28800
产品包装(模拟)

产品包装(模拟)
Figure. Gene Sequencing (Extract)
Figure. SDS-PAGE

Figure. Western Blot; Sample: Recombinant EGF, Human.
通过ISO 9001、ISO 13485质量体系认证
活性实验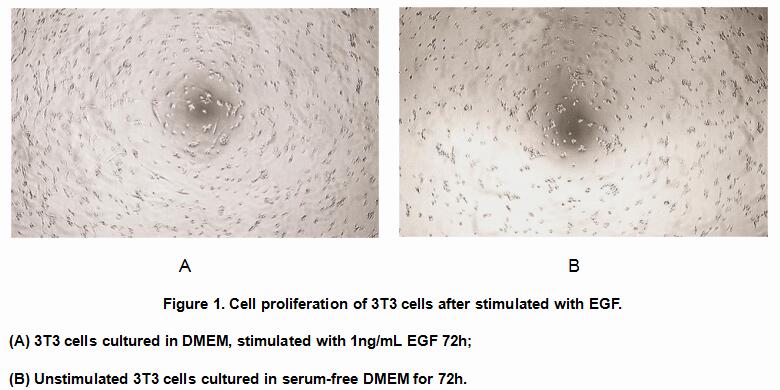 Epidermal growth factor (EGF) is a growth factor that stimulates cell growth, proliferation, and differentiation by binding to its receptor EGFR. To test the effect of EGF on cell proliferation of 3T3 fibroblasts, 3T3 cells were seeded into triplicate wells of 96-well plates at a density of 2, 000cells/well and allowed to attach overnight, then the medium was replaced with serum-free standard DMEM prior to the addition of various concentrations of EGF. After incubated for 72h, cells were observed by inverted microscope and cell proliferation was measured by Cell Counting Kit-8 (CCK-8). Briefly, 10µL of CCK-8 solution was added to each well of the plate, then measure the absorbance at 450nm using a microplate reader after incubating the plate for 1-4 hours at 37°C .
Cell proliferation of 3T3 cells after incubation with EGF for 72h observed by inverted microscope was shown in Figure 1.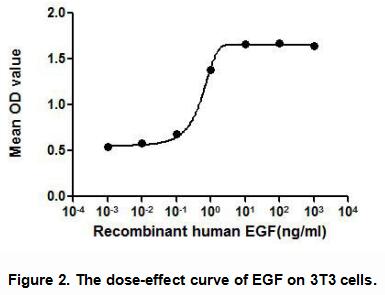 The dose-effect curve of EGF was shown in Figure 2. It was obvious that EGF significantly promoted cell proliferation of 3T3 cells. The ED50 for this effect is typically 0.9848 to 2.958ng/mL.
用法
Reconstitute in 20mM Tris, 150mM NaCl (pH8.0) to a concentration of 0.1-1.0 mg/mL. Do not vortex.
储存
避免反复冻融。2-8°C不超过一个月,-80°C不超过12个月。
稳定性
热稳定性以损失率显示。损失率是由加速降解试验决定,具体方法如下:在37°C孵育48小时,没有显著的降解或者沉淀产生。保质期内,在适当的条件下存储,损失率低于5%。
参考文献
| | |
| --- | --- |
| 杂志 | 参考文献 |
| Journal of Pediatric Surgery | The influence of nutrients, biliary-pancreatic secretions, and systemic trophic hormones on intestinal adaptation in a Roux-en-Y bypass model [PubMed: 20438940] |
| Biomark Insights | Decreased Epidermal Growth Factor (EGF) Associated with HMGB1 and Increased Hyperactivity in Children with Autism [PubMed: PMC3623607] |
| Plos one | The Probiotic Mixture VSL#3 Accelerates Gastric Ulcer Healing by Stimulating Vascular Endothelial Growth Factor [PubMed: PMC3590171] |
| Diabetes. | Allogeneic transplantation of an adipose-derived stem cell (ASC) sheet combined with artificial skin accelerates wound healing in a rat wound model of type 2 diabetes and obesity [Pubmed:25795216] |
| Eur Rev Med Pharmacol Sci.? | Association of colon adenomas and skin tags: coincidence or coexistence? [Pubmed:24763889] |
| Int J Clin Exp Med. | The effects of self-assembling peptide RADA16 hydrogel on malignant phenotype of human hepatocellular carcinoma cell [PubMed: 26628972] |
| ACS Applied Materials & Interfaces | Polydopamine nanoparticles modulating stimuli-responsive PNIPAM hydrogels with cell/tissue adhesiveness. [pubmed:27709887] |
| Canadian Journal of Physiology and Pharmacology | The effect of midkine on growth factors and oxidative status in an experimental wound model in diabetic and healthy rats [pubmed:28177680] |
| Journal of Controlled Release | A DPP-IV-resistant glucagon-like peptide-2 dimer with enhanced activity against radiation-induced intestinal injury [pubmed:28522195] |
| Scientific Reports | Optimization of Storage Temperature for Retention of Undifferentiated Cell Character of Cultured Human Epidermal Cell Sheets [pubmed:28811665] |