碱性成纤维细胞生长因子(FGF2)活性蛋白
Active Fibroblast Growth Factor 2, Basic (FGF2)
B-FGF; BFGF; FGFB; HBGH-2; Basic Fibroblast Growth Factor; Heparin-binding growth factor 2
编号

APA551Bo01

物种Bos taurus; Bovine (Cattle,牛) 相同的名称,不同的物种。
缓冲液成份

20mM Tris, 150mM NaCl缓冲液(pH8.0, 含有1mM EDTA, 1mM DTT, 0.01% SKL, 5% Trehalose和Proclin300)

性状

冻干粉

纯度

> 97%

等电点

9.6

应用

Cell culture; Activity Assays.

下载 英文说明书 中文说明书
规格 10µg50µg 200µg 1mg 5mg
价格 ¥ 1728 ¥ 4320 ¥ 8640 ¥ 25920 ¥ 64800
产品包装(模拟)

产品包装(模拟)
Figure. SDS-PAGE

Figure. Western Blot
通过ISO 9001、ISO 13485质量体系认证
活性实验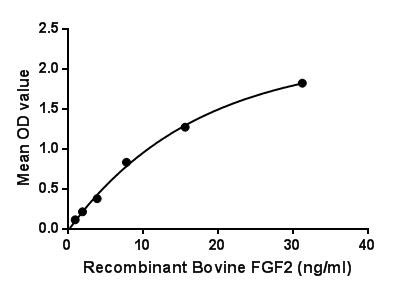 Figure. The binding activity of FGF2 with CASP1.
Basic fibroblast growth factor (FGF2), also known as bFGF, FGF-β is a member of a large family of structurally related heparin-binding proteins (the FGFs) involved in the regulation of cell proliferation, growth and differentiation. It involved in many biological processes including angiogenesis, embryonic development and wound healing. Additionally, FGF2 is a critical component of human embryonic stem cell culture medium. Besides, Caspase 1 (CASP1) has been identified as an interactor of FGF2, thus a binding ELISA assay was conducted to detect the interaction of recombinant bovine FGF2 and recombinant bovine CASP1. Briefly, FGF2 were diluted serially in PBS, with 0.01% BSA (pH 7.4). Duplicate samples of 100uL were then transferred to CASP1-coated microtiter wells and incubated for 2h at 37℃. Wells were washed with PBST and incubated for 1h with anti-FGF2 pAb, then aspirated and washed 3 times. After incubation with HRP labelled secondary antibody, wells were aspirated and washed 3 times. With the addition of substrate solution, wells were incubated 15-25 minutes at 37℃. Finally, add 50µL stop solution to the wells and read at 450nm immediately. The binding activity of FGF2 and CASP1 was shown in Figure 1, and this effect was in a dose dependent manner.
用法
Reconstitute in 20mM Tris, 150mM NaCl (pH8.0) to a concentration of 0.1-1.0 mg/mL. Do not vortex.
储存
避免反复冻融。2-8°C不超过一个月,-80°C不超过12个月。
稳定性
热稳定性以损失率显示。损失率是由加速降解试验决定,具体方法如下:在37°C孵育48小时,没有显著的降解或者沉淀产生。保质期内,在适当的条件下存储,损失率低于5%。
参考文献
| | |
| --- | --- |
| 杂志 | 参考文献 |
| Journal of Pediatric Surgery | The influence of nutrients, biliary-pancreatic secretions, and systemic trophic hormones on intestinal adaptation in a Roux-en-Y bypass model [PubMed: 20438940] |
| International Journal of Nanomedicine | Effect of heparan sulfate and gold nanoparticles on muscle development during embryogenesis [PubMed: PMC3254262] |
| Archives of Animal Nutrition | Effect of taurine and gold nanoparticles on the morphological and molecular characteristics of muscle development during chicken embryogenesis [Tandfonline: 644918] |
| Diabetes | Peroxisome Proliferator–Activated Receptor-γ Coactivator-1α (PGC-1α) Enhances Engraftment and Angiogenesis of Mesenchymal Stem Cells in Diabetic Hindlimb Ischemia [Pubmed: 22266669] |
| Molecular Pharmacology | Electrospun Fibers with Plasmid bFGF Polyplex Loadings Promote Skin Wound Healing in Diabetic Rats [Pubmed: 22091745] |
| Science Alert | Antiangiogenic Activities of Cinnamon, Black and Green Tea Extracts on Experimentally Induced Breast Cancer in Rats [Scialert: Source] |
| Nanoscale Research Letters | Silver nanoparticles administered to chicken affect VEGFA and FGF2 gene expression in breast muscle and heart. [PubMed: 22827927] |
| PLoS One | Carbon nanoparticles downregulate expression of basic fibroblast growth factor in the heart during embryogenesis [PubMed: PMC3771850] |
| International Journal of Molecular Sciences | Nano-Nutrition of Chicken Embryos. The Effect of in Ovo Administration of Diamond Nanoparticles and L-Glutamine on Molecular Responses in Chicken Embryo Pectoral Muscles [NCBI:PMC3856104] |
| Archives of Animal Nutrition | Nano-nutrition of chicken embryos. The effect of silver nanoparticles and ATP on expression of chosen genes involved in myogenesis [Pubmed: 23952606] |
| Journal of Rehabilitation Research & Development | Role of sensory and motor intensity of electrical stimulation on fibroblastic growth factor-2 expression, inflammation, vascularization, and mechanical strength of full-thickness wounds [Pubmed: 23934870] |
| PLoS One.? | Carboxypeptidase E-ΔN, a Neuroprotein Transiently Expressed during Development Protects Embryonic Neurons against Glutamate Neurotoxicity [Pubmed:25426952] |
| Implant Dentistry | Effects of Hemostatic Agents on Fibroblast Cells [Lww:Source] |
| Journal of Materials Chemistry B | bFGF-grafted electrospun fibrous scaffolds via poly(dopamine) for skin wound healing [Rsc:Source] |
| Archives of Animal Nutrition | Effect of silver nanoparticles and hydroxyproline, administered in ovo, on the development of blood vessels and cartilage collagen structure in chicken embryos [Pubmed:25530495] |
| Int J Clin Exp Med. | The effects of self-assembling peptide RADA16 hydrogel on malignant phenotype of human hepatocellular carcinoma cell [PubMed: 26628972] |
| Theriogenology | Evaluation of Changes in Doppler Ultrasonography Indices and Levels of Maternal Serum Angiogenic Factors throughout Pregnancy in Ewes [Science: Article] |
| Tumor Biology | Hypoxia-induced secretion of IL-10 from adipose-derived mesenchymal stem cell promotes growth and cancer stem cell properties of Burkitt lymphoma [PubMed: 26695151] |
| Acta Biomaterialia | Preparation and characterization of pro-angiogenic gel derived from small intestinal submucosa [article:S1742706115301410] |
| 22 | Surface biofunctional drug-loaded electrospun fibrous scaffolds for comprehensive repairing hypertrophic scars [Pubmed:26774564] |
| Genet Mol Res | Changes in growth factor levels in the cerebrospinal fluid of autism patients after transplantation of human umbilical cord blood mononuclear cells and umbilical cord-derived mesenchymal stem cells [Pubmed:27323064] |
| BMC Neuroscience  | 3-O-Methyldopa inhibits astrocyte-mediated dopaminergic neuroprotective effects of l-DOPA [pubmed:27456338] |
| Medical Science Monitor | 5-Aminolaevulinic Acid-Based Photodynamic Therapy Restrains Pathological Hyperplasia of Fibroblasts [898221] |
| Biomedicine & Pharmacotherapy | FGF-2-mediated FGFR1 signaling in human microvascular endothelial cells is activated by vaccarin to promote angiogenesis [pubmed:28841454] |
| Medical Science Monitor | 5-Aminolaevulinic Acid-Based Photodynamic Therapy Restrains Pathological Hyperplasia of Fibroblasts [pubmed:28052053] |
| International Journal of Clinical and Experimental Pathology | Platelet-derived growth factor and stromal cell-derived factor-1 promote the skin wound repairing effect of bone mesenchymal stem cells: a key role of matrix metalloproteinase 1 and collagens [ISSN:1936-2625/IJCEP0058424] |
| Journal of Biomaterials and Tissue Engineering | The Combination of Acellular Porcine Small Intestinal Submucosa (SIS) Cryogel Granules and Adipose Tissue Improves the Survival Ratio of Fat Grafting in Mice [10.1166/jbt.2017.1652] |
| Stem Cells and Development | Lower Senescence of Adipose-Derived Stem Cells than Donor-Matched Bone Marrow Stem Cells for Surgical Ventricular Restoration [Pubmed:29630447] |