铁调素(Hepc)活性蛋白
Active Hepcidin (Hepc)
HAMP; HFE2B; PLTR; LEAP1; Hepcidin Antimicrobial Peptide; Liver-expressed antimicrobial peptide 1; Putative liver tumor regressor
编号

APB979Hu61

物种Homo sapiens (Human,人) 相同的名称,不同的物种。
缓冲液成份

磷酸盐缓冲液(pH7.4,含有 0.01% SKL, 1mM DTT, 5% Trehalose和Proclin300.)

性状

冻干粉

纯度

> 95%

等电点

9.4

应用

Cell culture; Activity Assays.

下载 英文说明书 中文说明书
规格 10µg50µg 200µg 1mg 5mg
价格 ¥ 950 ¥ 2376 ¥ 4752 ¥ 14256 ¥ 35640
产品包装(模拟)

产品包装(模拟)
Figure. Gene Sequencing (Extract)
Figure. SDS-PAGE

Figure. Western Blot
通过ISO 9001、ISO 13485质量体系认证
活性实验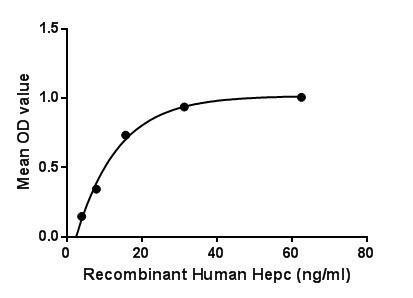 Figure. The binding activity of Hepc with FPN.
Hepcidin (Hepc) is a regulator of iron metabolism. Hepcidin inhibits iron transport by binding to the iron export channel ferroportin which is located on the basolateral surface of gut enterocytes and the plasma membrane of reticuloendothelial cells (macrophages). Hepcidin ultimately breaks down the transporter protein in the lysosome. Inhibiting ferroportin prevents iron from being exported and the iron is sequestered in the cells. Besides, Ferroportin (FPN) has been identified as an interactor of Hepc, thus a binding ELISA assay was conducted to detect the interaction of recombinant human Hepc and recombinant human FPN. Briefly, Hepc were diluted serially in PBS, with 0.01% BSA (pH 7.4). Duplicate samples of 100µL were then transferred to FPN-coated microtiter wells and incubated for 2h at 37℃. Wells were washed with PBST and incubated for 1h with anti-Hepc pAb, then aspirated and washed 3 times. After incubation with HRP labelled secondary antibody, wells were aspirated and washed 3 times. With the addition of substrate solution, wells were incubated 15-25 minutes at 37℃. Finally, add 50µL stop solution to the wells and read at 450nm immediately. The binding activity of Hepc and FPN was shown in Figure 1, and this effect was in a dose dependent manner.
用法
Reconstitute in 10mM PBS (pH7.6) to a concentration of 0.1-1.0 mg/mL. Do not vortex.
储存
避免反复冻融。2-8°C不超过一个月,-80°C不超过12个月。
稳定性
热稳定性以损失率显示。损失率是由加速降解试验决定,具体方法如下:在37°C孵育48小时,没有显著的降解或者沉淀产生。保质期内,在适当的条件下存储,损失率低于5%。
参考文献
| | |
| --- | --- |
| 杂志 | 参考文献 |
| World J Gastroenterol. | Hepcidin expression in colon during trinitrobenzene sulfonic acid-induced colitis in rats [Pubmed: 24764672] |
| International Journal of Advanced Research | Modulations of serum hepcidin, IL6 and iron status by different exercise regimens in ovarectomized rats [Com:Source] |
| Neurochemical Journal | Serum iron metabolism markers including hepcidin in multiple sclerosis patients [Springer:Source] |
| Afro-Egypt J Infect Endem Dis | Monitoring Hepcidin Level in Chronic Hepatitis C Virus Patients during Therapy [Zu:Source] |
| Gastroenterology | Gluconeogenic signals regulate iron homeostasis via hepcidin in mice [Pubmed:Pmc3989026] |
| J Card Fail. | Inappropriate expression of hepcidin by liver congestion contributes to anemia and relative iron deficiency [Pubmed:24440572] |
| Food Funct. | The action of JAK, SMAD and ERK signal pathways on hepcidin suppression by polysaccharides from Angelica sinensis in rats with iron deficiency anemia [Pubmed:24752529] |
| Free Radic Res. | Changes in skeletal muscle iron metabolism outpace amyotrophic lateral sclerosis onset in transgenic rats bearing the G93A hmSOD1 gene mutation [Pubmed:25175826] |
| Saudi J Kidney Dis Transpl. | Hepcidin and regulation of iron homeostasis in maintenance hemodialysis patients [Pubmed:25193892] |
| J Endocrinol Invest.? | The interplay among iron metabolism, endothelium and inflammatory cascade in dysmetabolic disorders [Pubmed:25245337] |
| Gastroenterology Research and Practice | An Evaluation of the Correlation between Hepcidin Serum Levels and Disease Activity in Inflammatory Bowel Disease [Pubmed:25628652] |
| Clin Lab. | Serum hepcidin levels in Bulgarian population. [Pubmed:25651734] |
| The Tohoku Journal of Experimental Medicine | Liver Congestion in Heart Failure Contributes to Inappropriately Increased Serum Hepcidin despite Anemia [Pubmed:25742771] |
| Cancer Res | Hepcidin regulation in prostate and its disruption in prostate cancer [PubMed: 25858146] |
| Biochem Biophys Res Commun | B-cell translocation gene 2 promotes hepatic hepcidin production via induction of Yin Yang 1 [PubMed: 25839654] |
| Blood Purif | Effect of a More Permeable Dialysis Membrane on ESA Resistance in Hemodialysis Patients - A Pilot Investigation [PubMed: 26536083] |
| Asian Journal of Clinical Nutrition | Urinary Hepcidin in Diagnosis of Iron Deficiency Anemia [Openview: E01Ad7C4A9109Ed5Fadb03Ec206D7Bdc] |
| Front Psychol | Ferrous sulfate, but not iron polymaltose complex, aggravates local and systemic inflammation and oxidative stress in dextran sodium sulfate-induced colitis in rats [PubMed: 25852597] |
| Biol Trace Elem Res | Iron Supplementation Attenuates the Inflammatory Status of Anemic Piglets by Regulating Hepcidin [PubMed: 25774043] |
| APS Journals | Kupffer cell depletion protects against the steatosis, but not the liver damage, induced by marginal copper, high fructose diet in male rats. [PubMed: 25813056] |
| European Journal of Haematology | Hepcidin in tumor‐related iron deficiency anemia and tumor‐related anemia of chronic disease: pathogenic mechanisms and diagnosis [PubMed: 24954786] |
| WJA | The Effects of Treatment on Serum Hepcidin and Iron Homeostasis in HIV-1-Infected In-dividuals [Journal: 59107] |
| Nutrition, Metabolism and Cardiovascular Diseases | Hepcidin and iron metabolism associated with cardiometabolic risk factors in children: A case-control study. [Pubmed:27139516] |
| Food Funct | The effects of polysaccharides from the root of Angelica sinensis on tumor growth and iron metabolism in H22-bearing mice [Pubmed:26757699] |
| Antioxid Redox Signal. | Hydrogen sulfide attenuates inflammatory hepcidin by reducing IL-6 secretion and promoting SIRT1-mediated STAT3 deacetylation [Pubmed:26154696] |
| BioMed Research International | The Impact of Acute Matriptase Inhibition in Hepatic Inflammatory Models. [pubmed:27642598] |
| Frontiers in Neuroscience | In Absence of the Cellular Prion Protein, Alterations in Copper Metabolism and Copper-Dependent Oxidase Activity Affect Iron Distribution. [pubmed:27729845] |
| Experimental Biology and Medicine | Effects of iron supplementation in mice with hypoferremia induced by obesity [pubmed:27439539] |
| Nutrition, Metabolism and Cardiovascular Diseases | Hepcidin and iron metabolism associated with cardiometabolic risk factors in children: A case–control study [pubmed:27139516] |
| PLOS ONE | S-Propargyl-Cysteine, a Novel Hydrogen Sulfide Donor, Inhibits Inflammatory Hepcidin and Relieves Anemia of Inflammation by Inhibiting IL-6/STAT3 Pathway. [pubmed:27649298] |
| Endocrine connections | Hepcidin links gluco-toxicity to pancreatic beta cell dysfunction by inhibiting Pdx-1 expression [pubmed:28179377] |
| | Maternal and cord blood hepcidin levels based on gestational weeks in term and preterm infants [publication:305921433_Maternal_and_cord_blood_hepc] |
| Oxidative Medicine and Cellular Longevity | Acidic Polysaccharide from Angelica sinensis Reverses Anemia of Chronic Disease Involving the Suppression of Inflammatory Hepcidin and NF-κB Activation [pubmed:29147463] |
| The Royal Society of Chemistry | Silkworm feces extract improves iron deficiency anemia via suppressing hepcidin expression and promoting iron-regulatory proteins expression [DOI: 10.1039/C7RA09576G] |
| Journal of Inflammation | Evaluation of a competitive hepcidin ELISA assay in the differential diagnosis of iron deficiency anaemia with concurrent inflammation and anaemia of inflammation in elderly patients [10.1186:s12950-017-0166-3] |
| Antioxidants and Redox Signaling | AMPK serves as a Therapeutic Target against Anemia of Inflammation [pubmed:27923278] |
| NutriciónHospitalaria | Micronutrient supplementation in gastric bypass surgery: prospective study on infl ammation and iron metabolism in premenopausal women [10.20960/nh.1162] |
| The Japanese Society of Hematology | Hepcidin suppression in β‑thalassemia is associated with the down‑regulation of atonal homolog 8 [pubmed:28405918] |
| Tuberculosis | Modulation of iron status biomarkers in tuberculosis-diabetes co-morbidity [10.1016/j.tube.2017.11.011] |
| Oman Medical Journal | The Role of Insulin Therapy in Correcting Hepcidin Levels in Patients with Type 2 Diabetes Mellitus. [pubmed:28584599] |
| Cellular Physiology and Biochemistry | The Effects of Angelica Sinensis Polysaccharide on Tumor Growth and Iron Metabolism by Regulating Hepcidin in Tumor-Bearing Mice [Pubmed:29843136] |
| Cellular Microbiology  | inhibits ferroportin translation by modulating FBXL5‐IRP2 axis for its growth within host macrophages [Pubmed:29470856] |
| Journal of Histochemistry & Cytochemistry | Acute and Chronic Iron Overloading Differentially Modulates the Expression of Cellular Iron-homeostatic Molecules in Normal Rat Kidney [Pubmed:29873589] |
| Clinical and Experimental Medicine | Increased NGAL level associated with iron store in chronic kidney disease with anemia [Pubmed:29909502] |
| Hematology | Relationship between obesity and iron deficiency anemia: is there a role of hepcidin? [Pubmed:29318945] |
| | Hepcidin serum levels in HCV chronically mono-infected naïve patients, compared to healthy individuals [77856] |