白介素1α(IL1a)活性蛋白
Active Interleukin 1 Alpha (IL1a)
IL1-A; IL-1α; IL1F1; Preinterleukin 1 Alpha; Hematopoietin-1; Pro-Interleukin-1-Alpha; Interleukin-1 Family Member 1
编号

APA071Hu01

物种Homo sapiens (Human,人) 相同的名称,不同的物种。
缓冲液成份

20mM Tris, 150mM NaCl缓冲液(pH8.0, 含有1mM EDTA, 1mM DTT, 0.01% SKL, 5% Trehalose和Proclin300)

性状

冻干粉

纯度

> 97%

等电点

6.5

应用

Cell culture; Activity Assays.

下载 英文说明书 中文说明书
规格 10µg50µg 200µg 1mg 5mg
价格 ¥ 1920 ¥ 4800 ¥ 9600 ¥ 28800 ¥ 72000
产品包装(模拟)

产品包装(模拟)
Gene sequencing
SDS-PAGE图

Figure. Western Blot; Sample: Recombinant IL1a, Human.
通过ISO 9001、ISO 13485质量体系认证
活性实验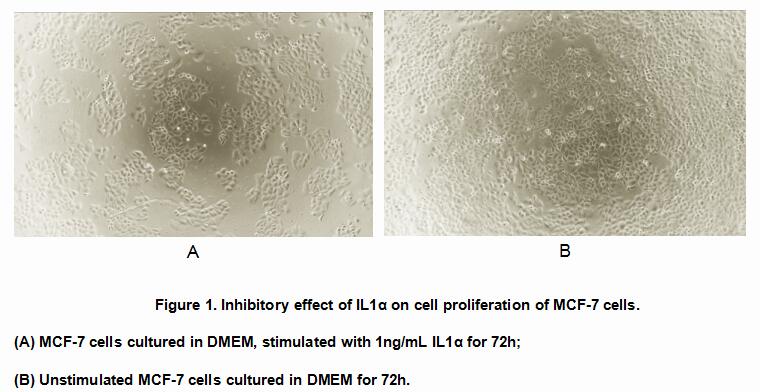 IL1α (Interleukin-1 alpha) is a member of the interleukin 1 cytokine family. This cytokine is produced by monocytes and macrophages as a proprotein, which is proteolytically processed and released in response to cell injury, and thus induces cell apoptosis. It is reported that exposure of MCF-7 cells to certain concentration of IL1α results in inhibition of cell growth. Thus, an cell proliferation assay of MCF-7 was conducted with the addition of IL1α. MCF-7 cells were seeded overnight at a density of 5,000 cells/well, and then treated with or without various concentrations of IL1α for 72h, then cells were observed by inverted microscope and cell viability was measured by Cell Counting Kit-8 (CCK-8). Briefly, 10µL of CCK-8 solution was added to each well of the plate, then measure the absorbance at 450nm using a microplate reader after incubating the plate for 1-4 hours in at 37°C.<br/>Inhibition of MCF-7 cell proliferation after incubation with IL1α for 72h observed by inverted microscope was shown in Figure 1.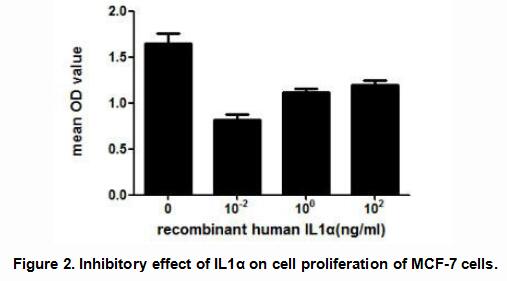 Cell viability was assessed by CCK-8 (Cell Counting Kit-8) assay after incubation with various concentrations of IL1α for 72h. The mean OD value of MCF-7 assessed by CCK-8 was shown in Figure 2. It was obvious that IL1α significantly decreased cell viability of MCF-7 cells.
用法
Reconstitute in 20mM Tris, 150mM NaCl (pH8.0) to a concentration of 0.1-1.0 mg/mL. Do not vortex.
储存
避免反复冻融。2-8°C不超过一个月,-80°C不超过12个月。
稳定性
热稳定性以损失率显示。损失率是由加速降解试验决定,具体方法如下:在37°C孵育48小时,没有显著的降解或者沉淀产生。保质期内,在适当的条件下存储,损失率低于5%。
参考文献
| | |
| --- | --- |
| 杂志 | 参考文献 |
| The Veterinary Journal | Quantitative assessment of hsp70, IL-1β and TNF-α in the spinal cord of dogs with E40K SOD1-associated degenerative myelopathy [Pubmed: 24662024] |
| Int J Clin Exp Pathol | Expression of S100 family proteins in neonatal rats with sepsis and its significance [PubMed: 25973048] |
| Tumor Biology | Hypoxia-induced secretion of IL-17 from adipose-derived mesenchymal stem cell promotes growth and cancer stem cell properties of Burkitt lymphoma [PubMed: 26695151] |
| Parasites & Vectors | Vaccination of rabbits with immunodominant antigens from Sarcoptes scabiei induced highlevels of humoral responses and pro-inflammatory cytokines but confers limited protection. [pubmed:27502394] |
| Cell Death Dis. | Salusin-β contributes to oxidative stress and inflammation in diabetic cardiomyopathy [pubmed:28333148] |
| Journal of Cosmet Dermatol. | Ultraviolet A photosensitivity profile of dexchlorpheniramine maleate and promethazine-based creams: Anti-inflammatory,antihistaminic, and skin barrier protection properties [DOI: 10.1111/jocd.12349] |
| Scientific Reports | Optimization of Storage Temperature for Retention of Undifferentiated Cell Character of Cultured Human Epidermal Cell Sheets [pubmed:28811665] |
| Arthritis Research and Therapy | Increased synovial lipodystrophy induced by high fat diet aggravates synovitis in experimental osteoarthritis. [pubmed:29191221] |