白介素10(IL10)活性蛋白
Active Interleukin 10 (IL10)
CSIF; IL10A; TGIF; Cytokine Synthesis Inhibitory Factor
编号

APA056Hu61

物种Homo sapiens (Human,人) 相同的名称,不同的物种。
缓冲液成份

20mM Tris, 150mM NaCl缓冲液(pH8.0, 含有1mM EDTA, 1mM DTT, 0.01% SKL, 5% Trehalose和Proclin300)

性状

冻干粉

纯度

> 97%

等电点

7.6

应用

Cell culture; Activity Assays.

下载 英文说明书 中文说明书
规格 10µg50µg 200µg 1mg 5mg
价格 ¥ 2009 ¥ 5022 ¥ 10044 ¥ 30132 ¥ 75330
产品包装(模拟)

产品包装(模拟)
SDS-PAGE图

Figure. Western Blot; Sample:APA056Hu61; Antibody: PAA056Hu06
通过ISO 9001、ISO 13485质量体系认证
活性实验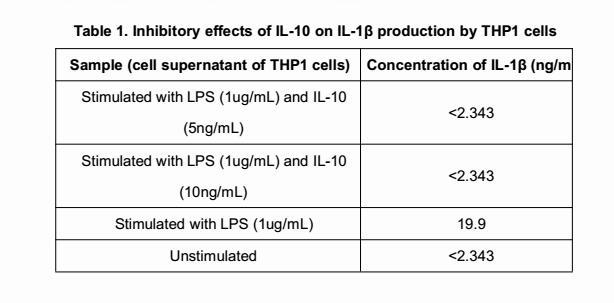 Interleukin 10 (IL-10), also known as human cytokine synthesis inhibitory factor (CSIF), is an anti-inflammatory cytokine. IL-10 was initially reported to suppress cytokine secretion, antigen presentation and CD4 T cell activation. Further investigation has shown that IL-10 predominantly inhibits lipopolysaccharide (LPS) mediated induction of the pro-inflammatory cytokines TNFα, IL-1β, IL-12, and IFNγ made by cells such as macrophages and Th1 T cells. Therefore, THP1 cells were cultured in 24 well plates at a concentration of 106 cells/ml and activated by LPS (1ug/mL) in the absence or presence of IL-10 (5ng/mL, 10ng/mL) for 24h and production of IL-1β was determined in the supernatants by cytokine specific ELISA.
Activation of THP1 cells with LPS (1ug/mL) resulted in high levels of production of IL-1β and strong inhibitory effects of IL-10 (5ng/mL, 10ng/mL) were observed on the production of IL-1β as shown in Table 1.
用法
Reconstitute in 20mM Tris, 150mM NaCl (pH8.0) to a concentration of 0.1-1.0 mg/mL. Do not vortex.
储存
避免反复冻融。2-8°C不超过一个月,-80°C不超过12个月。
稳定性
热稳定性以损失率显示。损失率是由加速降解试验决定,具体方法如下:在37°C孵育48小时,没有显著的降解或者沉淀产生。保质期内,在适当的条件下存储,损失率低于5%。
参考文献
| | |
| --- | --- |
| 杂志 | 参考文献 |
| Acta Otolaryngol | Serial cytokine levels during wound healing in rabbit maxillary sinus mucosa [PubMed: 19958244] |
| Transplantation Proceedings | Optimal formation of genetically modified and functional pancreatic islet spheroids by using hanging-drop strategy [PubMed: 23498797] |
| PLoS One | New Method to Isolate and Culture Rat Kupffer Cells [PubMed: PMC3743898] |
| Theriogenology | Evaluation of serum concentrations of interleukin (IL)-4, IL-10, and IL-12 during pregnancy in bitches [ScienceDirect: S0093691X1300037X] |
| Veterinary Research | Immunosuppression abrogates resistance of young rabbits to Rabbit Haemorrhagic Disease (RHD) [Biomedcentral: Source] |
| Life Sci. | Attenuation of renal ischemia/reperfusion injury by a?aí extract preconditioning in a rat model [Pubmed:25476829] |
| | Daily quercetin supplementation over a period of two weeks results in a moderate accumulation of total plasma flavonols in horses [Researchgate:Source] |
| Int J Chron Obstruct Pulmon Dis. | Increased serum levels of lipocalin-1 and-2 in patients with stable chronic obstructive pulmonary disease [Pubmed:Pmc4043430] |
| Archives of Oral Biology | Hyperlipidemia causes changes in inflammatory responses to periodontal pathogen challenge: Implications in acute and chronic infections [Pubmed:24992577] |
| Reproduction in Domestic Animals | The Concentrations of Inflammatory Cytokines and Acute‐Phase Proteins in the Peripheral Blood and Uterine Washings in Cows with Pyometra [Pubmed:25704413] |
| Theriogenology | Inflammatory cytokines and acute-phase proteins concentrations in the peripheral blood and uterus of cows that developed endometritis during early postpartum. [Pubmed:25765299] |
| PLoS Neglected Tropical Diseases | Efficacy of Albendazole-Chitosan Microsphere-based Treatment for Alveolar Echinococcosis in Mice [PubMed: 26352932] |
| Int J Clin Exp Med | Berberine alleviates preeclampsia possibly by regulating the expression of interleukin-2/interleukin-10 and Bcl-2/Bax [PubMed: 26629148] |
| Acta Vet Scand | Serum IL-6 and IL-10 concentrations in bitches with pyometra undergoing ovariohysterectomy [PubMed: 26410584] |
| Acta Cir Bras | Effect of remote ischemic preconditioning in the expression of IL-6 and IL-10 in a rat model of liver ischemia-reperfusion injury [PubMed: 26270136] |
| veterinary research forum | Evaluation of proliferation and cytokines production by mitogen-stimulated bovine peripheral blood mononuclear cells [Article_14936_6.Html: ] |
| Immunologic Research | Mesenchymal stromal cell-dependent reprogramming of Kupffer cells is mediated by TNF-α and PGE5 and is crucial for liver transplant tolerance [PubMed: 25982496] |
| Parasitol Res | Trypanosoma cruzi infection and benznidazole therapy independently stimulate oxidative status and structural pathological remodeling of the liver tissue in mice [PubMed: 25912691] |
| Tumor Biology | Hypoxia-induced secretion of IL-19 from adipose-derived mesenchymal stem cell promotes growth and cancer stem cell properties of Burkitt lymphoma [PubMed: 26695151] |
| Liver International | VSL# 3 probiotic treatment decreases bacterial translocation in rats with carbon tetrachloride‐induced cirrhosis [PubMed: 24750552] |
| Experimental and Therapeutic Medicine | Significance of the changes occurring in the levels of interleukins, SOD and MDA in rat pulmonary tissue following exposure to different altitudes and exposure times [PubMed: 26622414] |
| J Reprod Immunol | The immunomodulating effect of seminal plasma on T cells [PubMed: 25799173] |
| J Pharm Pharmacol | Modulation of oxidative and inflammatory cardiac response by nonselective 1‐and 5‐cyclooxygenase inhibitor and benznidazole in mice [PubMed: 26105114] |
| Theriogenology | Inflammatory cytokines and acute-phase proteins concentrations in the peripheral blood and uterus of cows that developed endometritis during early postpartum [PubMed: 25765299] |
| Vet Res Commun | Inflammatory cytokine and acute phase protein concentrations in the peripheral blood and uterine washings of cows with subclinical endometritis in the late postpartum period [PubMed: 25846950] |
| Br J Nutr | Effects of prebiotic supplementation on the expression of proteins regulating iron absorption in anaemic growing rats [PubMed: 25745840] |
| удк | Циток [Cgi-Bin: Irbis_Nbuv] |
| удк | АНАЛИЗ ЦИТОКИНОВОГО СТАТУСА ПРИ ОРВИ КРУПНОГО РОГАТОГО СКОТА [Uploads: Article] |
| Journal of Equine Veterinary Science | A Two-Week Quercetin Supplementation in Horses Results in Moderate Accumulation of Plasma Flavonol Concentrations [Science: Article] |
| Oncotarget | Rituximab-induced HMGB1 release is associated with inhibition of STAT3 activity in human diffuse large B-cell lymphoma [PubMed: 26315113] |
| Biomark Med | Clinical significance of IL-2 and IL-10 gene polymorphisms and serum levels in patients with basal-cell carcinoma [PubMed: 26609634] |
| International Immunopharmacology | Oxymatrine attenuates CCl 4-induced hepatic fibrosis via modulation of TLR4-dependent inflammatory and TGF-β1 signaling pathways [Pubmed:27179304] |
| Veterinary Immunology and Immunopathology | Neutrophil gene dynamics and plasma cytokine levels in dairy cattle during peri-implantation period [Pubmed:27090626] |
| Front Microbiol | Innate Immune Responses in ALV-J Infected Chicks and Chickens with Hemangioma In Vivo [Pubmed:27252695] |
| 中国眼耳鼻喉科杂志 | 白细胞介素10 上调表达对家兔慢性细菌性鼻窦炎黏膜创伤修复的影响 [article:11593] |
| | Swimming training attenuates the morphological reorganization of the myocardium and local inflammation in the left ventricle of growing rats with untreated experimental diabetes. [Pubmed:26896925] |
| Research in Veterinary Science | A chimeric protein composed of the binding domains ofClostridium perfringens phospholipase C and Trueperella pyogenes pyolysin induces partial immunoprotection in a mouse model [Pubmed:27473983] |
| PLoS One | Lipopolysaccharide Cross-Tolerance Delays Platelet-Activating Factor-Induced Sudden Death in Swiss Albino Mice: Involvement of Cyclooxygenase in Cross-Tolerance [Pubmed:27064683] |
| BMC Veterinary Research | Lymphocytic, cytokine and transcriptomic profiles in peripheral blood of dogs with atopic dermatitis [pubmed:27553600] |
| African Health Sciences | Effects of acute exercise on salivary free insulin-like growth factor 1 and interleukin 10 in sportsmen. [pubmed:27605972] |
| Vaccine. | Efficacy of an autophagy-targeted DNA vaccine against avian leukosis virus subgroup J. [pubmed:28049588] |
| immunology letters | Gemcitabine treatment enhanced the anti-tumor effect of cytokine induced killer cells by depletion of CD4+CD25bri regulatory T cells. [pubmed:27867030] |
| Taylor & Francis | Influences of Hyriopsis cumingii polysaccharides on mice immunosignaling molecules and T lymphocyte differentiation [09540105.2017.1306494] |
| 未查到 | Clinical effect of electro-acupuncture on lung injury patients caused by severe [3162851.pdf] |
| Effect of Passion Fruit (Passiflora edulis f. flavicarpa deg.) Peel Flour on the Prognosis of Acute Pancreatitis after Overnutrition During Lactation | Effect of Passion Fruit (Passiflora edulis f. flavicarpa deg.) Peel Flour on the Prognosis of Acute Pancreatitis after Overnutrition During Lactation [art00008] |
| Poultry Science | ALV-J strain SCAU-HN06 induces innate immune responses in chicken primary monocyte-derived macrophages [pubmed:27486255] |
| Future Microbiology | Transplantation of a bacterial consortium ameliorates trinitrobenzenesulfonic acid-induced colitisand intestinal dysbiosis in rats. [pubmed:27415182] |
| Journal of Virology | Characterization of Simian Immunodeficiency Virus Variants Anatomically Compartmentalized inPlasma and Milk in Chronically Infected African Green Monkeys. [pubmed:] |
|  Research in Veterinary | The effect of feed supplementation with zinc chelate and zinc sulphate on selected humoral and cell-mediated immune parameters and cytokine concentration in … [S0034528816303162] |
| Research in Veterinary Science | Commercial gold nanocolloid inhibits synthesis of IL-2 and proliferation of porcine T lymphocytes [science:article] |
| Parasitology. | Nonsteroidal anti-inflammatory is more effective than anti-oxidant therapy in counteracting oxidative/nitrosative stress and heart disease in T. cruzi-infected mice. [pubmed:28134069] |
| Sci Rep.  | Comparison of human adipose stromal vascular fraction and adipose-derived mesenchymal stem cells for the attenuation of acute renal ischemia/reperfusion injury. [pubmed:28276451] |
| Acta Vet Hung. | Imbalance of intestinal immune function in piglets infected by porcine circovirus type 2 during the fetal period. [pubmed:28244338] |
| Gut Pathog. | Oral administration of Clostridium butyricum CGMCC0313‐1 reduces ovalbumin‐induced allergic airway inflammation in mice [pubmed:28250847] |
| Key Engineering Materials | The Level of Inflammatory Cytokines and Antimicrobial Peptides after Composite Material Implantation and Contamination with Bacterial Culture. [16629795] |
| Journal of Functional Foods | Impact of purified oat 1-3, 1-4-β-d-glucan of different molecular weight on alleviation of inflammation parameters during gastritis [S1756464616303528] |
| Домашня сторінка | ВПЛИВ КРОВОВТРАТИ НА ДИНАМІКУ ВМІСТУ ЦИТОКІНІВ СИРОВАТКИ КРОВІ В ПЕРІОД ГОСТРОЇ РЕАКЦІЇ НА КРАНІОСКЕЛЕТНУ ТРАВМУ [83646] |
| Clinical Effect of Electroacupuncture on Lung Injury Patients Caused by Severe Acute Pancreatitis | Evidence-based Complementary and Alternative Medicine [pubmed:28751922] |
| Egyptian Journal of Basic and Applied Sciences | Attenuation of Bleomycin-induced pulmonary fibrosis in rats by flavocoxid treatment [10.1016:j.ejbas.2017.10.005] |
| Biomedicine & Pharmacotherapy | Cytokine production in vitro and in rat model of colitis in response to Lactobacillus plantarum LS/07 [pubmed:28830068] |
| Research in Veterinary Science | The effect of feed supplementation with effective microorganisms(EM) on pro- and anti-inflammatory cytokine concentrations in pigs [pubmed:28549299] |
| European Journal of Pharmacology | Cardioprotective time-window of Penehyclidine hydrochloride postconditioning: A rat study [pubmed:28684235] |
| poultry science | The effect of feed supplementation with Zakarpacki zeolite (clinoptilolite) on percentages of T and B lymphocytes and cytokine concentrations in poultry [pubmed:28339915] |
| Pesquisa Veterinária Brasileira | Efeito protetor do β-glucano e glutamina em lesões intestinais e imunológicas induzidas por ciratabina (Ara-C) em camundongos [10.159:s0100-736x2017000900013] |
| Evidence-Based Complementary and Alternative Medicine | BuShenKangShuai tablet reduces atherosclerotic lesion by improving blood lipids metabolism and inhibiting inflammatory response via TLR4 and NF-κB signaling pathway [journals:1758383] |
| Scientific Reports | A Systems Pharmacology Approach to Determine Active Compounds and Action Mechanisms of Xipayi KuiJie'an enema for Treatment of Ulcerative colitis [doi:10.1038/s41598-017-01335-w] |
| Journal of Animal Physiology and Animal Nutrition | The effect of feed supplementation with a copper-glycine chelate and copper sulphate on selected humoral and cell-mediated immune parameters, plasma superoxide dismutase activity, ceruloplasmin and cytokine concentration in broiler chickens [doi:10.1111] |
| Oncotarget. | Tumor-associated macrophages promote tumor metastasis via the TGF-β/SOX9 axis in non-small cell lung cancer [pubmed:29245941] |
| Scientific Reports | Comparison of human adipose stromal vascular fraction and adipose-derived mesenchymal stem cells for the attenuation of acute renal ischemia/reperfusion injury [PMC5343423] |
| Drug Design Development and Therapy | High-dose dexamethasone induced LPS-stimulated rat alveolar macrophages apoptosis. [pubmed:29123381] |
| Asian Pacific Society of Respirology | Oral administration of Clostridium butyricum CGMCC0313-1 reduces ovalbumin-induced allergic airway inflammation in mice [pubmed:28122397] |
| Journal of Dairy Science | Milk and serum IL-4, IL-6, IL-10, and amyloid A concentrations in cows with subclinical mastitis caused by coagulase-negative staphylococci [pubmed:28964518] |
| Biological Rhythm Research | Alteration in some pro and anti-inflammatory cytokines associated with complete and incomplete gestation cycle of cows [10.1080/09291016.2017.1319636] |
| Molecular Neurobiology | Role of 3-acetyl-11-keto-beta-boswellic acid in counteracting LPS-induced neuroinflammation via modulation of miRNA-155 [pubmed:29079998] |
| Canadian Journal of Gastroenterology and Hepatology | EGCG Maintains Th1/Th2 Balance and Mitigates Ulcerative Colitis Induced by Dextran Sulfate Sodium through TLR4/MyD88/NF-ݜ傠Signaling Pathway in Rats [10.1155/2017/3057268] |
| Oncotarget | The immune impact of mimic endoscopic retrograde appendicitis therapy and appendectomy on rabbits of acute appendicitis. [pubmed:29029533] |
| International Immunopharmacology | Therapeutic effect of bone marrow mesenchymal stem cells pretreated with acetylsalicylic acid on experimental periodontitis in rats [pubmed:29195233] |
| PLoS One | Protective effect of aplysin on liver tissue and the gut microbiota in alcohol-fed rats [pubmed:28622357] |
| Veterinary Immunology and Immunopathology | Integrated effect of seasons and lactation stages on the plasma inflammatory cytokines, function and receptor expression of milk neutrophils in Sahiwal (Bos indicus) cows. [pubmed:28895861] |
| American journal of clinical and experimental immunology | Effects of peritoneal macrophage autophagy on the immune function of sepsis mice. [pubmed:28695057] |
| Anticancer Research | Association Between Endothelial Progenitor Cells and Treatment Response in Non-Squamous Non-small Cell Lung Cancer Treated with Bevacizumab. [pubmed:28982871] |
| Biomedical and Environmental Sciences | Grape Seed Procyanidin Extract Reduces Arsenic-Induced Renal Inflammatory Injury in Male Mice. [pubmed:28756814] |
| Canadian Journal of Gastroenterology and Hepatology | EGCG Maintains Th1/Th2 Balance and Mitigates Ulcerative Colitis Induced by Dextran Sulfate Sodium through TLR4/MyD88/NF-κB Signaling Pathway in Rats [10.1155/2017/3057268] |
| Journal of Controlled Release | Nose-to-brain delivery of insulin enhanced by a nanogel carrier [Pubmed:29196041] |
| Cancer Science | Sonodynamic therapy‐assisted immunotherapy: A novel modality for cancer treatment [Pubmed:29575297] |
| Progress in Neuro-Psychopharmacology & Biological Psychiatry | Targeting central β2 receptors ameliorates streptozotocin-induced neuroinflammation via inhibition of glycogen synthase kinase3 pathway in mice [Pubmed:29782959] |
| Food and Chemical Toxicology | Antioxidant, anti-inflammatory and synergistic anti-hyperglycemic effects of Malaysian propolis and metformin in streptozotocin–induced diabetic rats [Pubmed:30026088] |
| Respiratory Research | Resolution of bleomycin-induced murine pulmonary fibrosis via a splenic lymphocyte subpopulation [Pubmed:29690905] |
| ENDOCRINOLOGY AND METABOLISM CLINICS OF NORTH AMERICA | Influence of Vitamin D Deficiency on Progression of Experimental Otitis Media in Rats [Pubmed:29947185] |
| PLoS One | Chitosan oligosaccharide ameliorates acute lung injury induced by blast injury through the DDAH1/ADMA pathway [Pubmed:29415054] |
| Journal of Molecular Neuroscience | A Novel scFv Anti-Aβ Antibody Reduces Pathological Impairments in APP/PS1 Transgenic Mice via Modulation of Inflammatory Cytokines and Aβ-related Enzymes [Pubmed:30062438] |
| Experimental biology and medicine (Maywood) | Shock waves increase pulmonary vascular leakage, inflammation, oxidative stress, and apoptosis in a mouse model [Pubmed:29984607] |
| Probiotics Antimicrob Proteins | Effect of Multi-Microbial Probiotic Formulation Bokashi on Pro-and Anti-Inflammatory Cytokines Profile in the Serum, Colostrum and Milk of Sows, and in a … [Pubmed:29305686] |
| Innate Immunity  | Lipoxin A attenuates LPS-induced acute lung injury via activation of the ACE2-Ang-(1-7)-Mas axis [Pubmed:29969931] |
| Archives of Virology | Genetic and immunogenicity analysis of porcine circovirus type 2 strains isolated in central China [Pubmed:29305646] |
| Theriogenology | Effect of tropical thermal stress on peri-implantation immune responses in cows [Pubmed:29625402] |
| Evidence-based Complementary and Alternative Medicine | Bushenkangshuai Tablet Reduces Atherosclerotic Lesion by Improving Blood Lipids Metabolism and Inhibiting Inflammatory Response via TLR4 and NF-κB Signaling … [Pubmed:29619063] |
| Evidence-Based Complementary and Alternative Medicine | Tualang Honey Reduced Neuroinflammation and Caspase-3 Activity in Rat Brain after Kainic Acid-Induced Status Epilepticus [Pubmed:30108663] |
| Journal of Animal Physiology and Animal Nutrition | The effect of feed supplementation with a copper‐glycine chelate and copper sulphate on selected humoral and cell‐mediated immune parameters, plasma … [Pubmed:28603872] |
| Experimental and Therapeutic Medicine | S‑adenosyl methionine regulates calcium channels and inhibits uterine smooth muscle contraction in rats with infectious premature delivery through the transient … [Pubmed:29896230] |
| Pakistan Veterinary Journal | Comparison of Plasma Interleukin-6 and Interleukin-10 Concentrations between Female Dogs with Mammary Gland Tumours and Healthy [17-377.pdf] |
| Journal of International Medical Research | Changes in Th1/Th2-producing cytokines during acute exacerbation chronic obstructive pulmonary disease [Pubmed:29950127] |
| Tropical Animal Health andProduction | Effect of reproductive disorders on productivity and reproductive efficiency of dromedary she-camels in relation to cytokine concentration [Pubmed:29423707] |
| Biotechnic & Histochemistry | Gastroprotective effect of apricot kernel oil in ethanol-induced gastric mucosal injury in rats [Pubmed: 30234391] |
| Cytokine | Natural killer T cell ligand alpha-galactosylceramide protects against gut ischemia reperfusion-induced organ injury in mice [Pubmed: 30195979] |
| Life Sciences | Malaysian propolis, metformin and their combination, exert hepatoprotective effect in streptozotocin-induced diabetic rats [Pubmed: 30205096] |
| International Journal of Clinical and Experimental Medicine | The relationship between autophagy and apoptosis of lamina propria dendritic cells from the small intestine on the immunodynamics of sepsis mice [] |
| European Journal of Pharmacology | Inhibition of Rho kinase by GSK 269962 reverses both corticosterone-induced detrusor overactivity and depression-like behaviour in rats [Pubmed: 30172788] |
| Veterinary Microbiology | PD-1 blockade inhibits lymphocyte apoptosis and restores proliferation and anti-viral immune functions of lymphocyte after CP and NCP BVDV infection in vitro [Doi: 10.1016/j.vetmic.2018.10.014] |
| Immunology | DNA prime‐protein boost vaccine encoding HLA‐A2,‐A24 and‐DR 1 restricted epitopes of Ca NA 2 against visceral leishmaniasis [] |
| Veterinary Immunology and Immunopathology | Evaluation of T regulatory lymphocytes and serum concentration of selected cytokines in dogs with perianal tumors [] |
| Research in Veterinary Science | Levels of selected cytokines and acute–phase proteins in the serum of dairy cows with cystic ovarian disease and those in follicular and luteal phases of normal … [Pubmed: 30580231] |
| Biology of Reproduction | Recombinant adiponectin alleviates abortion in mice by regulating Th17/Treg imbalance via p38MAPK-STAT5 pathway [Pubmed: 30496353] |
| BBA- Molecular Basis of Disease | Enhanced remedial effects for vitamin D3 and calcium co-supplementation against pre-existing lead nephrotoxicity in mice: The roles of renal calcium homeostatic … [Pubmed: 30553018] |
| Archives of Physiology and Biochemistry | Diabetes-induced testicular oxidative stress, inflammation, and caspase-dependent apoptosis: the protective role of metformin [Pubmed: 30513216] |
| Journal of Veterinary Research | Early cytokine response after vaccination with Coxiella burnetii phase I in an infected herd of dairy cattle [] |
| Journal of Hepatology | Chronic hyperammonemia induces peripheral inflammation that leads to cognitive impairment in rats: reversal by anti-tnfa treatment [Pubmed: 30654069] |
| Food & Function | Ovotransferrin ameliorates the dysbiosis of immunomodulatory function and intestinal microbiota induced by cyclophosphamide [Pubmed: 30724290] |
| Journal of Neuroinflammation | Anti-inflammatory and cognitive effects of interferon-β1a (IFNβ1a) in a rat model of Alzheimer's disease [Pubmed: 30777084] |
| Biomedicine & Pharmacotherapy | Three types of gut bacteria collaborating to improve Kui Jie'an enema treat DSS-induced colitis in mice [Pubmed: 30870717] |
| Experimental Biology and Medicine | Grape seed proanthocyanidin extract alleviates arsenic-induced lung damage through NF-κB signaling [Pubmed: 30869553] |
| 拉脱维亚科学院院刊 | Influence of Antibiotic-Impregnated Biomaterials on Inflammatory Cytokines [] |
| BioMed Research International | Chlorogenic Acid Attenuates Dextran Sodium Sulfate-Induced Ulcerative Colitis in Mice through MAPK/ERK/JNK Pathway [] |
| Scientific Reports | Neuroinflammation induced by lipopolysaccharide causes cognitive impairment in mice [Pubmed: 30962497] |
| Journal of Pineal Research | Role of melatonin in sleep deprivation‐induced intestinal barrier dysfunction in mice [Pubmed: 30929267] |
| Life Sciences | 1, 25-(OH) 2D3 protects Schwann cells against advanced glycation end products-induced apoptosis through PKA-NF-κB pathway [Pubmed: 30928409] |
| ACS Biomaterials-Science & Engineering | Photothermal-triggered Controlled Drug Release From Mesoporous Silica nanoparticles Based On Base-pairing Rules [] |
| Life Sciences | ERK activation by zeranol has neuroprotective effect in cerebral ischemia reperfusion [Pubmed: 31005550] |
| ARCHIVES OF ORAL BIOLOGY | Histopathological and Biochemical Evaluation of the effect of Paeoniflorin on the Periodontium During and After Periodontitis Formation in Rats [Pubmed: 31005686] |
| Behavioural Brain Research | THE ROLE OF ANTI-INFLAMMATORY CYTOKINES IN MEMORY PROCESSING IN A HEALTHY BRAIN [] |
| Toxicon | The wound healing potential of a pro-angiogenic peptide purified from Indian Russell's viper (Daboia russelii) venom [Pubmed: 31054289] |
| 中国免疫学杂志 | TRAF-6 调控TGF-β1-Smad2/Smad3 信号通路在Graves 病免疫发病机制中的作用 [] |
| Investigación Clínica | The impact of IL-10 gene polymorphism 1082A/G (rs1800896) on increased IL-10 secretion in patients with chronic kidney disease in the Kurdistan Region of … [] |
| Food & Function | Network pharmacology oriented study reveals inflammatory state-dependent dietary supplement hepatotoxicity responses in normal and diseased rats [Pubmed: 31140472] |
| INTERNATIONAL JOURNAL OF BIOLOGICAL MACROMOLECULES | Antibacterial immunomodulatory and antibiofilm triple effect of Salivaricin LHM against Pseudomonas aeruginosa urinary tract infection model [Pubmed: 31136751] |
| Journal of the Royal Army Medical Corps | CD28 deficiency attenuates primary blast-induced renal injury in mice via the PI3K/Akt signalling pathway [Pubmed: 31129646] |
| | Pinealektomize Edilmiş Septik Sıçanlarda TNF-α, IL-6, IL-10 ve IL-1β'nin Kan Düzeyleri ile Karaciğer ve Böbrekte Gen Ekspresyonu Seviyelerindeki … [Doi: 10.5505/vtd.2019.32815] |
| international immunopharmacology | Adenovirus-mediated down-regulation of miR-21-5p alleviates experimental autoimmune uveoretinitis in mice [Pubmed: 31228813] |
| Chemosphere | Atmospheric H2S triggers immune damage by activating the TLR-7/MyD88/NF-κB pathway and NLRP3 inflammasome in broiler thymus [] |
| Biomedicine & Pharmacotherapy | MODULATION OF LIPOPOLYSACCHARIDE-INDUCED CYTOKINES RESPONSE IN MICE BY GRAVIOLA LEAF POWDER [] |
| Free Radical Biology and Medicine | Vitamin D protects against oxidative stress, inflammation and hepatorenal damage induced by acute paracetamol toxicity in rat [Pubmed: 31255668] |
| international journal of molecular medicine | Alcohol‑induced attenuation of post‑traumatic inflammation is not necessarily liver‑protective following trauma/hemorrhage [Pubmed: 31257463] |
| Environmental Toxicology and Pharmacology | Protective effect of Vitamin D3 against lead induced hepatotoxicity, oxidative stress, immunosuppressive and calcium homeostasis disorders in rat [] |
| Life Sciences | Crocin attenuates lung inflammation and pulmonary vascular dysfunction in a rat model of bleomycin-induced pulmonary fibrosis [Pubmed: 31465731] |
| Animals | Anti-Inflammatory State in Arabian Horses Introduced to the Endurance Training [Pubmed: 31462005] |
| Developmental & Comparative Immunology | CD38 play roles in T cell-dependent response and B cell differentiation in nile tilapia (Oreochromis niloticus) [Pubmed: 31605715] |
| Scientific Reports | Anti-inflammatory and antioxidant effects of muscarinic acetylcholine receptor (mAChR) activation in the rat hippocampus [Pubmed: 31578381] |
| Journal of Medicinal Food | Polysaccharide from the Seeds of Plantago asiatica L. Protect Against Lipopolysaccharide-Induced Liver Injury [Pubmed: 31560611] |
| International Journal of Molecular Medicine | Kappa opioid receptor agonists improve postoperative cognitive dysfunction in rats via the JAK2/STAT3 signaling pathway [Pubmed: 31545485] |
| BMC Complementary and Alternative Medicine | Qingkailing injection ameliorates cerebral ischemia-reperfusion injury and modulates the AMPK/NLRP3 Inflammasome Signalling pathway [Pubmed: 31747940] |
| parasitology research | Enhancement of the therapeutic efficacy of praziquantel in murine Schistosomiasis mansoni using silica nanocarrier [Pubmed: 31673833] |
| International Immunopharmacology | Melatonin alleviates oxidative stress in sleep deprived mice: Involvement of small intestinal mucosa injury [Pubmed: 31835081] |
| Journal of Tissue Engineering and Regenerative Medicine | Intra‐tendon delivery of leukocyte‐rich platelet‐rich plasma at early stage promotes tendon repair in a rabbit Achilles tendinopathy model [Pubmed: 31840415] |
| Pigment Cell & Melanoma Research | Altered expression of nuclear factor of activated T cells, Forkhead Box P3 and immune suppressive genes in regulatory T cells of generalized vitiligo patients [Pubmed: 31917889] |
| Cytokine | Levels of pro-and anti-inflammatory cytokines in cystic fibrosis patients with or without gingivitis [Pubmed: 31927460] |
| Frontiers in Immunology | The Increase in IL-1β in the Early Stage of Heatstroke Might Be Caused by Splenic Lymphocyte Pyroptosis Induced by mtROS-Mediated Activation of the … [Pubmed: 31921131] |
| Transboundary and Emerging Diseases | Pathogenicity of porcine reproductive and respiratory syndrome virus (ORF5 RFLP 1–7–4 viruses) in China [Pubmed: 32187856] |
| Nanomedicine | The toxicity of alumina nanoparticles to immune system in mice [Pubmed: 32162999] |
| Scientific Reports | Serum sHLA-G: Significant diagnostic biomarker with respect to therapy and immunosuppressive mediators in Head and Neck Squamous Cell Carcinoma [Pubmed: 32123232] |
| Biomed Pharmacother | Suppression of Fpr2 expression protects against endotoxin-induced acute lung injury by interacting with Nrf2-regulated TAK1 activation [Pubmed: 32106380] |
| Antibiotics | Effects of Early Intervention with Antibiotics and Maternal Fecal Microbiota on Transcriptomic Profiling Ileal Mucusa in Neonatal Pigs [Pubmed: 31963653] |
| JOURNAL OF GASTROENTEROLOGY AND HEPATOLOGY | Nonsteroidal anti‐inflammatory drugs alleviate severity of post‐ERCP pancreatitis by inhibiting inflammation and reducing apoptosis [Pubmed: 32064683] |
| Prog Neuropsychopharmacol Biol Psychiatry | Progress in Neuropsychopharmacology & Biological Psychiatry [Pubmed: 17134810] |
| Biomed Research International | Hydrogen-Rich Saline Inhibits Lipopolysaccharide-Induced Acute Lung Injury and Endothelial Dysfunction by Regulating Autophagy through mTOR/TFEB … [Pubmed: 32071922] |
| Molecular and Cellular Biochemistry | Calycosin-7-O-β-d-glucoside attenuates myocardial ischemia–reperfusion injury by activating JAK2/STAT3 signaling pathway via the regulation of IL-10 secretion in … [Pubmed: 31712941] |
| | Silkworm pupa oil attenuates acetaminophen‐induced acute liver injury by inhibiting oxidative stress‐mediated NF‐κB signaling [Pubmed: 31993149] |
| | Irisin Improves Autophagy of Aged Hepatocytes via Increasing Telomerase Activity in Liver Injury [Pubmed: 31976032] |
| molecular immunology | STAT5a induces endotoxin tolerance by alleviating pyroptosis in kupffer cells [Pubmed: 32298872] |
| Stem Cells International | Exosomes of Antler Mesenchymal Stem Cells Improve Postoperative Cognitive Dysfunction in Cardiopulmonary Bypass Rats through Inhibiting the TLR2 … [Pubmed: 32300366] |
| Biomarkers | Management of Citrus sinensis peels for protection and treatment against gastric ulcer induced by ethanol in rats [Pubmed: 32319821] |
| CLINICAL AND EXPERIMENTAL OTORHINOLARYNGOLOGY | Effects of Amniotic Membrane Extract on the Hyperplastic Response of the Middle Ear Mucosa in a Bacterially-Induced Otitis Media Rat Model: A Preliminary Study [Pubmed: 32279472] |
| oral diseases | Clinical Importance of Neuregulin‐4 and Its Receptor ErbB4 in Periodontal Disease Pathogenesis [Pubmed: 32274847] |
| INTERNATIONAL JOURNAL OF BIOLOGICAL MACROMOLECULES | Gastroprotective effect of Lycium barbarum polysaccharides and C-phyocyanin in rats with ethanol-induced gastric ulcer [Pubmed: 33058973] |
| JOURNAL OF GENE MEDICINE | Rabbit umbilical cord mesenchymal stem cells: A New Option for tissue engineering [Pubmed: 33047422] |
| BIOMEDICINE & PHARMACOTHERAPY | Chlorogenic acid prevents acute myocardial infarction in rats by reducing inflammatory damage and oxidative stress [Pubmed: 33022535] |
| Heliyon | Effect of procyanidins on lipid metabolism and inflammation in rats exposed to alcohol and iron [Pubmed: 32964156] |
| Int J Neurosci | Downregulation of ROCK2 attenuates alcohol-induced inflammation and oxidative stress in astrocytes [Pubmed: 32942936] |
| THERIOGENOLOGY | Porcine soluble CD83 alleviates LPS-induced abortion in mice by promoting Th2 cytokine production, Treg cell generation and trophoblast invasion [Pubmed: 32810792] |
| Theriogenology | A comparative study on various immunological parameters influencing embryo survivability in crossbred dairy cows [Pubmed: 32810791] |
| JOURNAL OF MOLECULAR NEUROSCIENCE | Different Activation of IL-10 in the Hippocampus and Prefrontal Cortex During Neurodegeneration Caused by Trimethyltin Chloride [Pubmed: 32803646] |
| BRAIN BEHAVIOR AND IMMUNITY | Active smoking, sleep quality and cerebrospinal fluid biomarkers of neuroinflammation [Pubmed: 32717405] |
| Bioengineered | Down-regulation of ROCK2 alleviates ethanol-induced cerebral nerve injury partly by the suppression of the NF-κB signaling pathway [Pubmed: 32684089] |
| EXPERIMENTAL DERMATOLOGY | Decreased suppression of CD8+ and CD4+ T cells by peripheral Regulatory T cells in Generalized Vitiligo due to reduced NFATC1 and FOXP3 proteins [Pubmed: 32682346] |
| Parasites & Vectors | Fasciola gigantica excretory-secretory products (FgESPs) modulate the differentiation and immune functions of buffalo dendritic cells through a mechanism … [Pubmed: 32680553] |
| Life Sci | Impact of diminazene aceturate on renin-angiotensin system, infectious myocarditis and skeletal myositis in mice: An in vitro and in vivo study [Pubmed: 32652140] |
| Front Pharmacol | Cyclic Peptide Extracts Derived From Pseudostellaria heterophylla Ameliorates COPD via Regulation of the TLR4/MyD88 Pathway Proteins [Pubmed: 32581806] |
| BIOTECHNOLOGY LETTERS | Recombinant ferritin nanoparticles can induce dendritic cell maturation through TLR4/NF-κB pathway [Pubmed: 32567013] |
| INTERNATIONAL IMMUNOPHARMACOLOGY | A potential drug combination of omeprazole and patchouli alcohol significantly normalizes oxidative stress and inflammatory responses against gastric ulcer in ethanol … [Pubmed: 32559721] |
| Int J Mol Sci | Effects of PDE3 Inhibitor Olprinone on the Respiratory Parameters, Inflammation, and Apoptosis in an Experimental Model of Acute Respiratory Distress Syndrome [Pubmed: 32403267] |
| BRAIN BEHAVIOR AND IMMUNITY | USP8 protects against lipopolysaccharide-induced cognitive and motor deficits by modulating microglia phenotypes through TLR4/MyD88/NF-κB signaling pathway in … [Pubmed: 32335193] |
| JAMA Surgery | Intraoperative dexmedetomidine for prevention of postoperative delirium in elderly patients with mild cognitive impairment [Pubmed: 28593326] |
| BIOMEDICINE & PHARMACOTHERAPY | Protective effects of bee bread on testicular oxidative stress, NF-κB-mediated inflammation, apoptosis and lactate transport decline in obese male rats [Pubmed: 33152939] |
| Frontiers in Pharmacology | M10, a Myricetin-3-ObD-Lactose Sodium Salt, Prevents Ulcerative Colitis Through Inhibiting Necroptosis in Mice [Pubmed: 33041798] |
| | κ‑opioid receptor agonists may alleviate intestinal damage in cardiopulmonary bypass rats by inhibiting the NF‑κB/HIF‑1α pathway [Pubmed: 32509012] |
| Molecular Medicine Reports | Placenta‑derived mesenchymal stem cells ameliorate lipopolysaccharide‑induced inflammation in RAW264. 7 cells and acute lung injury in rats [Pubmed: 32626979] |
| Food & Function | Nicotinamide riboside alleviates alcohol-induced depression-like behaviours in C57BL/6J mice by altering the intestinal microbiota associated with microglial … [] |
| Nanoscale Research Letters | Protective Effects of Carbon Dots Derived from Phellodendri Chinensis Cortex Carbonisata against Deinagkistrodon acutus Venom-Induced Acute Kidney … [] |
| Journal of Biochemical and Molecular Toxicology | Vitamin D3 and calcium cosupplementation alleviates cadmium hepatotoxicity in the rat: Enhanced antioxidative and anti‐inflammatory actions by remodeling cellular … [] |
| Journal of Functional Foods | Wine pomace product modulates oxidative stress and microbiota in obesity high-fat diet-fed rats [] |
| | Evaluation of lipopolysaccharide-induced acute lung injury attenuation in mice by Glycyrrhiza glabra [] |
| Applied materials today | Tanshinone IIA-loaded aligned microfibers facilitate stem cell recruitment and capillary formation by inducing M2 macrophage polarization [] |
| letter in applied nanobioscience | Phytochemical and Toxicological Effect of Ethanol Extract of Heliotropium Indicum on Liver of Male Albino Rats [] |
| biosciences biotechnology research asia | Dietary Malted Barley Grain Improved Structure and Function of Spinal Cord of Mother Rats fed on a high cholesterol diet. [] |
| Phytomedicine | Menthacarin attenuates experimental colitis [] |
| ACS Biomaterials Science & Engineering | Tissue-Engineered Decellularized Allografts for Anterior Cruciate Ligament Reconstruction [] |
| | Immunomodulatory effects of sCD83 via induction of TGF-β1 and IDO: an in vitro and rat orthotopic liver transplantation study [] |
| | Effects of minocycline on neuroinflammation, gut microbiome and hippocampal neurogenesis in rats with Gulf War Illness [] |
| | Minocycline Alleviate A Rat Model Of Gulf War Illness Via Altering Gut Microbiome, Attenuating Neuroinflammation And Enhancing Hippocampal Neurogenesis [] |
| | Experimental autoimmune encephalomyelitis inhibited by Huangqi Guizhi Wuwu Decoction by enhancing Th2 cytokine [] |
| EC NEUROLOGY | Malted Barley Ameliorated Spinal Cord Injuries of Offspring of Hypercholesterolemic Mother Rats [] |