白介素2(IL2)活性蛋白
Active Interleukin 2 (IL2)
TCGF; Lymphokine; T-Cell Growth Factor; Aldesleukin
编号

APA073Mu61

物种Mus musculus (Mouse,小鼠) 相同的名称,不同的物种。
缓冲液成份

20mM Tris, 150mM NaCl缓冲液(pH8.0, 含有1mM EDTA, 1mM DTT, 0.01% SKL, 5% Trehalose和Proclin300)

性状

冻干粉

纯度

> 97%

等电点

4.9

应用

Cell culture; Activity Assays.

下载 英文说明书 中文说明书
规格 10µg50µg 200µg 1mg 5mg
价格 ¥ 1536 ¥ 3840 ¥ 7680 ¥ 23040 ¥ 57600
产品包装(模拟)

产品包装(模拟)
Gene sequencing
SDS-PAGE图

Figure. Western Blot; Sample: Recombinant IL2, Mouse.
通过ISO 9001、ISO 13485质量体系认证
活性实验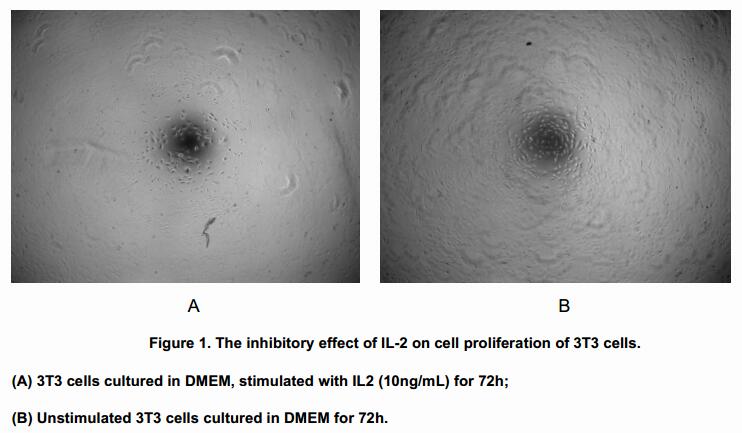 Interleukin-2 (IL-2), the main lymphokine produced by activated CD4 T-helper lymphocytes, is a potent T-cell growth regulator. In addition to this activity, IL-2 was found to decrease the proliferation of 3T3 fibroblasts in time- and dose-dependent manner. Thus 3T3 cells were seeded overnight at a density of 5,000 cells/well, and treated with or without various concentrations of IL2 for 48h, then 3T3 cells were observed by inverted microscope and cell viability was measured by Cell Counting Kit-8 (CCK-8). Briefly, 10µL of CCK-8 solution was added to each well of the plate, then measure the absorbance at 450nm using a microplate reader after incubating the plate for 1-4 hours at 37oC.<br/>The inhibitory effect of IL-2 on cell proliferation of 3T3 cells observed by inverted microscope was shown in Figure 1.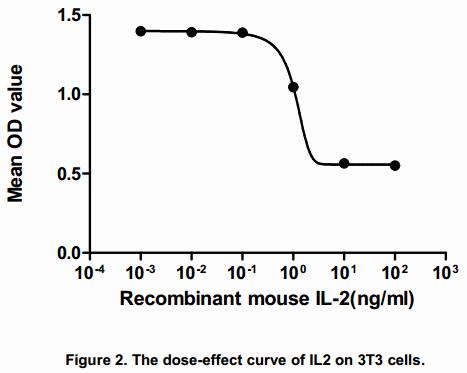 The dose-effect curve of IL2 was shown in Figure 2. It was obvious that IL2 significantly decreased cell growth of 3T3 cells. The ED50 for this effect is typically 9.876 to 13.35ng/mL.
用法
Reconstitute in 20mM Tris, 150mM NaCl (PH8.0) to a concentration of 0.1-1.0 mg/mL. Do not vortex.
储存
避免反复冻融。2-8°C不超过一个月,-80°C不超过12个月。
稳定性
热稳定性以损失率显示。损失率是由加速降解试验决定,具体方法如下:在37°C孵育48小时,没有显著的降解或者沉淀产生。保质期内,在适当的条件下存储,损失率低于5%。
参考文献
| | |
| --- | --- |
| 杂志 | 参考文献 |
| Journal of Medicinal Plants Research | Evaluation of water plantain (Alisma canaliculatum A. Br. et Bouche) and mistletoe (Viscum album L.) effects on broiler growth performance, meat composition and serum biochemical parameters [AcadeMic: source] |
| Bone | Synthesis and inflammatory response of a novel silk fibroin scaffold containing BMP7 adenovirus for bone regeneration [PubMed: 22796416] |
| Nanomedicine | Efficient intracellular delivery of siRNA with a safe multitargeted lipid-based nanoplatform [PubMed: 23394132] |
| Food and Chemical Toxicology | Identification and functional characterization of a novel fungal immunomodulatory protein from Postia placenta [Pubmed:25662032] |
| Pharmaceutical Research | Molecular Mechanisms of the Modulatory Effect of Vitamin E on Tacrolimus (FK506)-Induced Renal Injury in Rats [Openview: 6Ba34F298130121B36Fc3E227Ed416F4] |
| PLoS Neglected Tropical Diseases | Efficacy of Albendazole-Chitosan Microsphere-based Treatment for Alveolar Echinococcosis in Mice [PubMed: 26352932] |
| Int J Clin Exp Med | Berberine alleviates preeclampsia possibly by regulating the expression of interleukin-2/interleukin-10 and Bcl-2/Bax [PubMed: 26629148] |
| Clin Oral Investig | Can apical periodontitis affect serum levels of CRP, IL-2, and IL-6 as well as induce pathological changes in remote organs? [PubMed: 26556576] |
| veterinary research forum | Evaluation of proliferation and cytokines production by mitogen-stimulated bovine peripheral blood mononuclear cells [Article_14936_6.Html: ] |
| Pharmaceutical Biology | Molecular mechanisms of the protective role of wheat germ oil against cyclosporin A-induced hepatotoxicity in rats [PubMed: 25858514] |
| Immunologic Research | Mesenchymal stromal cell-dependent reprogramming of Kupffer cells is mediated by TNF-α and PGE10 and is crucial for liver transplant tolerance [PubMed: 25982596] |
| J Reprod Immunol | The immunomodulating effect of seminal plasma on T cells [PubMed: 25799173] |
| удк | Циток [Cgi-Bin: Irbis_Nbuv] |
| Biomark Med | Clinical significance of IL-2 and IL-10 gene polymorphisms and serum levels in patients with basal-cell carcinoma [PubMed: 26609634] |
| Environmental Science and Pollution Research | Ameliorative effect of flaxseed oil against thiacloprid-induced toxicity in rats: hematological, biochemical, and histopathological study [Pubmed:26957428] |
| Advances in Experimental Medicine and Biology  | Antiinflammatory Effect of N-Acetylcysteine Combined with Exogenous Surfactant in Meconium-Induced Lung Injury [Pubmed:27283193] |
| Research in Veterinary Science | Effects of feed supplementation with glycine chelate and iron sulfate on selected parameters of cell-mediated immune response in broiler chickens [Pubmed:27473977] |
| Biomedicine & Pharmacotherapy | Investigation of the anti-glioma activity of Oviductus ranae protein hydrolysate [Pubmed:27261592] |
| Int J Pharm Bio Sci | International Journal of Pharma and Bio Sciences ISSN [cms:4987] |
| Asian J Pharm Clin Res | INFLUENCE OF ZINCOVIT DROP (NUTRITIONAL FOOD SUPPLEMENT) ON IMMUNE SYSTEM IN NORMAL AND CYCLOPHOSPHAMIDE INTOXICATED WISTAR RATS [journals:3790] |
| United States Patent Application | HERPES VIRUS VACCINES AND TREATMENTS [y2016:0067330.html] |
| BMC Veterinary Research | Lymphocytic, cytokine and transcriptomic profiles in peripheral blood of dogs with atopic dermatitis [pubmed:27553600] |
| Vaccine. | Efficacy of an autophagy-targeted DNA vaccine against avian leukosis virus subgroup J. [pubmed:28049588] |
| Taylor & Francis | Influences of Hyriopsis cumingii polysaccharides on mice immunosignaling molecules and T lymphocyte differentiation [09540105.2017.1306494] |
| Physiological Research | Lung inflammatory and oxidative alterations after exogenous surfactant therapy fortified with budesonide in rabbit model of meconium aspiration syndrome. [pubmed:28006947] |
| Journal of Virology | Characterization of Simian Immunodeficiency Virus Variants Anatomically Compartmentalized inPlasma and Milk in Chronically Infected African Green Monkeys. [pubmed:] |
|  Research in Veterinary | The effect of feed supplementation with zinc chelate and zinc sulphate on selected humoral and cell-mediated immune parameters and cytokine concentration in … [S0034528816303162] |
| Research in Veterinary Science | Commercial gold nanocolloid inhibits synthesis of IL-2 and proliferation of porcine T lymphocytes [science:article] |
| Acta Vet Hung. | Imbalance of intestinal immune function in piglets infected by porcine circovirus type 2 during the fetal period. [pubmed:28244338] |
| Домашня сторінка | ВПЛИВ КРОВОВТРАТИ НА ДИНАМІКУ ВМІСТУ ЦИТОКІНІВ СИРОВАТКИ КРОВІ В ПЕРІОД ГОСТРОЇ РЕАКЦІЇ НА КРАНІОСКЕЛЕТНУ ТРАВМУ [83646] |
| Journal of Agricultural and Food Chemistry | Effect of boron on thymic cytokine expression, hormone secretion, antioxidant functions, cell proliferation, and apoptosis potential via the ERK1/2 signaling pathway [pubmed:29032684] |
| Research in Veterinary Science | The effect of feed supplementation with effective microorganisms(EM) on pro- and anti-inflammatory cytokine concentrations in pigs [pubmed:28549299] |
| poultry science | The effect of feed supplementation with Zakarpacki zeolite (clinoptilolite) on percentages of T and B lymphocytes and cytokine concentrations in poultry [pubmed:28339915] |
| Journal of Animal Physiology and Animal Nutrition | The effect of feed supplementation with a copper-glycine chelate and copper sulphate on selected humoral and cell-mediated immune parameters, plasma superoxide dismutase activity, ceruloplasmin and cytokine concentration in broiler chickens [doi:10.1111] |
| Molecular Medicine Reports | Interleukin-17 antagonist attenuates lung inflammation through inhibition of the ERK1/2 and NF-κB pathway in LPS-induced acute lung injury [10.3892/mmr.2017.6837] |
| Veterinary Microbiology | A bacterial ghost improves the immunological efficacy of a Newcastle disease virus inactivated vaccine [pubmed:28619143] |
| Canadian Journal of Gastroenterology and Hepatology | EGCG Maintains Th1/Th2 Balance and Mitigates Ulcerative Colitis Induced by Dextran Sulfate Sodium through TLR4/MyD88/NF-ݜ傠Signaling Pathway in Rats [10.1155/2017/3057268] |
| Veterinary Immunology and Immunopathology | Integrated effect of seasons and lactation stages on the plasma inflammatory cytokines, function and receptor expression of milk neutrophils in Sahiwal (Bos indicus) cows. [pubmed:28895861] |
| Biological Rhythm Research | A study of altered cytokine rhythms associated with successful implantation in cows [10.1080/09291016.2017.1361159] |
| Journal of Pain Research | Sex differences in complex regional pain syndrome type I (CRPS-I) in mice [pubmed:28831269] |
| Canadian Journal of Gastroenterology and Hepatology | EGCG Maintains Th1/Th2 Balance and Mitigates Ulcerative Colitis Induced by Dextran Sulfate Sodium through TLR4/MyD88/NF-κB Signaling Pathway in Rats [10.1155/2017/3057268] |
| | In Vivo Study on the Hindrance Activity of Cinnamon Extract Against Aspergillus niger in Mice [ISSN: 0974-4290] |