白介素4(IL4)活性蛋白
Active Interleukin 4 (IL4)
BSF1; BCGF1 ;B Cell Stimulatory Factor 1; Lymphocyte stimulatory factor 1; B Cell Growth Factor; Binetrakin; Pitrakinra
编号

APA077Ra01

物种Rattus norvegicus (Rat,大鼠) 相同的名称,不同的物种。
缓冲液成份

20mM Tris, 150mM NaCl缓冲液(pH8.0, 含有1mM EDTA, 1mM DTT, 0.01% SKL, 5% Trehalose和Proclin300)

性状

冻干粉

纯度

> 97%

等电点

8.4

应用

Cell culture; Activity Assays.

下载 英文说明书 中文说明书
规格 10µg50µg 200µg 1mg 5mg
价格 ¥ 1954 ¥ 4884 ¥ 9768 ¥ 29304 ¥ 73260
产品包装(模拟)

产品包装(模拟)
Figure. SDS-PAGE

Figure. Western Blot
通过ISO 9001、ISO 13485质量体系认证
活性实验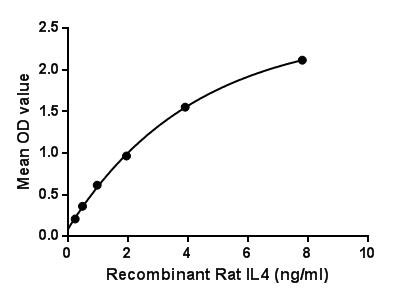 Figure. The binding activity of IL4 with IL2Rg.
The interleukin 4 (IL4) is a cytokine that induces differentiation of naive helper T cells (Th0 cells) to Th2 cells. Upon activation by IL4, Th2 cells subsequently produce additional IL4 in a positive feedback loop. IL4 has many biological roles, including the stimulation of activated B-cell and T-cell proliferation, and the differentiation of B cells into plasma cells. It is a key regulator in humoral and adaptive immunity. IL4 induces B-cell class switching to IgE, and up-regulates MHC class II production. IL4 decreases the production of Th1 cells, macrophages, IFN-gamma, and dendritic cell IL12. Besides, Interleukin 2 Receptor Gamma (IL2Rg) has been identified as an interactor of IL4, thus a binding ELISA assay was conducted to detect the interaction of recombinant rat IL4 and recombinant rat IL2Rg. Briefly, IL4 were diluted serially in PBS, with 0.01% BSA (pH 7.4). Duplicate samples of 100uL were then transferred to IL2Rg-coated microtiter wells and incubated for 2h at 37℃. Wells were washed with PBST and incubated for 1h with anti-IL4 pAb, then aspirated and washed 3 times. After incubation with HRP labelled secondary antibody, wells were aspirated and washed 3 times. With the addition of substrate solution, wells were incubated 15-25 minutes at 37℃. Finally, add 50µL stop solution to the wells and read at 450nm immediately. The binding activity of IL4 and IL2Rg was shown in Figure 1, and this effect was in a dose dependent manner.
用法
Reconstitute in 20mM Tris, 150mM NaCl (pH8.0) to a concentration of 0.1-1.0 mg/mL. Do not vortex.
储存
避免反复冻融。2-8°C不超过一个月,-80°C不超过12个月。
稳定性
热稳定性以损失率显示。损失率是由加速降解试验决定,具体方法如下:在37°C孵育48小时,没有显著的降解或者沉淀产生。保质期内,在适当的条件下存储,损失率低于5%。
参考文献
| | |
| --- | --- |
| 杂志 | 参考文献 |
| Int immunopharmacol | Validation of guinea pig model of allergic rhinitis by oral and topical drugs(guinea pig ) [PubMed: 18625276] |
| International Archives of Allergy and Immunology | Characterization of Anti-Inflammatory Properties and Evidence for No Sedation Liability for the Novel Antihistamine SUN-1334H [PubMed: 19672097] |
| Molecular Biology Reports | Dexamethasone attenuates development of monocrotaline-induced pulmonary arterial hypertension [SpringerLink: 76255j50271l4nh2] |
| 6th International Scientific Interdisciplinary Conference (ISIC) | Inflammation influence on the formation of endothelial dysfunction in hypertensive patients caused by obesity [Knmu: Source] |
| Theriogenology | Evaluation of serum concentrations of interleukin (IL)-4, IL-10, and IL-12 during pregnancy in bitches [ScienceDirect: S0093691X1300037X] |
| International Journal of Poultry Science | Immune Responses to Eimeria tenella Sporozoite Protein as Vaccine to Broiler Against Coccidiosis [Pjbs: Source] |
| European Journal of Pharmacology | Protective effects of neferine on amiodarone-induced pulmonary fibrosis in mice [Pubmed: 23792144] |
| Journal of Dairy Science | Increased blood-circulating interferon-γ, interleukin-17, and osteopontin levels in bovine paratuberculosis [Pubmed:24679935] |
| Biomedical Research | The toxic effect of nickel nanoparticles on oxidative stress and inflammatory markers. [Articles: ] |
| Mol Med Rep | Roles of lipoxin A4 receptor activation and anti-interleukin-1β antibody on the toll-like receptor 2/mycloid differentiation factor 88/nuclear factor-κB pathway in airway inflammation induced by ovalbumin [PubMed: 25760938] |
| veterinary research forum | Evaluation of proliferation and cytokines production by mitogen-stimulated bovine peripheral blood mononuclear cells [Article_14936_6.Html: ] |
| Immunologic Research | Mesenchymal stromal cell-dependent reprogramming of Kupffer cells is mediated by TNF-α and PGE3 and is crucial for liver transplant tolerance [PubMed: 25982496] |
| J Reprod Immunol | The immunomodulating effect of seminal plasma on T cells [PubMed: 25799173] |
| Arch Virol | Analysis of cytokine production in a newly developed canine tracheal epithelial cell line infected with H3N2 canine influenza virus [PubMed: 25797195] |
| удк | Циток [Cgi-Bin: Irbis_Nbuv] |
| Vet Immunol Immunopathol | Immune responses of pigs immunized with a recombinant porcine reproductive and respiratory syndrome virus expressing porcine GM-CSF [PubMed: 26300317] |
| Virol J | Rescue and evaluation of a recombinant PRRSV expressing porcine Interleukin-4 [PubMed: 26573719] |
| Int J Clin Exp Pathol | Downregulation of SUMF2 gene in ovalbumin-induced rat model of allergic inflammation [PubMed: 26722390] |
| Infection, Genetics and Evolution | Infection of chicken bone marrow mononuclear cells with subgroup J avian leukosis virus inhibits dendritic cell differentiation and alters cytokine expression [Pubmed:27349993] |
| Plos One | Immunopotentiators Improve the Efficacy of Oil-Emulsion-Inactivated Avian Influenza Vaccine in Chickens, Ducks and Geese [Pubmed:27232188] |
| Molecular Immunology | Targeted inhibition of GATA-6 attenuates airway inflammation and remodeling by reCavia (Guinea pig )lating caveolin-1 through TLR2/MyD88/NF-ŚĘB in murine model of asthma [Pubmed:27289030] |
| Mediators Inflamm | Proinflammatory and Anti-Inflammatory Cytokines Mediated by NF-ÎşB Factor as Prognostic Markers in Mammary Tumors [Pubmed:26989335] |
| Asian J Pharm Clin Res | INFLUENCE OF ZINCOVIT DROP (NUTRITIONAL FOOD SUPPLEMENT) ON IMMUNE SYSTEM IN NORMAL AND CYCLOPHOSPHAMIDE INTOXICATED WISTAR RATS [journals:3790] |
| Int J Clin Exp Pathol | Effects of Dectin-1 on the mast cells in allergic conjunctivitis and its underlying mechanism [files:ijcep0019305.pdf] |
| BMC Veterinary Research | Lymphocytic, cytokine and transcriptomic profiles in peripheral blood of dogs with atopic dermatitis [pubmed:27553600] |
| immunology letters | Recombinant Mip-PilE-FlaA dominant epitopes vaccine candidate against Legionella pneumophila. [pubmed:28366526] |
| Antiviral research | Evaluation of two strains of Marek's disease virus serotype 1 for the development of recombinant vaccines against very virulent infectious bursal disease virus. [pubmed:27908832] |
| Vaccine. | Efficacy of an autophagy-targeted DNA vaccine against avian leukosis virus subgroup J. [pubmed:28049588] |
| American Journal of Translational Research | Anti-inflammatory effects of Boletus edulis polysaccharide on asthma pathology [pubmed:27830033] |
| Molecular Immunology | Targeted inhibition of GATA-6 attenuates airway inflammation and remodeling by regulating caveolin-1 through TLR2/MyD88/NF-κB in murine model of asthma [pubmed:27289030] |
| Basrah Journal of Veterinary Research | EVALUATION OF HUMORAL AND CELLULAR IMMUNE RESPONSES TO EIMERIA TENELLA OOCYST PROTEIN AS VACCINE TO BROILER [363-379.pdf] |
| Mediators of Inflammation | Proinflammatory and Anti-Inflammatory Cytokines Mediated by NF-κB Factor as PrognosticMarkers in Mammary Tumors. [pubmed:26989335] |
| Journal of Virology | Characterization of Simian Immunodeficiency Virus Variants Anatomically Compartmentalized inPlasma and Milk in Chronically Infected African Green Monkeys. [pubmed:] |
| Sci Rep.  | Long-term use of ceftriaxone sodium induced changes in gut microbiota and immune system. [pubmed:28220870] |
| Acta Vet Hung. | Imbalance of intestinal immune function in piglets infected by porcine circovirus type 2 during the fetal period. [pubmed:28244338] |
| Gut Pathog. | Oral administration of Clostridium butyricum CGMCC0313‐1 reduces ovalbumin‐induced allergic airway inflammation in mice [pubmed:28250847] |
| Veterinary Immunology and Immunopathology | Cytokine levels in colostrum and in foals' serum pre- and post-suckling [pubmed:28242000] |
| Journal of Agricultural and Food Chemistry | Effect of boron on thymic cytokine expression, hormone secretion, antioxidant functions, cell proliferation, and apoptosis potential via the ERK1/2 signaling pathway [pubmed:29032684] |
| Bulgarian Journal of Veterinary Medicine | COMPARATIVE EFFICACY OF TWO HETEROLOGOUS CAPRIPOX VACCINES TO CONTROL LUMPY SKIN DISEASE IN CATTLE [ISSN 1311-1477] |
| Research in Veterinary Science | The effect of feed supplementation with effective microorganisms(EM) on pro- and anti-inflammatory cytokine concentrations in pigs [pubmed:28549299] |
| Scientific Report | Anti-asthmatic efect of pitavastatin through aerosol inhalation is associated with CD4+ CD25+ Foxp3+ T cells in an asthma mouse model [pubmed:28729731] |
| Austral journal of veterinary sciences | The effects of Spirulina platensis (Arthrospira platensis) and Saccharomyces cerevisiae on the distribution and cytokine production of CD4+ and CD8+ T … [S0719-81322017000300185] |
| 18 | Evaluation of Cell-mediated Immune Response in PBMCs of Calves Vaccinated by Capri Pox Vaccines Using ELISA and Real-time RT-PCR [DOI: 10.18869/acadpub.rmm.5.2.3] |
| Scientific Report | Stress Induced Polarization of Immune-Neuroendocrine Phenotypes in Gallus gallus [pubmed:28808318] |
| Frontiers in Immunology | Single dose of consensus hemagglutinin-based virus-like particles vaccine protects chickens against divergent H5 subtype influenza viruses [pubmed:29230222] |
| Microbiology | Antigen-Sparing and Enhanced Efficacy of Multivalent Vaccines Adjuvanted with Immunopotentiators in Chickens [pubmed:28603519] |
| Asian Pacific Society of Respirology | Oral administration of Clostridium butyricum CGMCC0313-1 reduces ovalbumin-induced allergic airway inflammation in mice [pubmed:28122397] |
| Nutrition | Administration of probiotic mixture DM#1 ameliorated 5-fluorouracil-induced intestinal mucositis and dysbiosis in rats [pubmed:27427511] |
| Journal of Dairy Science | Milk and serum IL-4, IL-6, IL-10, and amyloid A concentrations in cows with subclinical mastitis caused by coagulase-negative staphylococci [pubmed:28964518] |
| Canadian Journal of Gastroenterology and Hepatology | EGCG Maintains Th1/Th2 Balance and Mitigates Ulcerative Colitis Induced by Dextran Sulfate Sodium through TLR4/MyD88/NF-ݜ傠Signaling Pathway in Rats [10.1155/2017/3057268] |
| Oncotarget | The immune impact of mimic endoscopic retrograde appendicitis therapy and appendectomy on rabbits of acute appendicitis. [pubmed:29029533] |
| Scientific Reports | Optimization of Storage Temperature for Retention of Undifferentiated Cell Character of Cultured Human Epidermal Cell Sheets [pubmed:28811665] |
| Biological Rhythm Research | A study of altered cytokine rhythms associated with successful implantation in cows [10.1080/09291016.2017.1361159] |
| Journal of Pain Research | Sex differences in complex regional pain syndrome type I (CRPS-I) in mice [pubmed:28831269] |
| Canadian Journal of Gastroenterology and Hepatology | EGCG Maintains Th1/Th2 Balance and Mitigates Ulcerative Colitis Induced by Dextran Sulfate Sodium through TLR4/MyD88/NF-κB Signaling Pathway in Rats [10.1155/2017/3057268] |
| Journal of Thoracic Oncology | Systemic and Tumor Th1 and Th2 Inflammatory Profile and Macrophages in Lung Cancer: Influence of Underlying Chronic Respiratory Disease. [pubmed:27793775] |
| Journal of Autoimmunity | Commensal bacteria aggravate allergic asthma via NLRP3/IL-1β signaling in post-weaning mice [10.1016:j.jaut.2018.07.003] |
| Scientific Reports | A Novel Role of Irbesartan in Gastroprotection against Indomethacin-Induced Gastric Injury in Rats: Targeting DDAH/ADMA and EGFR/ERK Signaling [Pubmed:29523851] |
| Metallomics | Selenium deficiency inhibits differentiation and immune function and imbalances the Th1/Th2 of dendritic cells [Pubmed:29766201] |
| Vaccine | A flagellin-adjuvanted PED subunit vaccine improved protective efficiency against PEDV variant challenge in pigs [Pubmed:29891346] |
| Vaccine | Immunogenicity and protective efficacy of recombinant fiber-2 protein in protecting SPF chickens against fowl adenovirus 4 [Pubmed:29395523] |
| PLoS One | Chitosan oligosaccharide ameliorates acute lung injury induced by blast injury through the DDAH1/ADMA pathway [Pubmed:29415054] |
| Biomed Research International | Epstein Barr Virus Infection Affects Function of Cytotoxic T Lymphocytes in Patients with Severe Aplastic Anemia [Pubmed:29862282] |
| Probiotics Antimicrob Proteins | Effect of Multi-Microbial Probiotic Formulation Bokashi on Pro-and Anti-Inflammatory Cytokines Profile in the Serum, Colostrum and Milk of Sows, and in a … [Pubmed:29305686] |
| Medical Science Monitor | Involvement of T-Helper 9 Activation in a Mouse Model of Allergic Rhinitis [Pubmed:29982264] |
| Acta veterinaria Hungarica | Analysis of the immune response of calves to various saponin-based adjuvants for an experimental vaccine [Pubmed:29958518] |
| Journal of Integrative Agriculture | Construction of Pullorum ghost by co-expression of lysis gene E and the antimicrobial peptide SMAP29 and evaluation of its immune efficacy in specific … [10.1016:S2095-3119(17)61696-4] |
| Journal of International Medical Research | Changes in Th1/Th2-producing cytokines during acute exacerbation chronic obstructive pulmonary disease [Pubmed:29950127] |
| Iranian Journal of Veterinary Science and Technology | Immune response characteristics of Capri pox virus vaccines following emergency vaccination of cattle against lumpy skin disease virus [65381] |
| | خصوصیات پاسخ‌های ایمنی القاء شده ناشی از واکسن زنده تخفیف حدت یافته آبله بزی سویه گرگان بر علیه بیماری لمپی اسکین در گاو‎ [] |
| Cytokine | Natural killer T cell ligand alpha-galactosylceramide protects against gut ischemia reperfusion-induced organ injury in mice [Pubmed: 30195979] |
| Medical Mycology | Intradermal injection of Pythium insidiosum protein antigens for improved diagnosis and treatment of pythiosis in an experimental model [Pubmed: 30260397] |
| Acta Pharmacologica Sinica | Anti-asthmatic activity of alkaloid compounds from Pericarpium Citri Reticulatae (Citrus reticulata 'Chachi') [Pubmed: 19363516] |
| International Journal of Peptide Research and Therapeutics | ANP/NPRA Inhibits Epithelial-Mesenchymal Transition of Airway by Targeting Smad3 in Asthma [] |
| Pharmacological Reports | Protective effects of polydatin in free and nanocapsulated form on changes caused by lipopolysaccharide in hippocampal organotypic cultures [] |
| Royal Society Open Science | Metabolomics analysis of baicalin on ovalbumin-sensitized allergic rhinitis rats [] |
| Viruses | Construction and Immunogenicity of Novel Chimeric Virus-Like Particles Bearing Antigens of Infectious Bronchitis Virus and Newcastle Disease Virus [Pubmed: 30871190] |
| Scientific Reports | Neuroinflammation induced by lipopolysaccharide causes cognitive impairment in mice [Pubmed: 30962497] |
| Frontiers in Microbiology | Local probiotic Lactobacillus crispatus and Lactobacillus delbrueckii exhibit strong antifungal effects against vulvovaginal candidiasis in a rat model [] |
| Papillomavirus Research | Preclinical study of safety and immunogenicity of combined rubella and human papillomavirus vaccines: Towards enhancing vaccination uptake rates in … [Pubmed: 31185296] |
| INTERNATIONAL JOURNAL OF BIOLOGICAL MACROMOLECULES | Antibacterial immunomodulatory and antibiofilm triple effect of Salivaricin LHM against Pseudomonas aeruginosa urinary tract infection model [Pubmed: 31136751] |
| Viruses | Co-Expression of Chicken IL-2 and IL-7 Enhances the Immunogenicity and Protective Efficacy of a VP2-Expressing DNA Vaccine against IBDV in Chickens [Pubmed: 31137731] |
| Journal of the Royal Army Medical Corps | CD28 deficiency attenuates primary blast-induced renal injury in mice via the PI3K/Akt signalling pathway [Pubmed: 31129646] |
| Chemosphere | Atmospheric H2S triggers immune damage by activating the TLR-7/MyD88/NF-κB pathway and NLRP3 inflammasome in broiler thymus [] |
| Biomedicine & Pharmacotherapy | MODULATION OF LIPOPOLYSACCHARIDE-INDUCED CYTOKINES RESPONSE IN MICE BY GRAVIOLA LEAF POWDER [] |
| Environmental Toxicology and Pharmacology | Protective effect of Vitamin D3 against lead induced hepatotoxicity, oxidative stress, immunosuppressive and calcium homeostasis disorders in rat [] |
| Animals | Anti-Inflammatory State in Arabian Horses Introduced to the Endurance Training [Pubmed: 31462005] |
| Experimental Cell Research | CD4+ CD25+ Tregs as dependent factor in the course of bleomycin-induced pulmonary fibrosis in mice [Pubmed: 31678213] |
| BMC Complementary and Alternative Medicine | Qingkailing injection ameliorates cerebral ischemia-reperfusion injury and modulates the AMPK/NLRP3 Inflammasome Signalling pathway [Pubmed: 31747940] |
| life sciences | Melatonin biosynthesis restored by CpG oligodeoxynucleotides attenuates allergic airway inflammation via regulating NLRP3 inflammasome [Pubmed: 31738882] |
| international urology and nephrology | The therapeutic effect of dendritic cells expressing indoleamine 2, 3-dioxygenase (IDO) on an IgA nephropathy mouse model [Pubmed: 31894556] |
| Nutrients | Rotundic Acid Protects against Metabolic Disturbance and Improves Gut Microbiota in Type 2 Diabetes Rats [Pubmed: 31887996] |
| Biomed Pharmacother | Suppression of Fpr2 expression protects against endotoxin-induced acute lung injury by interacting with Nrf2-regulated TAK1 activation [Pubmed: 32106380] |
| Antibiotics | Effects of Early Intervention with Antibiotics and Maternal Fecal Microbiota on Transcriptomic Profiling Ileal Mucusa in Neonatal Pigs [Pubmed: 31963653] |
| Frontiers in Immunology | TLR2-Melatonin Feedback Loop Regulates the Activation of NLRP3 Inflammasome in Murine Allergic Airway Inflammation [Pubmed: 32117301] |
| American Journal of Translational Research | Inhibitory effects of catalpol coordinated with budesonide and their relationship with cytokines and Interleukin-13 expression [Pubmed: 31737193] |
| Journal of Pharmacy and Pharmacology | Tectorigenin inhibits inflammation and pulmonary fibrosis in allergic asthma model of ovalbumin‐sensitized guinea pigs [Pubmed: 32314371] |
| MOLECULAR AND CELLULAR BIOCHEMISTRY | Ectopic expression of 35 kDa and knocking down of 78 kDa SG2NAs induce cytoskeletal reorganization, alter membrane sialylation, and modulate the markers of EMT [Pubmed: 33083950] |
| BIOMEDICINE & PHARMACOTHERAPY | Chlorogenic acid prevents acute myocardial infarction in rats by reducing inflammatory damage and oxidative stress [Pubmed: 33022535] |
| Heliyon | Effect of procyanidins on lipid metabolism and inflammation in rats exposed to alcohol and iron [Pubmed: 32964156] |
| Vet Res | Construction of polycistronic baculovirus surface display vectors to express the PCV2 Cap (d41) protein and analysis of its immunogenicity in mice and swine [Pubmed: 32907618] |
| THERIOGENOLOGY | Porcine soluble CD83 alleviates LPS-induced abortion in mice by promoting Th2 cytokine production, Treg cell generation and trophoblast invasion [Pubmed: 32810792] |
| BRAIN BEHAVIOR AND IMMUNITY | Active smoking, sleep quality and cerebrospinal fluid biomarkers of neuroinflammation [Pubmed: 32717405] |
| Parasites & Vectors | Fasciola gigantica excretory-secretory products (FgESPs) modulate the differentiation and immune functions of buffalo dendritic cells through a mechanism … [Pubmed: 32680553] |
| Scientific Reports | Integrated metabolomics and gut microbiome to the effects and mechanisms of naoxintong capsule on type 2 diabetes in rats [Pubmed: 32616735] |
| J Sci Food Agric | Lactobacillus rhamnosus 2016SWU.05.0601 regulates immune balance in ovalbumin‐sensitized mice by modulating the immune‐related transcription factors … [Pubmed: 32478427] |
| bioscience reports | Protective effect of Asarum sieboldii essential oil on ovalbumin induced allergic rhinitis in rat [Pubmed: 32395767] |
| BRAIN BEHAVIOR AND IMMUNITY | USP8 protects against lipopolysaccharide-induced cognitive and motor deficits by modulating microglia phenotypes through TLR4/MyD88/NF-κB signaling pathway in … [Pubmed: 32335193] |
| Frontiers in Pharmacology | M10, a Myricetin-3-ObD-Lactose Sodium Salt, Prevents Ulcerative Colitis Through Inhibiting Necroptosis in Mice [Pubmed: 33041798] |
| Biomedicine & Pharmacotherapy | Qingfei oral liquid alleviates airway hyperresponsiveness and mucus hypersecretion via TRPV1 signaling in RSV-infected asthmatic mice [Pubmed: 32521453] |
| Journal of Traditional Chinese Medical Sciences | Mahuang Xixin Fuzi Decoction protects against ovalbumin-induced allergic rhinitis by inhibiting type 2 innate lymphoid cells in mice [] |
| 畜牧兽医学报 | 鸡骨髓源树突状细胞体外诱导 [] |
| | Evaluation of lipopolysaccharide-induced acute lung injury attenuation in mice by Glycyrrhiza glabra [] |
| ACS Biomaterials Science & Engineering | Tissue-Engineered Decellularized Allografts for Anterior Cruciate Ligament Reconstruction [] |
| | Experimental autoimmune encephalomyelitis inhibited by Huangqi Guizhi Wuwu Decoction by enhancing Th2 cytokine [] |