C反应蛋白(CRP)活性蛋白
Active C Reactive Protein (CRP)
C-RP; PTX1; Pentraxin-Related; Pentraxin 1
编号

APA821Hu01

物种Homo sapiens (Human,人) 相同的名称,不同的物种。
缓冲液成份

磷酸盐缓冲液(pH7.4,含有 0.01% SKL, 1mM DTT, 5% Trehalose和Proclin300.)

性状

冻干粉

纯度

> 97%

等电点

5.5

应用

Cell culture; Activity Assays.

下载 英文说明书 中文说明书
规格 10µg50µg 200µg 1mg 5mg
价格 ¥ 1440 ¥ 3600 ¥ 7200 ¥ 21600 ¥ 54000
产品包装(模拟)

产品包装(模拟)
Figure. SDS-PAGE
通过ISO 9001、ISO 13485质量体系认证
活性实验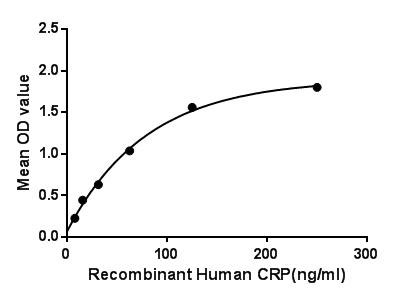 Figure. The binding activity of CRP with RPL23A.
C Reactive Protein (CRP) is an annular (ring-shaped), pentameric protein, a member of the pentraxin family of proteins. It is an acute-phase protein of hepatic origin that increases following interleukin-6 secretion by macrophages and T cells. Its physiological role is to bind to lysophosphatidylcholine expressed on the surface of dead or dying cells (and some types of bacteria) in order to activate the complement system via C1q. CRP is synthesized by the liver in response to factors released by macrophages and fat cells (adipocytes). Besides, Ribosomal Protein L23A (RPL23A) has been identified as an interactor of CRP, thus a binding ELISA assay was conducted to detect the interaction of recombinant human CRP and recombinant human RPL23A. Briefly, CRP were diluted serially in PBS, with 0.01% BSA (pH 7.4). Duplicate samples of 100μL were then transferred to RPL23A-coated microtiter wells and incubated for 2h at 37℃. Wells were washed with PBST and incubated for 1h with anti-CRP pAb, then aspirated and washed 3 times. After incubation with HRP labelled secondary antibody, wells were aspirated and washed 3 times. With the addition of substrate solution, wells were incubated 15-25 minutes at 37℃. Finally, add 50µL stop solution to the wells and read at 450nm immediately. The binding activity of CRP and RPL23A was shown in Figure 1, and this effect was in a dose dependent manner.
用法
Reconstitute in 10mM PBS (PH7.4) to a concentration of 0.1-1.0 mg/mL. Do not vortex.
储存
避免反复冻融。2-8°C不超过一个月,-80°C不超过12个月。
稳定性
热稳定性以损失率显示。损失率是由加速降解试验决定,具体方法如下:在37°C孵育48小时,没有显著的降解或者沉淀产生。保质期内,在适当的条件下存储,损失率低于5%。
参考文献
| | |
| --- | --- |
| 杂志 | 参考文献 |
| Journalof Vascular Research | Effect of Hirulog-Like Peptide on Balloon Catheter Injury-Induced Neointimal Formation in Femoral Arteries of Minipigs and Relationship with Inflammatory Mediators [Karger: 000257340] |
| Journal of Pharmacology and Experimental Therapeutics | Successful Treatment of Acute Lung Injury with Pitavastatin in Septic Mice: Potential Role of Glucocorticoid Receptor Expression in Alveolar Macrophages [Aspet: 171462] |
| Experimental Animals | Anti-Inflammatory Effect of Guan-Xin-Er-Hao via the Nuclear Factor-Kappa B Signaling Pathway in Rats with Acute Myocardial Infarction [Jstage: source] |
| Neuroscience | In vivo protective effect of ferulic acid against noise-induced hearing loss in the guinea-pig [PubMed: 20600667] |
| Heart and Vessels | Metformin inhibits nuclear factor κB activation and decreases serum high-sensitivity C-reactive protein level in experimental atherogenesis of rabbits [SpringerLink: pt732478620w1528] |
| Plos one | Olive (Olea europaea L.) Leaf Polyphenols Improve Insulin Sensitivity in Middle-Aged Overweight Men: A Randomized, Placebo-Controlled, Crossover Trial [PubMed: 23516412] |
| Psychosomatic Medicine | Unpredictable chronic mild stress promotes atherosclerosis in high cholesterol-fed rabbits [PubMed: 22753638] |
| PLOS ONE | Protective Effect of Curcumin on Pulmonary and Cardiovascular Effects Induced by Repeated Exposure to Diesel Exhaust Particles in Mice [PlosOne: Source] |
| BMC Neurology | Relationships among serum C-reactive protein, receptor for advanced glycation products, metabolic dysfunction, and cognitive impairments [PubMed: PMC3765839] |
| Particle and fibre toxicology, | Impact of experimental type 1 diabetes mellitus on systemic and coagulation vulnerability in mice acutely exposed to diesel exhaust particles [PubMed: PMC3641025] |
| Clinics | Changes in body weight, C-reactive protein, and total adiponectin in non-obese women after 12 months of a small-volume, home-based exercise program [PubMed: PMC3752622] |
| PLoS One | Pre-Pubertal Children Born Post-Term Have Reduced Insulin Sensitivity and Other Markers of the Metabolic Syndrome [PubMed: PMC3698136] |
| Scientific Report | Among overweight middle-aged men, first-borns have lower insulin sensitivity than second-borns [Pubmed: 24503677] |
| International Urology Nephrology | Perirenal fat associated with microalbuminuria in obese rats [Pubmed: 24526332] |
| AJBM | Effect of caffeic acid on doxorubicin induced cardiotoxicity in rats [Ajbm: Source] |
| Journal of Molecular and Cellular Cardiology | Effect of high free fatty acids on the anti-contractile response of perivascular adipose tissue in rat aorta [Pubmed: 23939490] |
| PLoS One. | Flos Lonicera Ameliorates Obesity and Associated Endotoxemia in Rats through Modulation of Gut Permeability and Intestinal Microbiota [Plos: Source] |
| Fundamental & Clinical Pharmacology | The determination of histopathological and biochemical effects of the rabbit knee joint injected dexketoprofen trometamol [Onlinelibrary: fcp.12074] |
| Mainz | Identifizierung neuer potentieller Biomarker für das Kolonkarzinom sowie dessen Vorstufen [Info:Source] |
| Int J Clin Exp Med. | Celastrol may have an anti-atherosclerosis effect in a rabbit experimental carotid atherosclerosis model [Pubmed:Pmc4132129] |
| International Urology and Nephrology | As If Biomarker Discovery Isn't Hard Enough: The Consequences of Poorly Characterized Reagents [Pubmed:24305687] |
| Nutr Res. | Curcumin attenuates adhesion molecules and matrix metalloproteinase expression in hypercholesterolemic rabbits [Pubmed:25282128] |
| Journal of Obstetrics and Gynaecology Research | Regression of experimental endometriotic implants in a rat model with the angiotensin II receptor blocker losartan [Pubmed:25302540] |
| Chemical Research in Toxicology | Sub-chronic Toxicity and Cardiovascular Responses in Spontaneously Hypertensive Rats after Exposure to Multiwall Carbon Nanotubes by Intratracheal Instillation [Pubmed:25580880] |
| Journal of Applied Toxicology | Bisphenol A exposure induces metabolic disorders and enhances atherosclerosis in hyperlipidemic rabbits [Pubmed:25619500] |
| Cellular Physiology and Biochemistry | Short-Term Nose-Only Water-Pipe (Shisha) Smoking Exposure Accelerates Coagulation and Causes Cardiac Inflammation and Oxidative Stress in Mice [Pubmed:25634761] |
| Food and Chemical Toxicology | Consumption of orange fermented beverage reduces cardiovascular risk factors in healthy mice [Pubmed:25666657] |
| Cellular Physiology and Biochemistry | Induction of Haemeoxygenase-1 Improves FFA-Induced Endothelial Dysfunction in Rat Aorta [Pubmed:25766533] |
| 天津中医药大学学报 | 巨噬细胞及其相关因子在家兔不稳定斑块中的作用及其机制 [Paper:Source] |
| Mediators of Inflammation | Effects of Intravenous Injection of [PubMed: 26063970] |
| Am J Physiol Heart Circ Physiol | Irisin improves endothelial function in obese mice through the AMPK-eNOS pathway [PubMed: 26371167] |
| Cell Physiol Biochem | Induction of Haemeoxygenase-1 Directly Improves Endothelial Function in Isolated Aortas from Obese Rats through the Ampk-Pi3k/Akt-Enos Pathway [PubMed: 26160485] |
| Exp Physiol | Renal protective effects of induction of haem oxygenase-1 combined with increased adiponectin on the glomerular vascular endothelial growth factor–nitric oxide axis in obese rats [PubMed: 25959017] |
| Clin Oral Investig | Can apical periodontitis affect serum levels of CRP, IL-2, and IL-6 as well as induce pathological changes in remote organs? [PubMed: 26556576] |
| Chemical Research in Toxicology | Subchronic Toxicity and Cardiovascular Responses in Spontaneously Hypertensive Rats after Exposure to Multiwalled Carbon Nanotubes by Intratracheal Instillation [PubMed: 25580880] |
| Acta Biomater | Resveratrol Inhibited Inflammation andAlveolar Bone Loss in Periodontitis [PubMed: 26497626] |
| Archives of Physiology and Biochemistry | Activation of cardiac renin–angiotensin system and plasminogen activator inhibitor-1 gene expressions in oral contraceptive-induced cardiometabolic disorder [Pubmed:26934364] |
| Journal of Functional Foods | Orange beverage ameliorates high-fat-diet-induced metabolic disorder in mice [article:S1756464616300688] |
| Medical Science Monitor | Variation of Circulating Inflammatory Mediators in Staphylococcus aureus and Escherichia coli BloodstreamInfection. [Pubmed:26772168] |
| J Diabetes Res.  | Central Administration of Galanin Receptor 1 Agonist Boosted Insulin Sensitivity in Adipose Cells of Diabetic Rats [pmc:PMC4835658] |
| Asian J Pharm Clin Res | THE ANTI-HYPERCHOLESTEROLEMIC EFFECT OF ULVAN POLYSACCHARIDE EXTRACTED FROM THE GREEN ALGA ULVAFASCIATA ON AGED HYPERCHOLESTEROLEMIC RATS [journals:10835] |
| J Bone Miner Res | Fat and Sucrose Intake Induces Obesity‐Related Bone Metabolism Disturbances: Kinetic and Reversibility Studies in Growing and Adult Rats [Pubmed:26175082] |
| Naunyn-Schmiedeberg's Archives of Pharmacology | Combined oral contraceptive-induced hypertension is accompanied by endothelial dysfunction and upregulated intrarenal angiotensin II type 1 receptor gene expression [pubmed:27447455] |
| Journal of Coastal Life Medicine | Cardioprotective and renoprotective effects of Cocos nucifera water in offspring of high fat diet fed Wistar rat dams [qk:20168] |
| Journal of Functional Foods | Eicosapentaenoic acid-enriched phospholipids improve atherosclerosis by mediating cholesterol metabolism [S1756464617300890] |
| Environmental toxicology and pharmacology | Combined oral contraceptive and nitric oxide synthesis inhibition synergistically causes cardiac hypertrophy and exacerbates insulin resistance in female rats. [pubmed:28376377] |
| Andrology | Chronic prostatitis/chronic pelvic pain syndrome impairs erectile function through increased endothelial dysfunction, oxidative stress, apoptosis, and corporal fibrosis … [doi:10.1111] |
| Journal of Diabetes Research | Central administration of galanin receptor 1 agonist boosted insulin sensitivity in adipose [pubmed:27127795] |
| Therapeutics and Clinical Risk Management | Elevated blood plasma levels of epinephrine, norepinephrine, tyrosine hydroxylase, TGFβ1, and TNFα associated with high-altitude pulmonary edema in an Indian population. [pubmed:27540296] |
| Veterinary World | Acute phase response in lame crossbred dairy cattle [pubmed:27956769] |
| J Ethnopharmacol | Anti-atherosclerosis and cardio-protective effects of the Angong Niuhuang Pill on a high fat and vitamin D3 induced rodent model of atherosclerosis. [pubmed:27880884] |
| SHOCK | INTERLEUKIN-1 RECEPTOR 2: A NEW BIOMARKER FOR SEPSIS DIAGNOSIS AND GRAM-NEGATIVE/GRAM-POSITIVE BACTERIAL DIFFERENTIATION [pubmed:27984536] |
| International Surgery | PROCALCITONIN, C-REACTIVE PROTEIN AND FIBRINOGEN LEVELS IN CASES WITH MECHANIC BOWEL OBSTRUCTION AND THEIR CHANGE IN RELATION TO THE DURATION OF OBSTRUCTION: AN EXPERIMENTAL STUDY [10.3892/ol.2017.7301] |
| CORONARY ARTERY DISEASE | Relationship of mean platelet volume to lymphocyte ratio and coronary collateral circulation in patients with stable angina pectoris [pubmed:28678144] |
| Biomedicine & Pharmacotherapy | Protective effect of α–lipoic acid against spleen toxicity of dimethylnitrosamine in male mice: Antioxidant and ultrastructure approaches [pubmed:29031205] |
| PLoS One | The effects of non-surgical periodontal treatment on glycemic control, oxidative stress balance and quality of life in patients with type 2 diabetes: A randomized clinical trial [pubmed:29145468] |
| Poultry Science | The effect of DL-, L-isomers and DL-hydroxy analog administered at 2 levels as dietary sources of methionine on the metabolic and antioxidant parameters and growth performance of turkeys [10.3382/ps/pex099] |
| Oncotarget | The immune impact of mimic endoscopic retrograde appendicitis therapy and appendectomy on rabbits of acute appendicitis. [pubmed:29029533] |
| International Journal of Cuban Health & Medicine | Anemia and Iron Deficiency Related to Inflammation, Helicobacter pylori Infection and Adiposity in Reproductive-age Cuban Women [10.1590/MEDICC.2017.1902030004 ] |
| Korean Journal of Internal Medicine | The relationship between anti-C-reactive protein and disease activity in patients with systemic lupus erythematosus. [pubmed:28352058] |
| Biomedical and Environmental Sciences | Grape Seed Procyanidin Extract Reduces Arsenic-Induced Renal Inflammatory Injury in Male Mice. [pubmed:28756814] |
| Pharmacological reports | Anti-inflammatory and antithrombotic effects of nicotine exposure in oral contraceptive-induced insulin resistance are glucocorticoid-independent [pubmed:28349880] |
| Nature Communications | A ligand-specific blockade of the integrin Mac-1 selectively targets pathologic inflammation while maintaining protective host-defense [Pubmed:29410422] |
| International Journal of Obesity | Leptin alleviates intestinal mucosal barrier injury and inflammation in obese mice with acute pancreatitis [Pubmed:29934609] |
| Molecular Nutrition & Food Research | The Protective Activities of Dietary Sea Cucumber Cerebrosides Against Atherosclerosis Through Regulating Inflammation and Cholesterol Metabolism in Male Mice [Pubmed:29883529] |
| Oxidative Medicine and Cellular Longevity | Changes of Plasma FABP4, CRP, Leptin, and Chemerin Levels in relation to Different Dietary Patterns and Duodenal-Jejunal Omega Switch Surgery in Sprague … [Pubmed:29849871] |
| Nutrients | L-Carnitine Supplementation in Older Women. A Pilot Study on Aging Skeletal Muscle Mass and Function [Pubmed:29473908] |
| Journal of Functional Foods | Saponins of sea cucumber attenuate atherosclerosis in ApoE−/− mice via lipid-lowering and anti-inflammatory properties [10.1016:j.jff.2018.07.046] |
| Veterinary immunology and immunopathology | Generation and validation of novel anti-bovine CD163 monoclonal antibodies ABM-1A9 and ABM-2D6 [Pubmed:29571519] |
| Journal of Experimental Animal Science  | Oxymatrine attenuates lipopolysaccharide-induced acute lung injury by activating the epithelial sodium channel and suppressing the JNK signaling pathway [Pubmed:29526865] |
| Journal of Young Pharmacists | Anti-Inflammatory Activity of Combined Aerodisperse System in the Conditions of Experimental Cervical Lymphadenite [:] |
| Journal of Pharmacological Sciences | Improved endogenous epoxyeicosatrienoic acid production mends heart function via increased PGC 1α-mitochondrial functions in metabolic syndrome [Pubmed: 30342783] |
| The Egyptian Rheumatologist | Sonographic synovitis in primary knee osteoarthritis patients and its relation to biomarkers of inflammation and oxidative stress [Doi: 10.1016/j.ejr.2018.12.004] |
| West Indian Medical Journal | Plasma Cellular Hypoxia, Mitochondrial Dysfunction, Disease Risk and Prognostic Factors in Type 2 Diabetic Patients in Saudi Arabia. [] |
| Nutrition & Metabolism | L-Carnitine Supplementation Increases Trimethylamine-N-Oxide but not Markers of Atherosclerosis in Healthy Aged Women [Pubmed: 30485835] |
| The Egyptian Rheumatologist | The Egyptian Rheumatologist [] |
| Experimental Biology and Medicine | Grape seed proanthocyanidin extract alleviates arsenic-induced lung damage through NF-κB signaling [Pubmed: 30869553] |
| International Journal of Inflammation | Morphological Characteristics of the Thymus and Spleen and the Subpopulation Composition of Lymphocytes in Peripheral Blood during Systemic Inflammatory … [] |
| Journal of Central European Agriculture | Novel assay for the detection of CRP protein in rabbit leukocytes using flow cytometry [] |
| Journal of Clinical Medicine | Periodontal Health and Oral Microbiota in Patients with Rheumatoid Arthritis [Pubmed: 31072030] |
| Journal of Applied Pharmaceutical Science | Effects of Eurycoma longifolia Jack on chronic cerebral hypoperfusion-induced oxidative damage and memory deficit in rats [] |
| Food & Function | Eicosapentaenoic acid in the form of phospholipid exerts superior anti-atherosclerosis effects than its triglyceride form in ApoE-/-mice [] |
| Journal of Central European Agriculture | Novel assay for the detection of CRP protein in rabbit leukocytes using flow cytometry/Nova metoda detekcie CRP proteinu na kralicich leukocytoch pomocou … [] |